AiDot Unique Atmosphere Kit
Special Price
$264.96
Regular Price
$309.99
-15%
10% OFF New User Benefit
Over $30
Obtained
1 x Color-Changing Table Lamp
4 x Smart WiFi RGBW Bulb
1 x LED Strip with Sync Box
3 x Smart WiFi LED Track Light
Free & Fast Delivery (2-7 days)
Payment Security
Lifetime Customer Support
60 Days Back Guarantee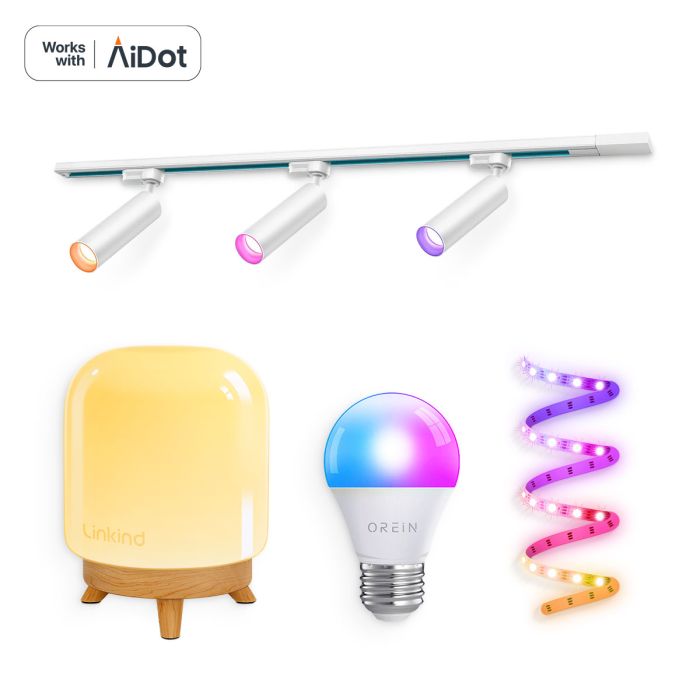 Free & Fast Delivery (2-7 days)
Payment Security
Lifetime Customer Support
60 Days Back Guarantee
You May Also Like

What's included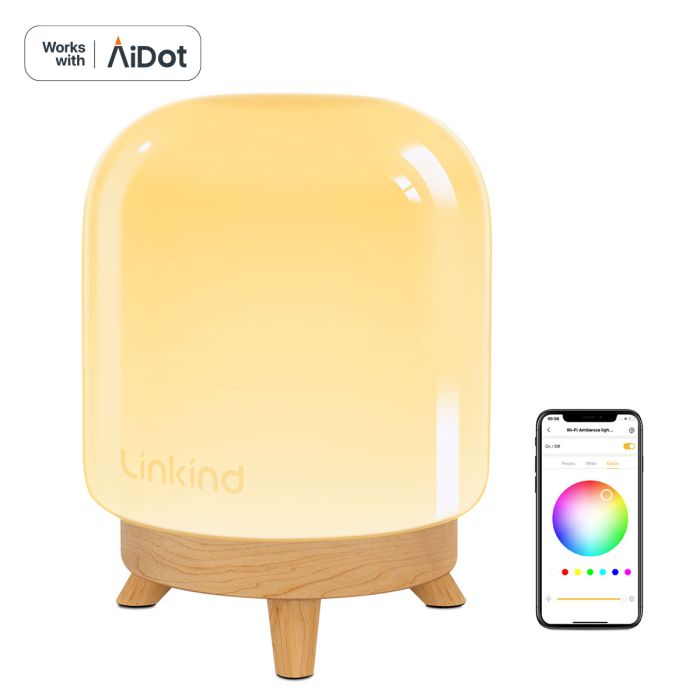 1 x Color-Changing Table Lamp
Hands-free control of lamp color, temperature, and brightness with voice commands via Alexa and Google Assistant.

Choose from over 16 million colors, adjust brightness from 3% to 100%, and tune the light from 1800K soft light to 6500K daylight.

Activate the 1-hour countdown function by pressing the switch's middle button for 2 seconds, making it convenient for kids.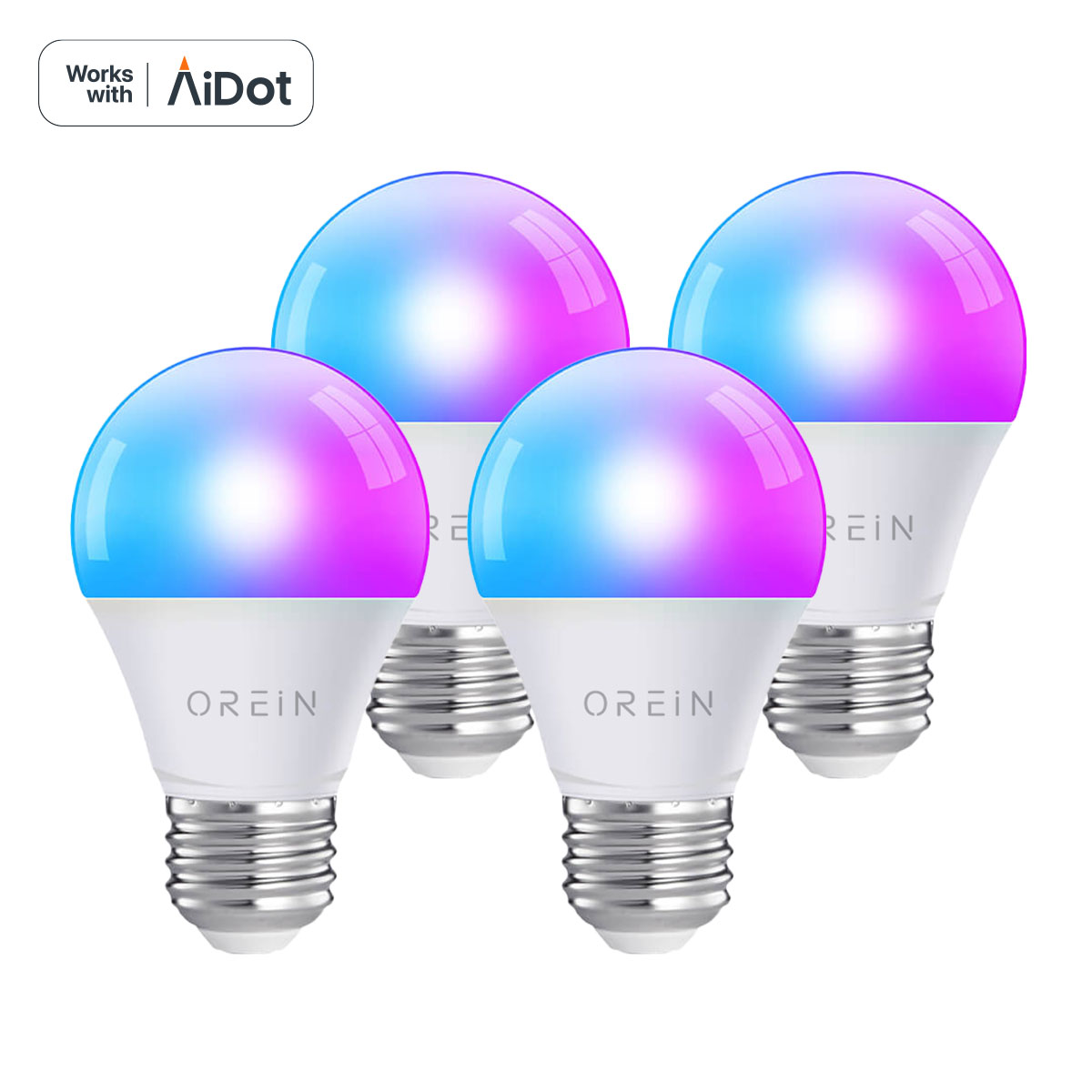 4 x Smart WiFi RGBW Bulb
Enjoy over 16 million vivid colors and adjustable warm to cool whites (1800K-6500K).

Create personalized scene modes with vibrant colors and animated lighting effects using the AiDot APP.

Easily share devices and set countdowns to automate turning on lights at specific times for delightful surprises.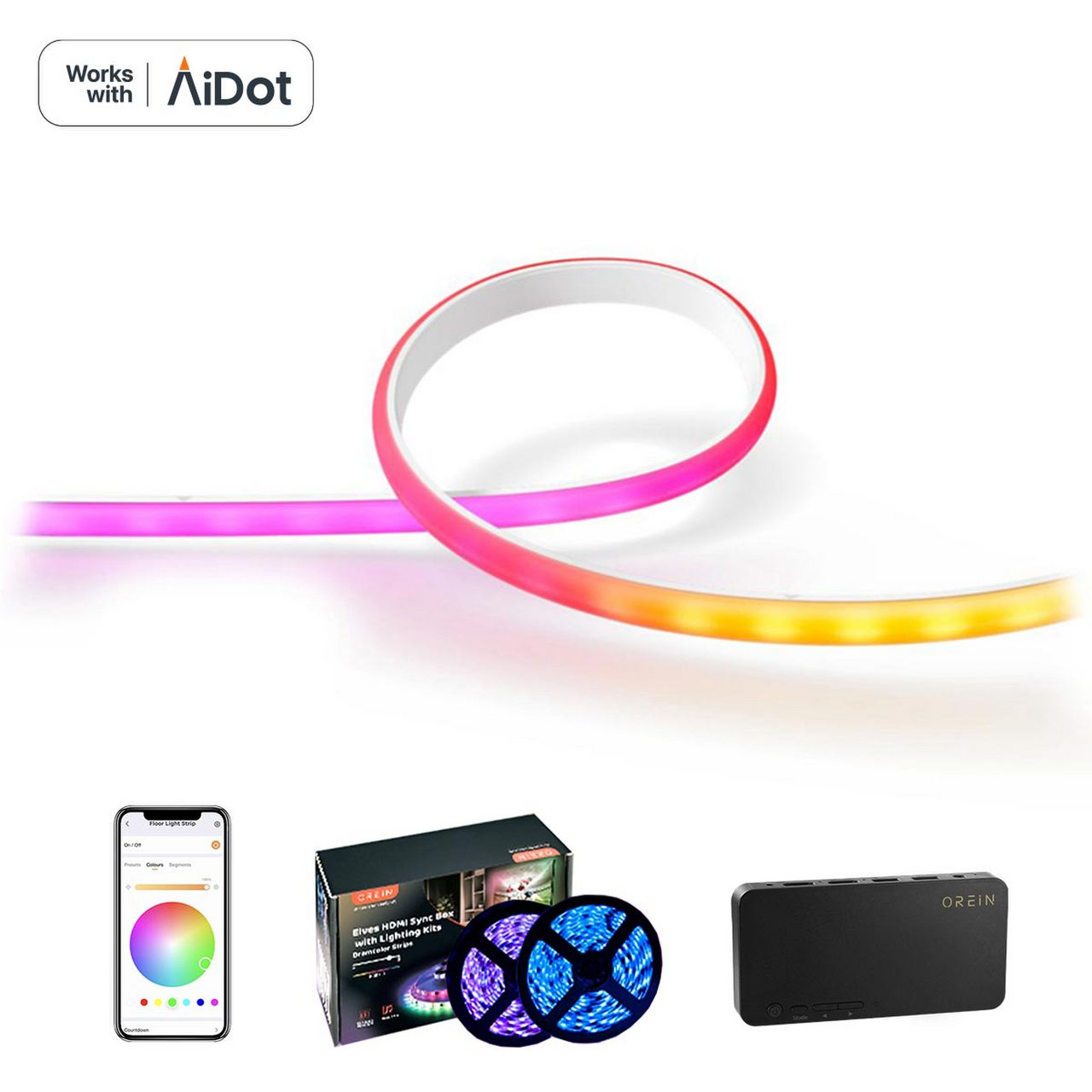 1 x LED Strip with Sync Box
WiFi TV Backlight with Auto Refill Function automatically adjusts light for dark movie scenes.

Supports 4K/60Hz, SDR, and HDR 10+. (HDMI input required; not compatible with built-in smart TV apps.)

Voice control OREiN WiFi TV LED strip with Alexa, Google Assistant, and SmartThings compatibility.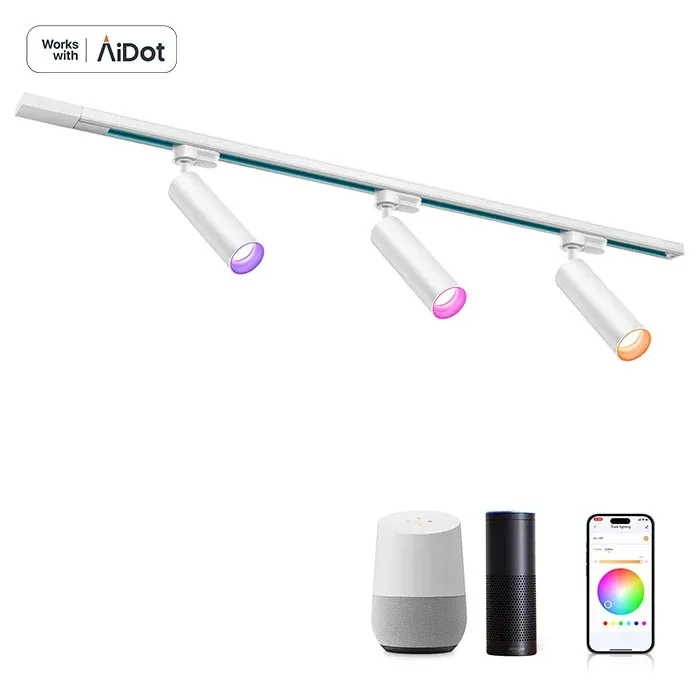 3 x Smart WiFi LED Track Light
Enjoy dimmable 16 million colors and cool whites (6500K) with 3 LED track lighting heads that can display different colors individually.

Install the light on the ceiling or as spotlights, and adjust the direction with 350° horizontal and 90° vertical rotation.

Remotely control these smart lights with ease using Alexa and Google Voice Assistant.
AiDot Smart Light Starter Kit
Ignite your lighting inspirations with dynamic music synchronization from our trio of smart devices.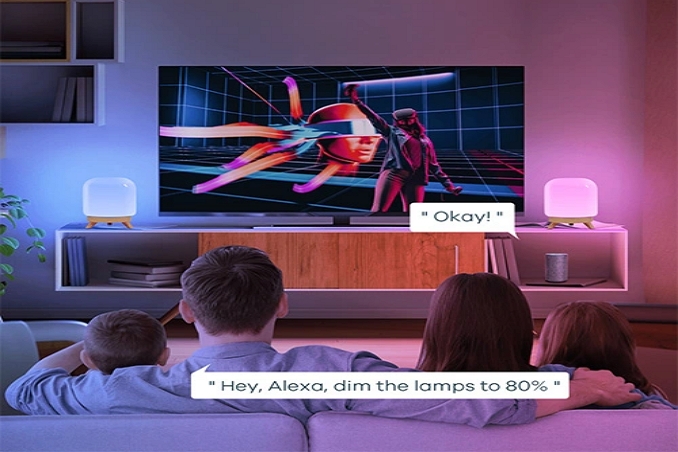 Versatile Illumination for Any Space
Transform your small space with our Smart Table Lamp, designed for multi-scenario use. Effortlessly control lights from the comfort of your couch via voice commands, and create the perfect ambiance that suits every occasion.
Elevate Your Lighting Experience
Experience the power of our Smart Bulb, designed to bring vibrant illumination to any space. With a wide range of color options, including 16 million colors, you can effortlessly create the perfect ambiance to suit your mood and enhance your surroundings. Simply use the AiDot app to select from a variety of colors and adjust the brightness level to transform your space into a personalized haven.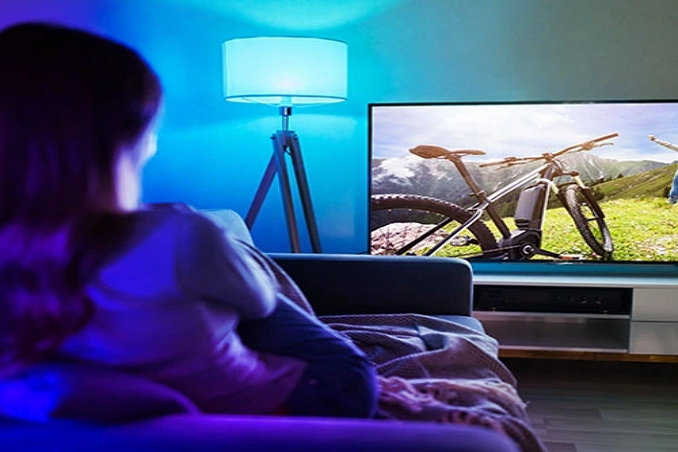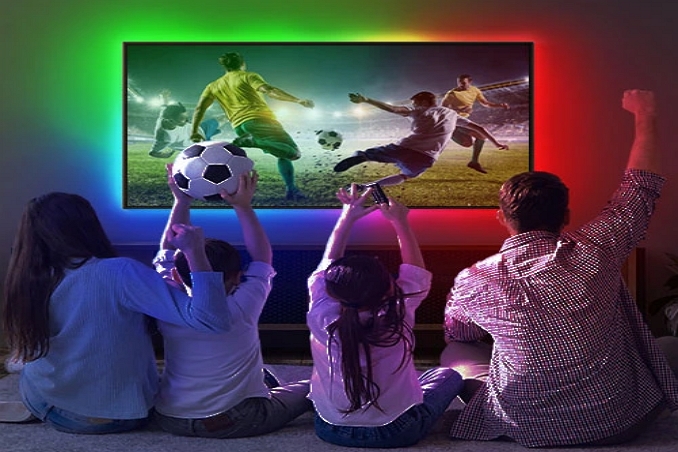 Unleash Vibrant Lighting Possibilities
Discover the versatility of our Strip Light, designed to illuminate specific areas within your space with a powerful yet sleek profile. Despite its small and thin design, this lighting solution packs a punch, delivering stunning illumination to enhance any corner of your room. With its dynamic segmental color feature, it brings forth a plethora of visual experiences that synchronize with your music or TV viewing, immersing you in a captivating ambiance.
Elevate Your Space with Radiant Ceiling
This track light is the perfect addition to bring vibrant and colorful decoration to your entire space. This lighting solution acts as the final touch, making every corner of your room come alive with a captivating glow. With its smooth dimming feature, it seamlessly adapts to any environment, making it an ideal choice for specific areas or as common lighting for your entire house.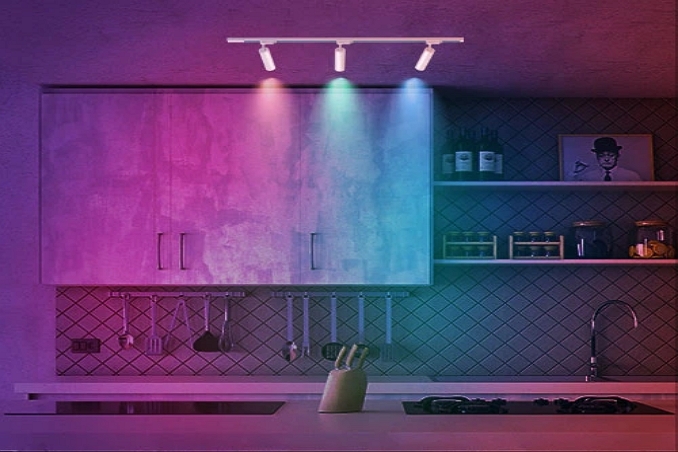 Multi-scenario Use on Small Space - Smart Table Lamp
---
Set the party scene with simple voice commands, turn the lights on and off without leaving the couch, and even change the color of the Living room to create the perfect ambiance individually or with all the other lighting.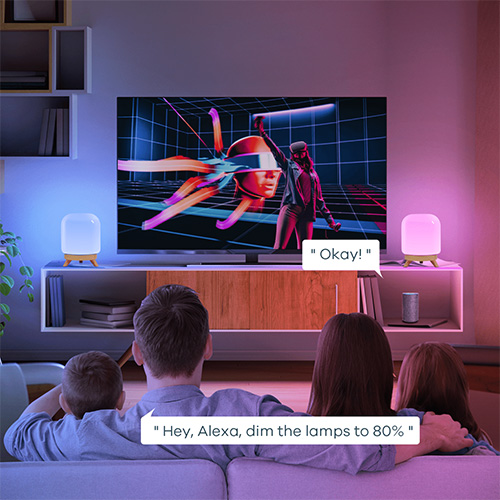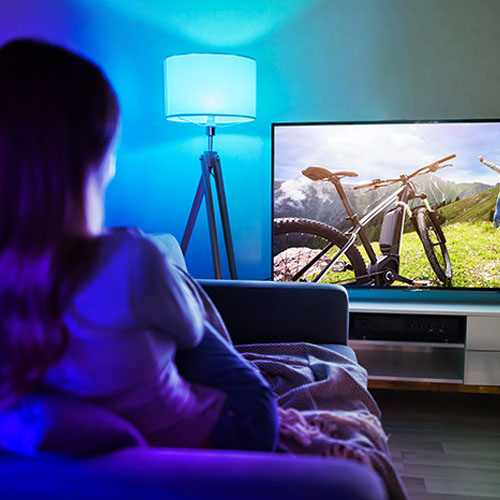 Basic Lighting Effect- Smart Bulb
---
Multi-use lighting for diverse spaces with huge options of color. 16 million colors and different brightness can be selected via AiDot app based on your mood.
Flex Your Shining Lighting- Strip Light
---
Tiny and thin, but powerful while shining for a certain area in the whole space. The Dynamic segmental color can bring you plentiful visual feelings while listening to music or watching TV.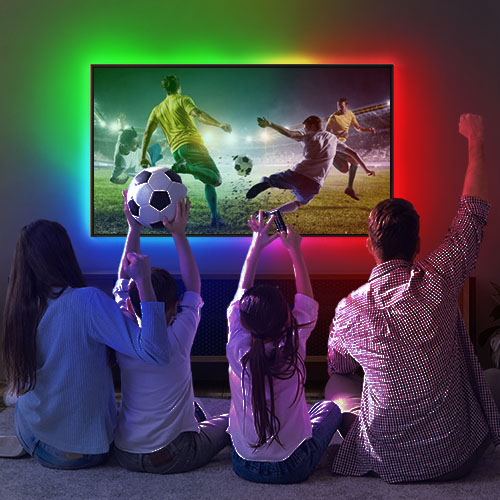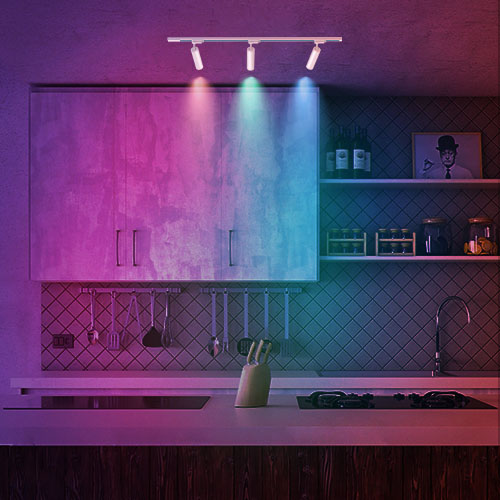 Colorful Decoration for Ceiling-Track Lighting
---
The final lighting buff for the entire space to make every corner glowing. Its feature of smooth dimming makes it work well in any space you want, and also common lighting for the entire house.