AiDot Linkind Matter Version BR30 WiFi Smart Flood Light Bulb - 4 Packs
Special Price
$35.99
Regular Price
$59.99
-40%
SKU
LS01019-RGBTW-WB-US-4
10% OFF New User Benefit
Over $30
Obtained
Matter-Enabled: All-Round Compatibility
Simple Setup via QR Code
DIY Color & Sync with Music
Smart App & Voice Control
Set Your Schedule
Free & Fast Delivery (2-7 days)
Payment Security
Lifetime Customer Support
60 Days Back Guarantee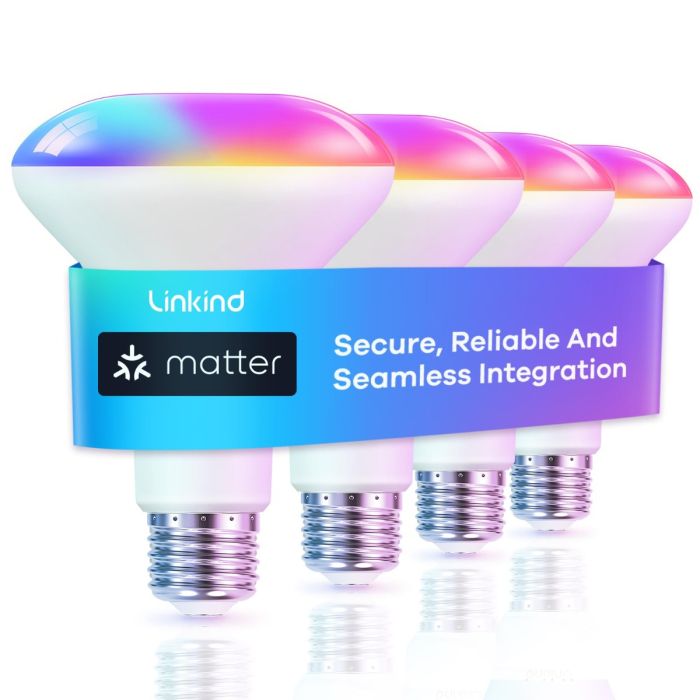 Free & Fast Delivery (2-7 days)
Payment Security
Lifetime Customer Support
60 Days Back Guarantee
You May Also Like
Specification
| | |
| --- | --- |
| Item Weight | 1.1 pounds |
| Product Dimensions | ‎3.74 x 3.74 x 5.04 inches |
| Type of Bulb | LED |
| Wattage | 65 Watts |
| Material | Material |
| Luminous Flux | 650 Lumen |
| Light Color | ‎RGBTW |
| Control Method | App |
| Pack | 4 packs |
| Bulb Features | ‎Music Sync, Works with Alexa/ Google Home, No Hub Required, Energy Efficient, Dimmable, 1800-6500K Color Changing, Remote Control, Voice Control |
Linkind Matter Version Smart Flood Light Bulb: Illuminating Possibilities, Simplifying Life!
Experience all-round compatibility with our matter-enabled smart light bulbs, seamlessly integrating with Apple Home, Alexa, Google Home, and more without the need for additional apps.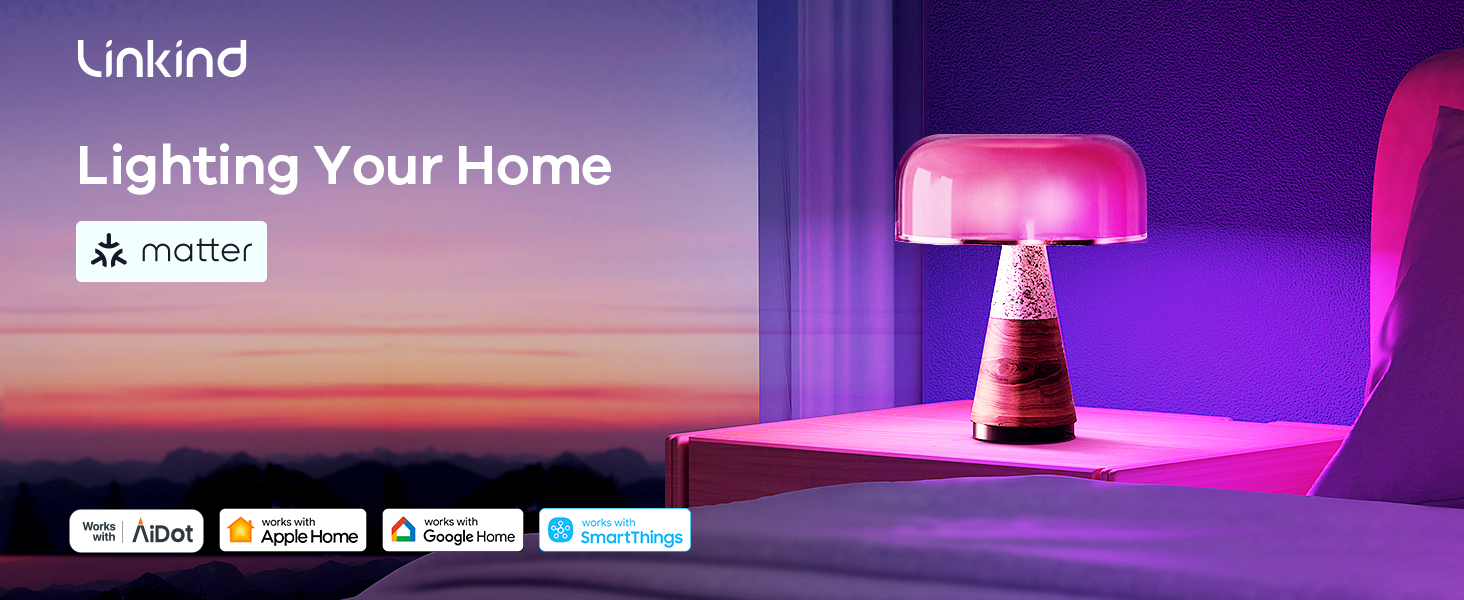 An Introduction to Matter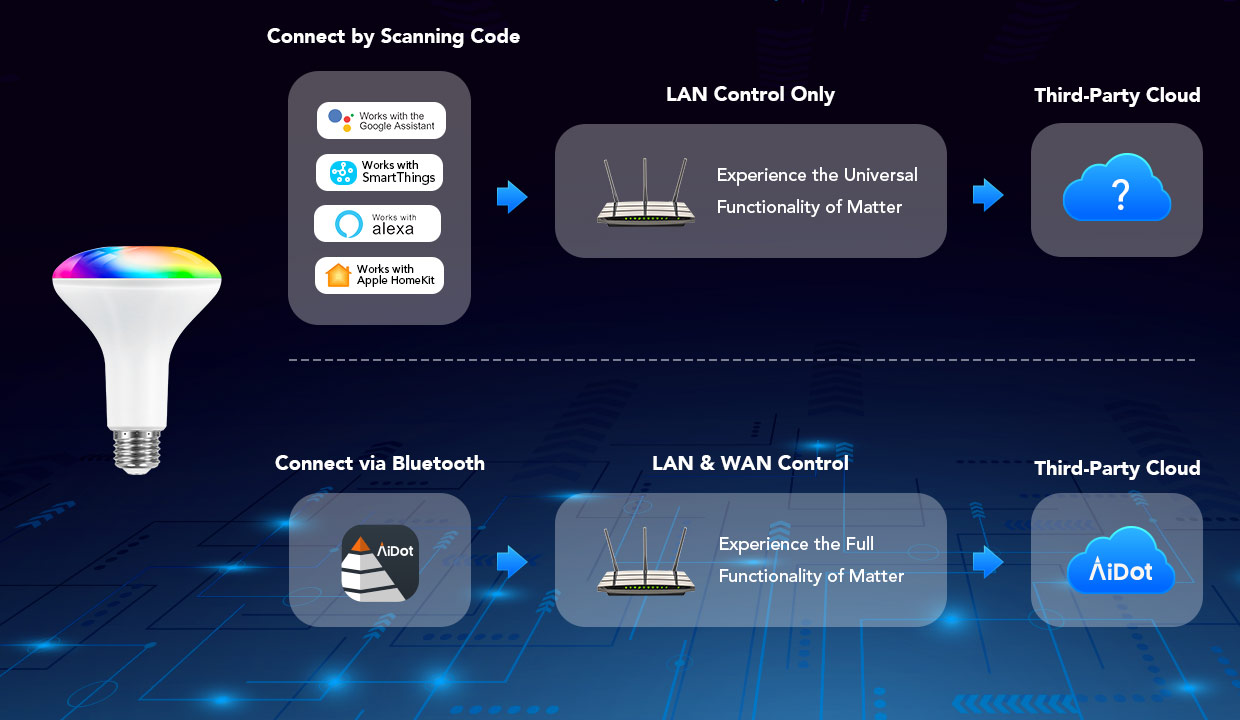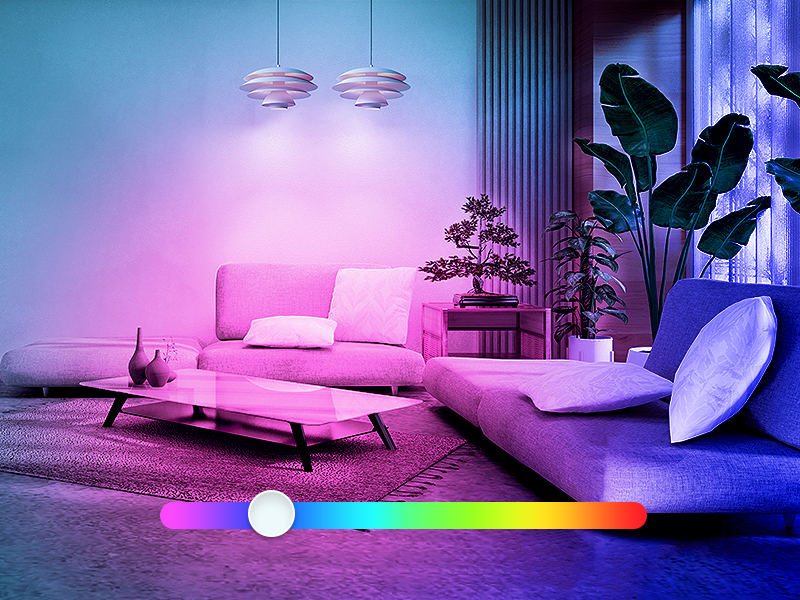 What is Matter?
Matter is a new standard for smart home appliances created by the Connectivity Standards Alliance (CSA) to make it easier for different smart home devices to communicate with each other. It's an open-source, royalty-free protocol that focuses on creating interoperability and a consistent set-up process.
What Are the Advantages of Matter?
Multi-Admin Control: Matter allows you to control devices via multiple smart home systems at the same time through its Multi-Admin feature. For example, you could turn on this BR30 bulb via Google Home and turn it off via Alexa.
Device-to-Device Communication: Matter-supported devices from different brands can seamlessly integrate with each other, enabling you to create multi-device actions or routines that were previously incompatible.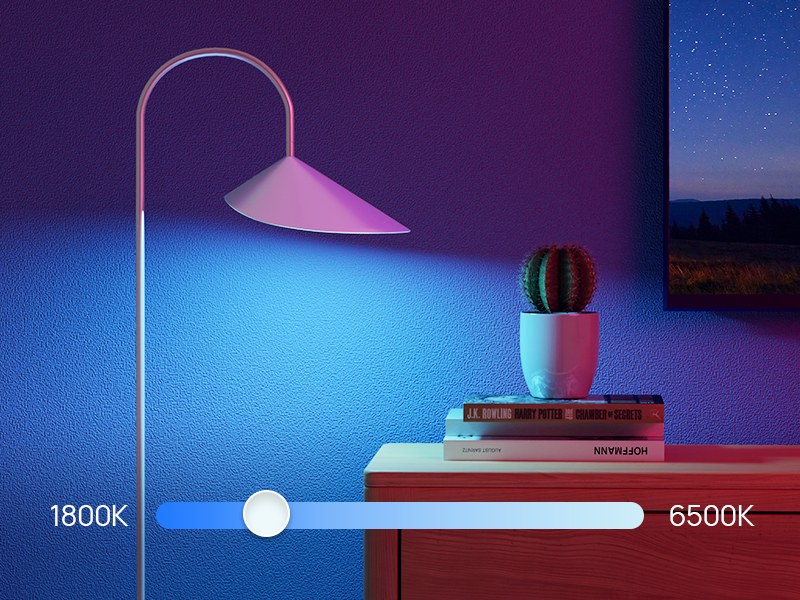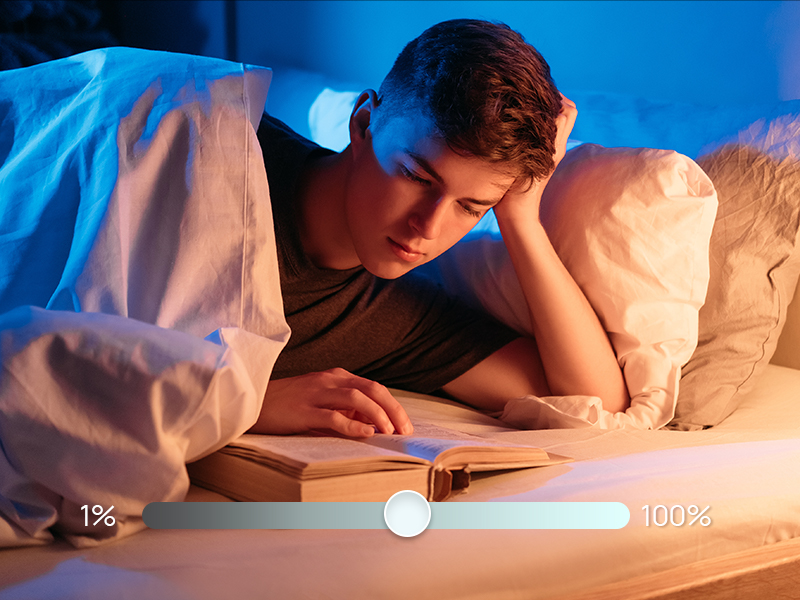 What Are the Advantages of Matter?
Easy Setup: Matter bridges the gap between ecosystems and standardizes the setup process. Fire up any standard-compliant app and scan the provided QR code, and the configuration is nearly complete.
Local Control: Matter eliminates the need for home devices to connect to the internet individually, as long as a Matter hub/controller is connected. This enables faster interactions with smart home devices, such as turning a smart bulb on/off, even during internet outages.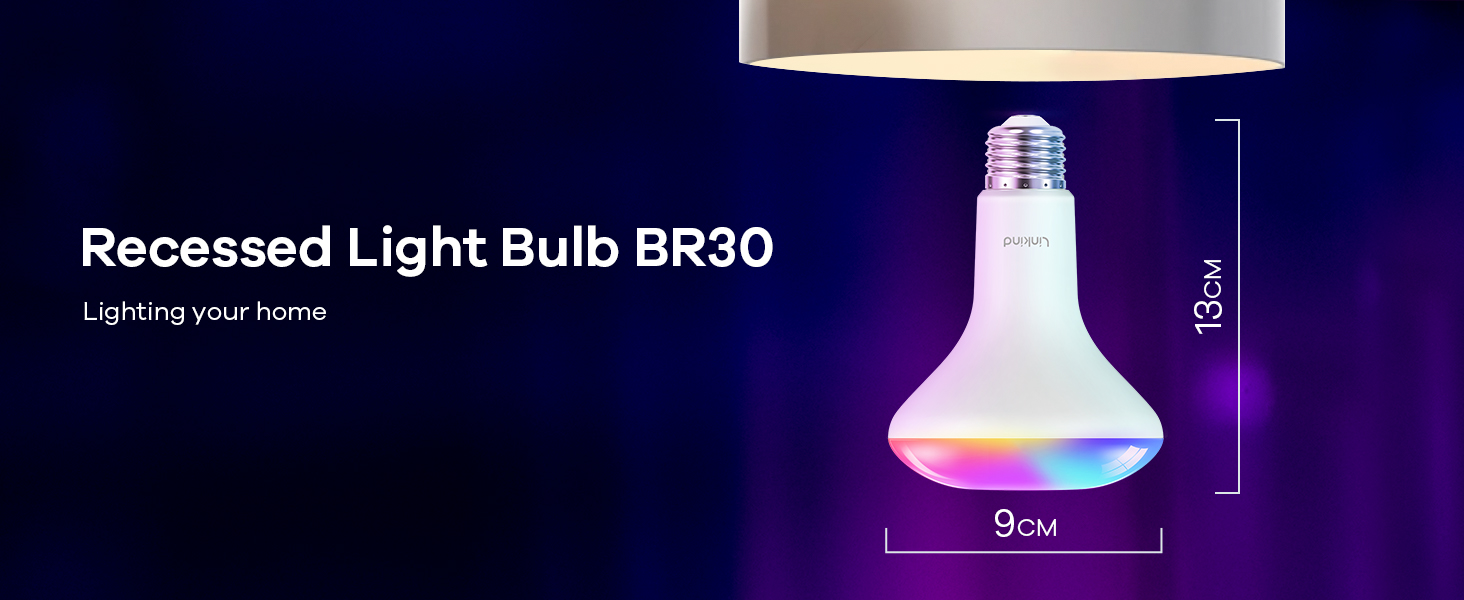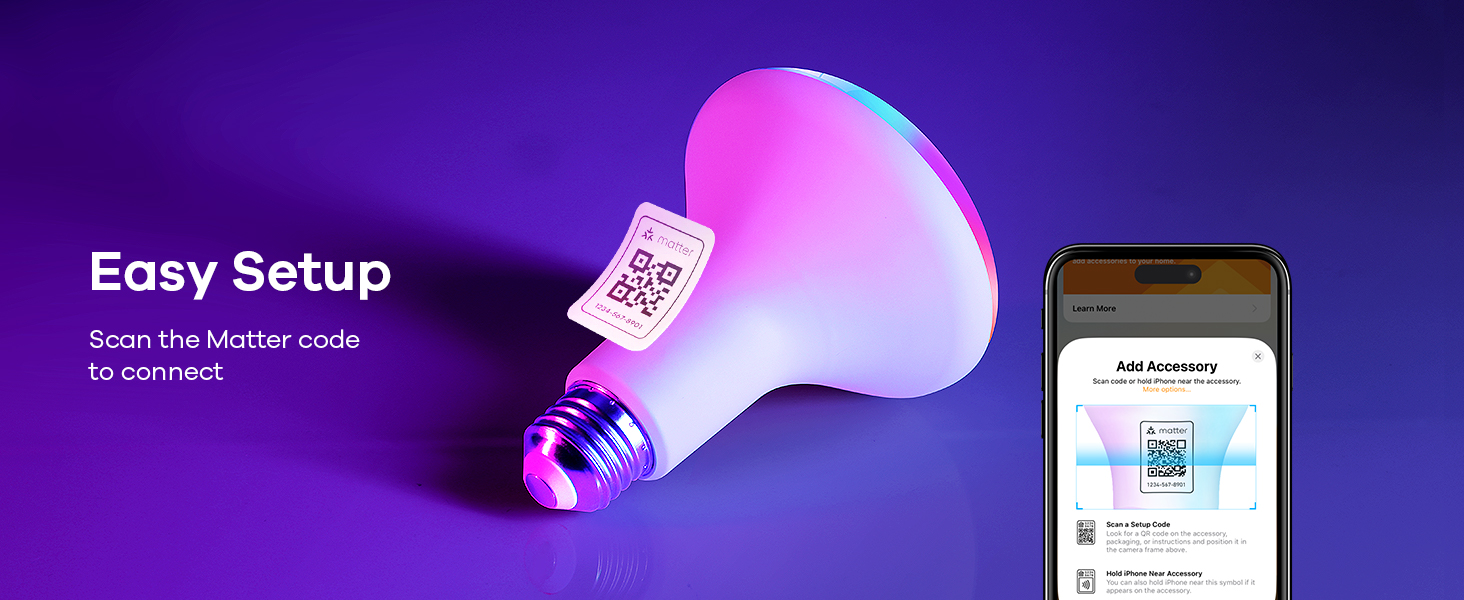 Seamless Control with AiDot App
Take full command of your smart flood light bulbs using the user-friendly AiDot App. Customize colors, lighting scenes, schedules, and more with ease, tailoring your lighting experience to suit your preferences. Enjoy convenient and intuitive control at your fingertips.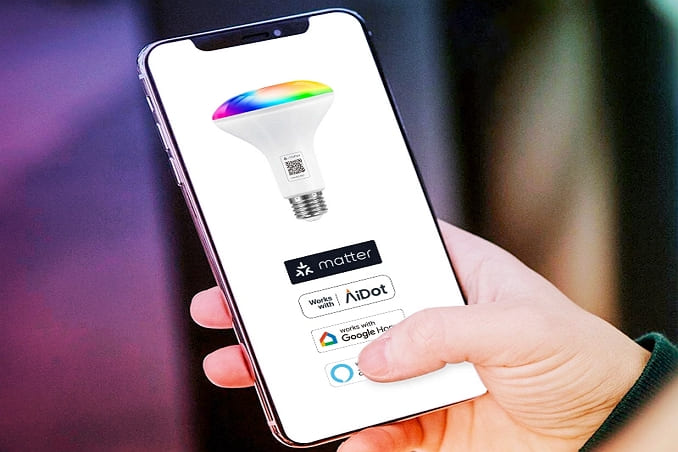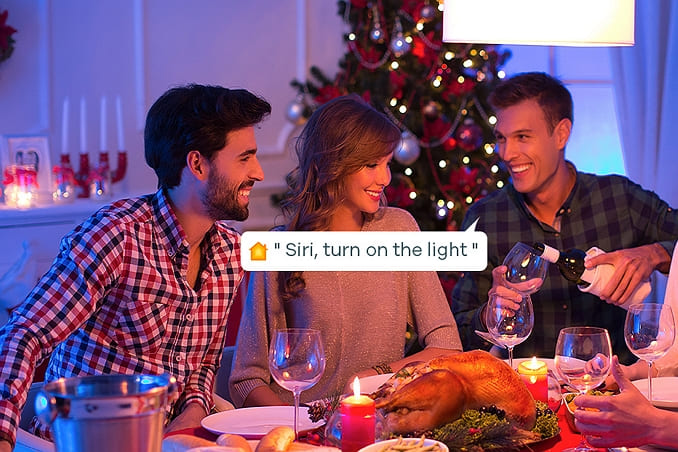 Enhanced Convenience with Voice Control
Enjoy hands-free control and an elevated smart home experience with our voice control feature. Seamlessly interact with your smart light bulbs through popular voice assistants like Alexa, Google Assistant, and more, making your daily routines even more effortless and efficient.
Effortless Group Control
Easily control multiple smart flood light bulbs simultaneously, creating the perfect ambiance across different rooms or areas of your home. Streamline your lighting experience and elevate your comfort with just a tap or a voice command.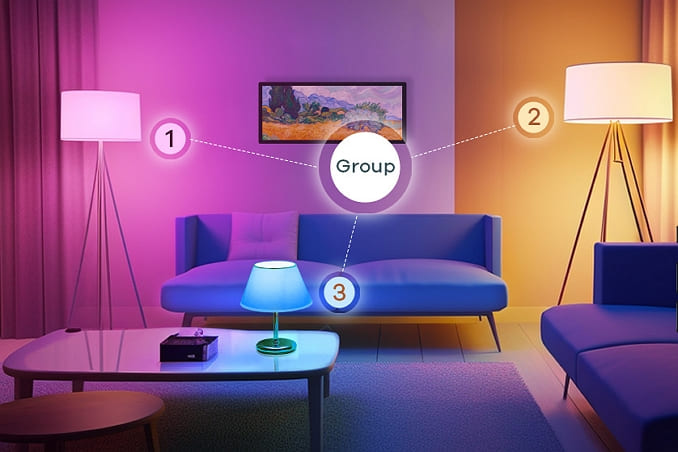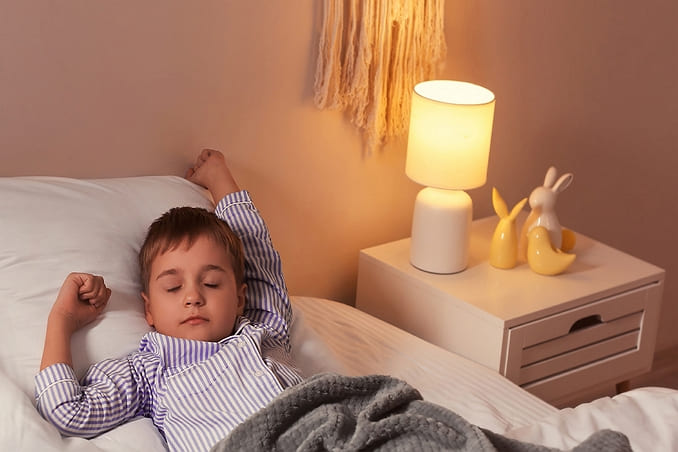 Seamless Time Scheduling
Set automatic on/off times for your Linkind Matter version smart flood light bulbs, making your daily life more convenient and efficient. Create personalized lighting schedules using the Matter-compatible app or voice assistant, ensuring your home is always perfectly illuminated at the right moments.
Dynamic Music Sync
Immerse yourself in a vibrant atmosphere with our music sync feature. Watch your light bulbs dance to the beat of your favorite music, creating a captivating and synchronized visual experience. Elevate your environment and make every moment more lively and engaging.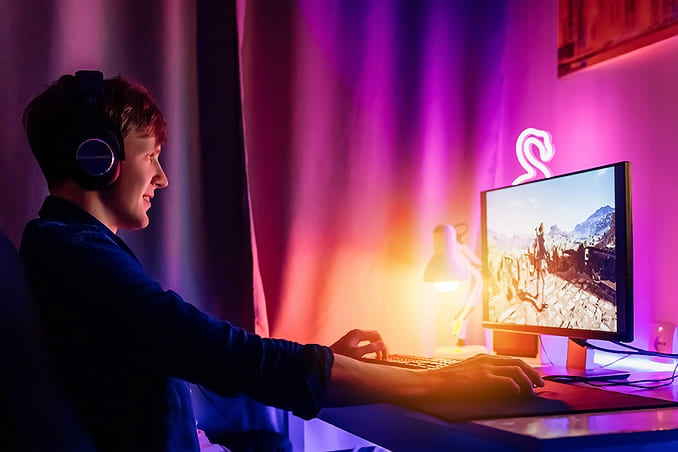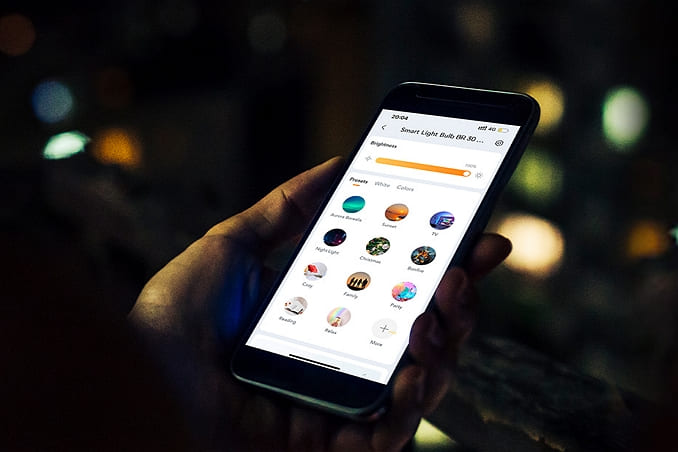 Discover Diverse Scenes
Transform your living space with our diverse scenes feature. Choose from a variety of pre-set lighting scenes to match different moods and activities, effortlessly creating the perfect ambiance for any occasion. Enhance your environment and enjoy a more versatile and dynamic lighting experience now.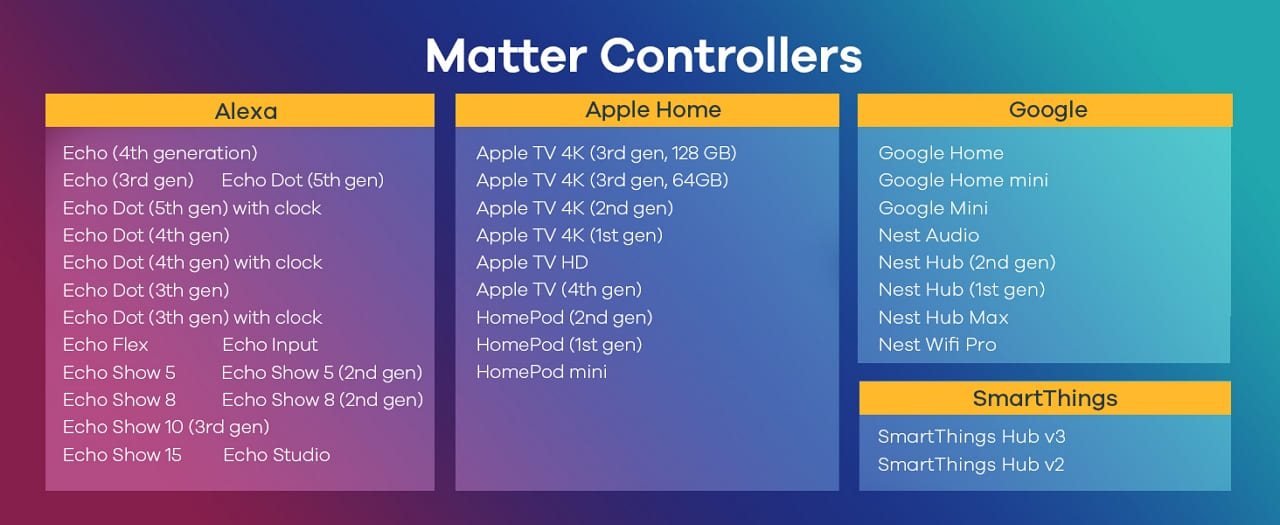 FAQ
1. Why it says the device cannot be found when adding the device for the first time?
Please power on the device again and ensure it is in a factory reset state. Also, make sure Bluetooth is turned on.
2. What if the device addition fails?
If you encounter device addition failure, ensure your phone with the app is connected to a 2.4GHz WiFi network, and your hub is connected to the same router. Try resolving the issue by restarting the hub, app, or phone.
3. After adding the device, if it shows as offline.
It may be due to an unstable network connection. Try manually refreshing the device to resolve the issue.
4. When adding the device via a third-party app, scanning the code prompts an error or no response.
Please ensure that the app version meets the minimum requirements stated on the page.
5. Are there alternative ways to connect the device apart from scanning the QR code on the light?
Yes, you can also try scanning the QR code on the instruction manual instead.