RGB vs RGBW has a longstanding history of discussion, all these two types of light offer a wide range of innovative lighting designs and creative application possibilities. These LED lights are the trendsetters because of their numerous combinations of optimal primary hues – red, green, blue, and white. Every source of light emits a color temperature' characteristic that the human brain interprets differently. Many people have been striving to understand the nature and functions of RGB and RGBW, as well as which best suits their housing requirements. This article goes into details about how RGBW and RGB lighting works and how they differ from one another.
Part 1. RGB vs RGBW: What Are the Differences?
For many people, RGB vs. RGBW has been a hot topic. For many years, they have been used in different lighting applications and have influenced lighting design. When there is a need to acquire a colorful LED strip and send an inquiry to the LED strip supplier, the differences between RGB and RGBW may cause misunderstanding. This article will now help explain the differences between RGB and RGBW in greater depth. Here are 8 major differences listed and explained:
1. LED Chip
Red, Green, and Blue are the three primary colors in RGB LED lighting. The colors Red, Green, Blue, and White are used in RGBW LED lights. The extra white color chip can be mixed with the other three colors to create more precise and vibrant colors.
2. Color Rendering Index (CRI)
Because RGBW LED lights have a higher Color Rendering Index, they can more accurately replicate the object's original color. Using RGBW means better color reproduction.
3. Full Spectrum
RGBW LEDs perform substantially better than RGB LEDs in terms of full-spectrum lighting. With the added white color, RGBW LED can display more sorts and precise colors to achieve full-color lighting.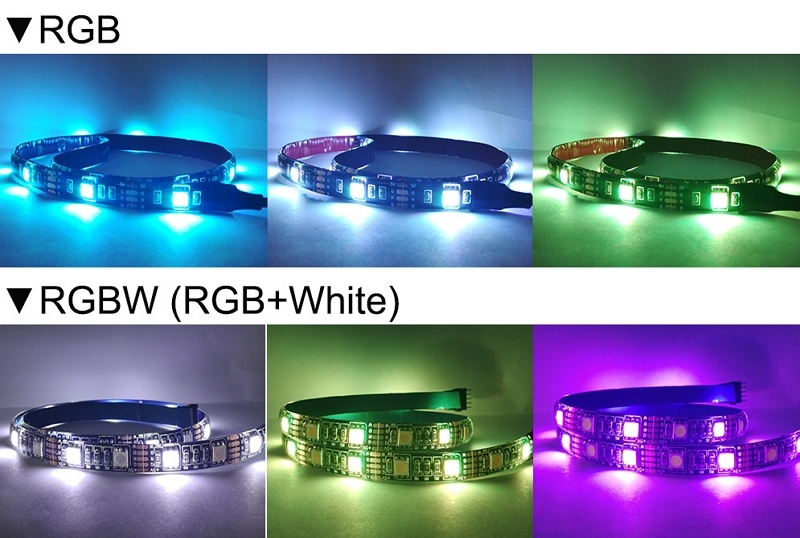 4. Foot
The RGB LED strip has 4 pins and the RGBW LED strip has 5 pins; the fifth foot of RGBW is for "W," therefore it's easy to tell which one is RGB and which is RGBW.
5. Brightness
RGBW four-color pixels are created by adding white pixels W to RGB. RGBW is brighter than RGB, has higher light transmission, and uses less power.
6. Application
If you want to choose between RGB and RGBW, you must consider the application. Without any additional criteria, RGB LED strips are commonly utilized for lighting applications. RGBW allows for more color mixing options and better color reproduction.
7. Controls
The RGBW LED Strips have a 4-in-1 chip that includes red, green, blue, and white for people who want more control over their LED lighting. While slightly more expensive, these strips provide significantly more illumination possibilities. RGB and RGBW LEDs can be changed to different hues, such as white, red, green, blue, pink, yellow, cyan, and so on, using the controller.
The RGBW LED, on the other hand, provides a brighter and more pure white light performance because of the additional white light diode. There are also RGBWW (RGB+ warm white), RGBCW (RGB+ cool white), and RGBNW (RGB+ neutral white) additional diodes available, depending on the color of the additional diode. RGBW LED lights are ideal for illuminating complicated and precise situations such as a shopping mall or a hotel. For colorful ornamental lighting, RGB is adequate, or a secret light band is necessary. For task lighting that demands bright white, RGBW is the best option.
Part 2. RGB VS RGBW: Which One Is Better?
RGBW LED lights are often superior to RGB LED lights. The inclusion of a white LED chip improves light quality while also lowering energy usage and increasing lighting efficiency. It is also important to consider the consequences on the environment. As climate change becomes more serious, why not use an energy-saving RGBW LED to create a sustainable lighting solution?
Better Light Quality
In theory, RGB LEDs may produce white light by combining the fundamental red, green, and blue photons. However, the mixture contains color blending and diffusion, resulting in fictitious white light. This type of white light appears to be obscured by fog.
People will have an unpleasant visual experience due to the foggy light. RGBW LEDs, on the other hand, may create cleaner white light and lower saturation colored light, giving our eyes a more pleasant visual experience. Furthermore, due to the addition of white light LED, RGBW LED light can provide a larger spectrum of distinct color shadings hues and is more flexible in color mixing.
Less Energy Consumption
Traditional RGB LEDs can only create lower-brightness light. As a result, to improve illumination brightness, a bigger LED amount is necessary. However, increasing the number of LEDs increases both the cost of production and the amount of energy consumed. RGBW LED lights, on the other hand, produce the same brightness with fewer LEDs.
Higher Lighting Efficiency
Because of its increased light transmittance, RGBW LED lights have a higher lighting efficiency. Unlike RGB LED light, which absorbs and blends some light, RGBW LED light reflects all of the light without wasting it, increasing lighting efficiency. In other words, RGBW LED lights may provide brighter light while using the same amount of energy as RGB LED lights.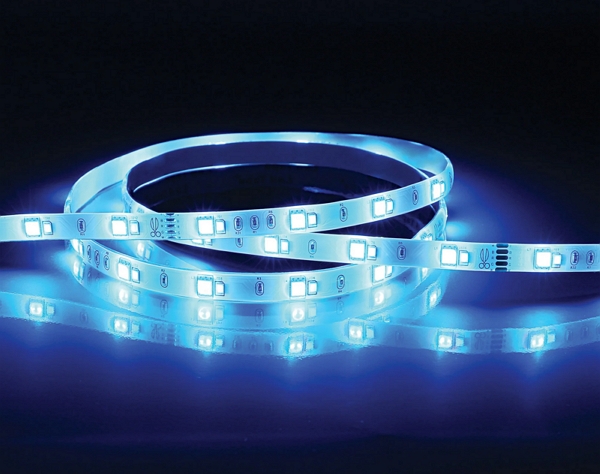 Part 3. Recommendation of RGB Light and RGBW Light
1. RGB Light Bulb
With 16 million color options and music sync capabilities, the AiDot Smart Recessed Lights are perfect for setting the mood in any room. Plus, with the free Aidot app, you can easily control them with your smartphone or voice commands through Google Assistant, Amazon Alexa, or Siri. Upgrade your home lighting experience with our Smart Recessed Lights today.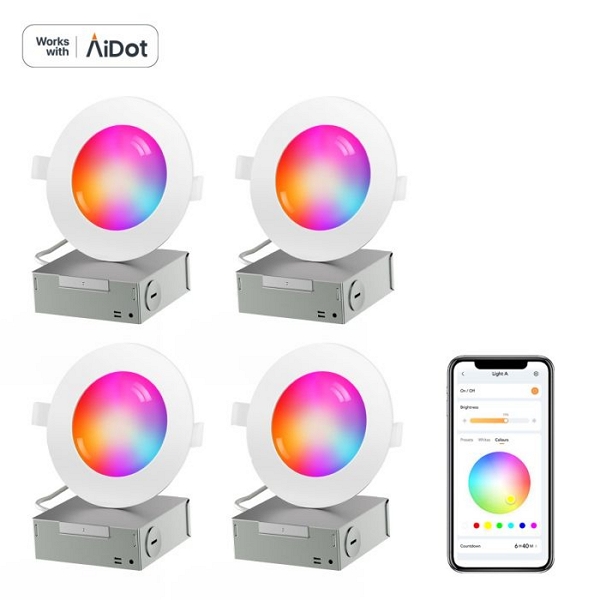 1) Convenient Group Control:
Control multiple lights in different rooms simultaneously with AiDot app. Say goodbye to the hassle of individually turning on/off each light.
2) Smart Voice Control:
No more fumbling for a switch! Now you can control the light with just one phrase effortlessly. Working with popular assistants like Alexa and Google Assistant, the light can understand voice commands including adjusting brightness, powering on/off and changing colors.
3) Different Lights for Different Vibes:
This elaborative designed lighting is aimed to fit all lighting demands of your entire house. Whether it's for reading, relaxation, quiet bedtime or passionate dance party, you can easily switch through 16 million colors and set the perfect ambiance to boost mood.
4) Set Schedule With Your Routine:
Customize the lighting schedule by setting it to turn on/off automatically based on your daily routine. Let the light refresh you at the wake up time and soothe you at the bedtime.
2. RGBW Light Bulb
AiDot Smart WiFi RGBW Light Bulb is the perfect way to create an ideal atmosphere for any occasion. With over 16 million colors and the ability to sync with your music's beat, you can truly express yourself and set the mood. Control your lights easily with simple voice commands, or customize your settings through the Aidot app. Get ready to transform any space into a dynamic, calm, or party atmosphere with just a few taps on your phone.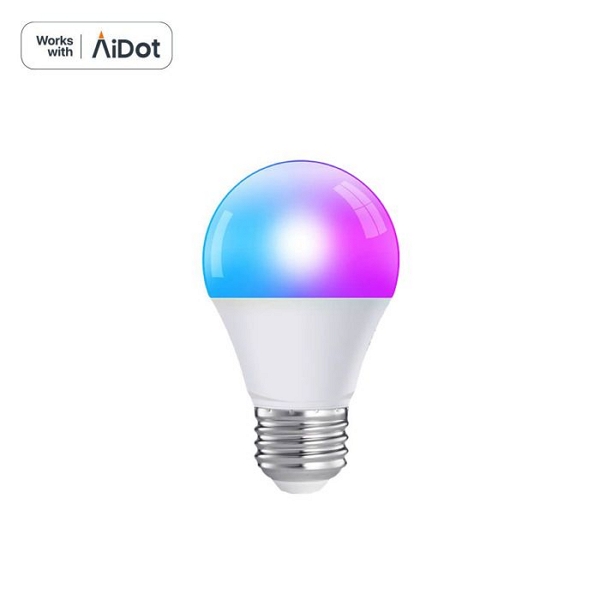 1) Color-Changing Lights:
Change colors with the music rhythm, providing over 16 million vivid colors and dimmable warm to cool whites (1800K-6500K).
2) Music Synchronization:
LED bulbs dance with the music to create the ideal atmosphere for various occasions, with options for Party, Dynamic, Calm or Auto rhythm via the AiDot app.
3) Smart App Control:
Connecting to the AiDot app allows the smart bulb to be remotely controlled. It takes just one click to turn on/off the light, adjust brightness, adjust colors, etc.
4) Convenient Voice Control:
With compatibility for Google Assistant, Amazon Alexa, and Siri, you can easily control your smart LED bulbs with just your voice, making your life more convenient and hands-free.
[Bonus Now]: Here is an exclusive coupon code only found in blog posts. Save it now (AiDotBG01) and get 10% off at AiDot mall!