The smart light bulb is a newly type of the traditional light bulb, with distinctive functions and smart controlling ways. It is definitely a different experience and first consideration while trying to build your smart life. In terms of smart light bulbs, there could be a lot of doubts like what are the functions;how to choose smart light bulbs among brands in the market; which app is the most suitable controlling tool for the beginning of smart living? All the answers to these questions can be found below, and they can help you to have a better understanding of smart light bulbs.
Part 1 Can You Put Smart Bulbs in Any Lamp?
A hot question about smart light bulb is: can you put smart bulbs in any lamp? The answer is yes. It is accessible to put smart light bulbs in any lamp for a flexible usage. In fact, this small and smart item can put anywhere in your house for a better smart lighting effect. Put it in a lamp and set the lamp in your bedroom, then you can make your personal space a different space with colorful ambience. Besides, it contains so many advantages such as color-changing function, remote control, sleep quality improving, energy-saving, money-saving that can be utilized daily.
Part 2 Choices of Best Smart Light Bulb
For the selection of best smart light bulb, it could be hard to do with so many similar smart light bulbs. Therefore, two great options of smart light bulbs are introduced below for samples of selection.
-1: Linkind Smart Light Bulb of AiDot(2nd gen)
1) Remote Control
Why it is called smart light bulb is because of the smart and convenient controlling method. The old way- hub or bridge is not required, the replacement is AiDot app which can control your smart light bulbs with connection of 2.4G wifi easily.
2) RGBW color-changing
The endless selections of color is the first thing you can make full use of . Aidot 2nd-gen smart light bulb provides you with 16 million colors and the basic dimmable white light from soft to cool(2700K-6500K). You can image how colorful your house could be and it can create a better ambience on the basis of your mood. The controlling of changing color is also simple, just change it through AiDot app anytime you want.
3) Voice Control
For a better and comprehensive experience, another controlling- way: voice command is added in AiDot app for controlling smart light bulb, it works with Alexa, Google Home, Smartthings seamless. In some certain times, you can use voice command to turn on/off lights, brighten/dim lights, and change the colors.
4) Excellent illumination for money-saving
The last but not the least thing is the terrific money-saving effect. This smart light bulb has a 800lm tunable white light, ensure a bright effect for daily illumination. The equal lighting effect as 60w halogens, with 85% saving on electricity bill can be fulfilled through this AiDot app and its smart light bulbs.
-2: Orein Smart Light Bulb of AiDot
Another good option of smart light bulbs is AiDot smart light bulb(3rd gen).
1) RGBTW
This RGBTW smart led bulbs can offer over 16 million vivid colors and dimmable warm to cool whites(1800k – 6500k). The 8.5w of this smart light bulb is equivalent to 60w brightness of other normal light bulbs. 85% electricity consumption can be saved through AiDot smart light bulbs is another advantage which can not be ignored. Besides, lifespan of it can reach to approximately 25000 hours.
2) Music synchronization
If you love music, just image that the color of your room can be adjusted automatically with the music rhythm. To create a unique music space with beats and different colors you like. With this function, it is easy to create some beautiful atmosphere for different conditions.
3) Customized circadian rhythm
Because of different vibrant colors and animated lighting effects, your own stable circadian rhythm can be established gradually. To set My Circadian with AiDot smart light bulb to simulate sunlight for more applications like improving sleep quality or boosting mood.
Part 3 A Special Item You Need for Smart Light Bulbs: AiDot App
Since so many pros of using smart light bulbs, there is a special item which should be taken into consideration for controlling all internal smart light bulbs and other smart devices: AiDot app. The main reason why most smart devices are convenient is that they can be controlled by a terminal equipment. AiDot is a sample role of this kind of terminal equipment, for controlling all smart light bulbs. The main usage of AiDot app is to connect all smart devices like smart light bulbs together and make the using method smarter. In order to provide customer with a better experience, Aidot membership is available with lots of extra services .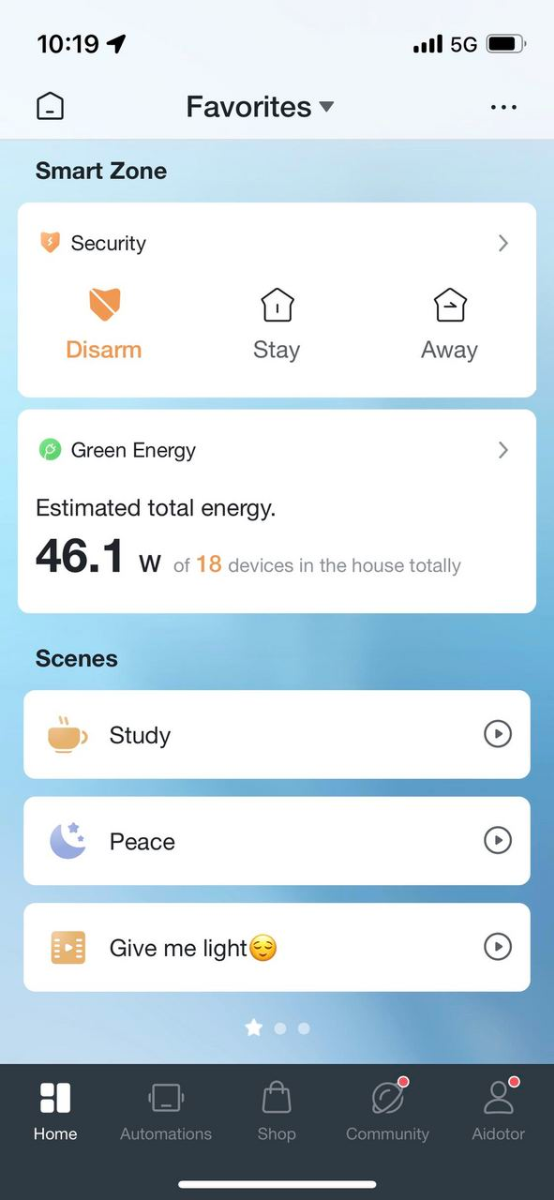 In AiDot app, there are several different patterns to control and play with the smart light bulbs. For the basic instruction, you can control every adjustment of smart light bulbs like turning on/off, brightness or color changing. On the basis of all the using recording, another terrific advantage of AiDot smart light bulbs will be represented clearly : energy-saving with exact figure. Furthermore, some senior and smarter functions are the most attracting factors. For example, it is able for AiDot app to set your customized scene which can contain all your smart light bulbs in house. You can start with a sunrise scene – the light in your bedroom will turn on at 7am( if sunrise is 7am), then turn off at 7:30am automatically. All the time and exact light bulbs can be set according to customer's demands. For more surprising and funny functions, come to smart home of AiDot and figure it out by yourself.
Except for smart functions, AiDot is aiming to offer more properties for users like the latest official store and community in app. In AiDot community, it is a free space for all the users to share ideas or product issues with others. In AiDot official store, you can find a lot of smart devices of AiDot other than smart light bulbs. It is likely that you can find more great smart devices to enrich your smart home. Perhaps a security camera, TV strip light is the next smart device in your house.