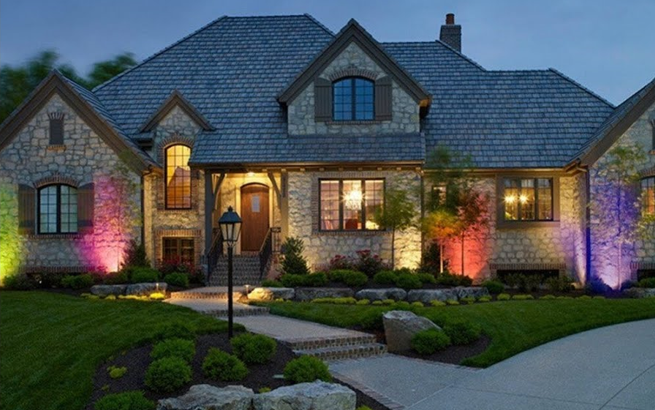 Because of their ability to illuminate a large outside area with a concentrated beam of light, led flood lights are frequently used as supplementary security lighting for buildings. Led flood lights are becoming increasingly popular in commercial and residential settings due to their low energy consumption and negligible environmental impact. Outdoor led flood lights are frequently mounted over doors and walkways to illuminate the area and dissuade would-be burglars. There is a wide range of wattages and designs of outdoor floodlights to choose from, so you can find the perfect fit for the area you need to illuminate.
Part.1 How Many Lumens Is Good for Flood Lights
The quantity of light produced by an electric bulb is expressed as a lumen. Lumens describes the amount of visible light produced by an electric bulb. The average 40W bulb emits more than 400 lumens. In general, the wattage of a light bulb directly correlates to its lumen output. So, how many lumens should your led outdoor flood lights have? The answer is conditional on the location and intensity requirements of the lighting system.
The primary reason for installing led flood lights is safety. Various outdoor led flood lights are available, each designed to illuminate a different area around a house. The brightness requirements for outdoor led flood lights used to illuminate a pathway are lower than those of regular lights, which are used to illuminate a larger surface area. The brightness output of led flood lights should be between 700 and 1300. There is a direct correlation between the lumen output of your lights and the safety of your home or business. Led flood lights with motion sensors need between 300 and 700 lumens. Because of the adjustable ranges of these lights, their output might vary. Furthermore, they shine light wherever an object happens to be passing. Using a bulb with more lumens will result in a brighter light from your motion sensor lights.
Part.2 Why Is My Led Flood Light Strobing
High energy surges and poor connections are the typical causes of led flood lights strobing. Outdoor flood lights are susceptible to random flashing due to increased energy spikes caused by using too many gadgets at once. Solving this problem is as simple as reducing the number of devices sharing the circuit with your led flood lights. If your led bulbs blink rapidly, it may be because your dimmer switch is not designed for use with led flood lights. The improper dimmer switch could cause a voltage drop in your led outdoor flood lights. However, if the flickering only happens when you use other electronics, it's probably due to a power surge.
Some major causes of Flood light Strobing are:
Unclean Bulbs:- When using led flood lights, it is common for dust and debris to get stuck in the plug. If your light bulbs are dirty, your LED lights may lose their connection and stop working. In addition, LED flood lights may flicker if the socket is dirty; cleaning the socket should remedy the problem.
Linked Grid:- You and your neighbors are most likely connected to the same electricity grid. So, it's not just your energy habits that matter; your neighbors' habits could also impact your bills.
Part.3 Are Led Flood Lights Any Good
A flood light primarily illuminates broad areas from afar. LED outdoor flood lights are available in various sizes and styles to meet the varying demands of the market. Floodlights serve several purposes, from lighting enormous stadiums and parks to lighting up your yard. Outdoors is where you're most likely to find them in use, although you might also see them utilized indoors, such as to illuminate a garage or storage facility.
Cost: At the moment, prices are extremely low. LED flood lights are a cost-effective alternative to traditional floodlights. However, their lumen output is disproportionately high to the price.
Energy Savings: LED floodlights are great since they save money on electricity. They consume barely a fraction of the power that standard led flood light(s) would.
Design: LED flood lights are ideal because they can be used for various purposes and because of their sleek and understated design.
Ease: They are so easy to operate that even someone who has never worked with such lights before can do it. They require nothing in the way of upkeep and can be used by people of varying skill levels.
Safety: These lights are far safer than traditional bulbs because no mercury or lead is used in their production.
Part.4 5 Good Options for Led Flood Lights
It is our top choice for the finest flood lights because of its IP65 rating, 16 million color temperature range, and 2700K to 6500K color temperature range. It's a great stage light because it's simple to sync with the music and waterproof (to the tune of IP65), so performances won't be postponed in severe weather. In addition, it has a 25000-hour lifespan and can cut electricity use by more than 80%. The tempered glass and high-heat-dispersing die-cast aluminum chassis further contribute to its robustness and dependability.
This outdoor led flood light's color-changing feature, dimmable from 5% to 100%, provides a wide range of customizable color possibilities, making it ideal for use on holidays, celebrations, and other special events. In addition, timer controls allow you to automate the on and off of your floodlights for a customized and convenient experience.
2. Hue Welcome Home Floodlight
The average color temperature for the Welcome Outdoor Floodlight is 2700K white. This colorful version is one of the best led flood lights for backyards since it produces 2,250 lumens at 4,000K, which is more than enough to brighten your yard. In addition to the geofencing function, the lights can be activated by a motion sensor attachment or manually by pressing a button on the app's control panel. Voice commands via Alexa, Siri, and Google Assistant all function as advertised when used hands-free. It has an IP44 rating, which means it is protected from water and other factors and should be safe in any climate.
3. Sylvania Night Chaser
There is also the Sylvania Night Chaser to consider if you're looking for an outdoor led flood light. This 25-watt LED bulb produces an astounding 2650 lumens of light. The light it emits is brighter than that of a standard incandescent bulb, but throughout its 20-plus-year lifespan, you can expect to save more than 90 percent on your energy costs. This light bulb is perfect for lighting up your deck, patio, or yard for late-night get-togethers or simply for safety.
One common complaint from users is that the light is excessively bright and spills over into neighboring properties. However, by linking them to a lamp with a dimmable feature, the intensity of these lights can be modified.
4. Sansi LED Security Lights
Sansi's LED flood lights are not only waterproof but also feature cutting-edge ceramic technology for superior heat dissipation, resulting in increased durability and efficiency. In addition, you won't have to remember to turn on the lights because they have an adjustable motion sensor that works up to 50 feet away and an automated on/off function that activates when the sun goes down. You can set them automatically, but you can also tweak them to your liking.
5. Exgreen LED Solar Power Spot Light
This is an eco-friendly solar-powered led flood light. The lamp runs off of solar-charged batteries, so there's no need to plug it in. This flood light has LEDs and solar panels that can be angled to provide the most illumination while using the least amount of power.
A well-lit home is not only more secure, but it's also got excellent curb appeal. Solar-powered led flood lights are a guaranteed way to get the best out of your home lighting without getting exorbitant light bills stacked against you. Solar-powered light bulbs are the future; solar-powered flood lights bring you a piece of the future. Get one today!