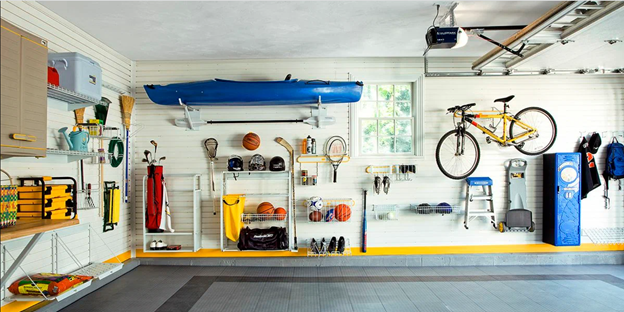 Led work light has been used in many workshops or as a family lighting tool put in a garage or indoor space. They are extremely powerful lights that can illuminate the darkest construction sites and are called craftsman work lights as well. Keeping a led work light at home or in working place is a necessary choice. Although there are lots of led work lights, you can choose them according to their brightness, appearance, and portability.
Part.1 5 Best Led Work Lights
AiDot is a smart home solution and relative devices provider. It has established an ecosystem of smart home devices. This AiDot Led work light is only one tiny non-smart device in this ecosystem, but it is still a great craftsman work light due to tons of amazing features. It is the best led work light today.
This portable work light has three LED lamp heads, which ensures improved illumination coverage. It has adjustability of vertically 180°and horizontally 270°rotation, providing it with excellent illumination coverage. This led rechargeable work light has a stand that is excellent for indoor and outdoor use. It has three brightness levels ranging from 700 to 2200 Lumen, allowing for delicate to intense lighting requirements. Either 4000 or 6500K modes can be used to simulate neuronal cold white or sunshine as needed, and its total customizability meets the needs of various working situations.
2 VEVOR LED Work Light
VEVOR is a cutting-edge company that manufactures apparatus and instruments. Every one of VEVOR's tens of thousands of hardworking employees shares the company's commitment to serving customers by offering durable and reasonably priced machinery and tools. This rechargeable led work light features two 10,000-lumen bulbs, more than enough illumination for most jobs. It can be used anywhere, from the backyard to the basement to the garage to the building site, and it is waterproof so that it can be used even on rainy wet days. This Led work is light luminous, Durable in any climate, Possessing Exceptional Adaptability, is Fully movable and removable, has Ease of Use, and is a Lamp with Two Independent Led Bulbs. It has a brightness of 1000 lumens and a color temperature of 5000 kelvin, making it ideal for use in various environments. It also helps to conserve energy.
The tripod's height may be adjusted from 27.56 inches (or 700 millimeters) to 68.11 inches (or 1730 millimeters), allowing you to either position the light higher for a better view or remove it from the stand entirely. The rechargeable led work light can be swiveled to any 270 possible vertical and horizontal positions, providing ample illumination in any area. The light's efficiency is guaranteed, and its lifespan is lengthened by the rapid heat dissipation design. Our 10000-lumen 5000K dual-head led work light provides the appropriate brightness level, illuminating your workspace like sunshine while using only a fraction of the energy.
3 PowerSmith PWL110S Led Work Light

The NEW Power Smith PWL110S is a portable, adaptable, and user-friendly Led working light that produces 1 080 lumens at 5,000 Kelvin. Garage, attic, and crawlspace work, as well as repairing boats, automobiles, R.V.s, and ATVs, are all better lit with the NEW 1, 080 hanging light. The lamp comes with a metal base and a power cord five feet in length and can be used in any weather. The light source can be adjusted at the Base to shine upward, making it ideal for attic work or providing essential wintertime illumination. The brand-new Power Smith PWL110S comes with the following features: It has a 1,080 LED light, a metal stand, a large metal adjustable hook, a 5-foot power cord, a 2-year warranty, and toll-free customer service in the United States. Upgrade your garage, tool shed, or workshop with the brand new Power Smith PWL110S 1, 080 Lumen Hanging Work light.
Size 1,080 Lumen 10 Watts PowerSource PWL110S Manufactured in China Specifications Manufacturer PowerSmith Part Number PWL110S Weight 1.74 pounds Product Dimensions 6.1 x 5.12 x 4.92 inches Country of Origin China Characteristics Unique to This Version hook for hanging, corded, auto, travel, personal, outdoor, and indoor use. A portable compact L.E.D. work light with 1,080 lumens, an adjustable metal hook for hanging the light precisely where it's needed, a metal welded stand, a five-foot power cord, and an owner's manual are all included.
4 NEBO OMNI 2K LED Work Light

The led working light is a powerful light emitting 2000 lumens. The NEBO OMNI 2K Portable Worklight Flashlight Worklight 2000 Lumen has a built-in USB power bank and can be used in either direction. The OMNI 2K, with its red warning function and dual COB LED output that generates 2,000 lumens of power, is the greatest omnidirectional work light available. The OMNI 2K may be charged from any USB source, including your phone, tablet, or laptop. An internal rechargeable battery powers the portable work light. The OMNI's magnetic handles can be attached to other metal surfaces, carried without effort, or used as a sturdy base for hands-free light. The Omni 2K is the brightest and most versatile portable omnidirectional work light with its 2,000-lumen Dual COB LED Output and red Hazard Feature. The Omni's magnetic attachment points, magnetic handles, and robust Base make it easy to transport and set up anywhere you need a light without holding it. The C.O.B. panels can be moved to wherever light is needed using the magnetic handles, and the brightness can be adjusted using the switches.
5 VEVOR LED Portable Work Light with Stand

Our dual-head work light with 10000 lumens, and 5000K color temperature can give a bright and comfortable working while consuming less power. It can illuminate your workspace in the same manner as natural light. The telescoping tripod is simple to fold up for storage or transportation. It can be changed to several heights, ranging from 27.6 inches (the minimum) to 68.11 inches (the maximum), to cater to your specific requirements while you are working. The lights may be detached easily and function independently from the handle. You can easily illuminate any area by adjusting the lights and avoiding moving the device. The body of the L.E.D. light can be spun 360 degrees horizontally and 270 degrees vertically, making it easy to illuminate any area you need to. The back of the light is equipped with a heat emission structure, ensuring that the light will continue to perform well and last for a long time.