RGB lighting brings a whole new life to your home. It is the perfect accessory to make your room or computer setup more colorful. Although traditional RGB lighting was widely used until recently, there is a new type of RGB lighting called RGBIC that's quickly becoming a more popular choice.
If you are in the market for a high-quality RGB lighting system, you may be wondering what the difference is between RGB and RGBIC lights.
Even though both RGB and RGBIC can provide the same red, green, and blue light, there are certain features that only RGBIC has. In this brief, we will be looking at all the differences between RGB and RGBIC lights to help you decide which type is right for your RGB needs.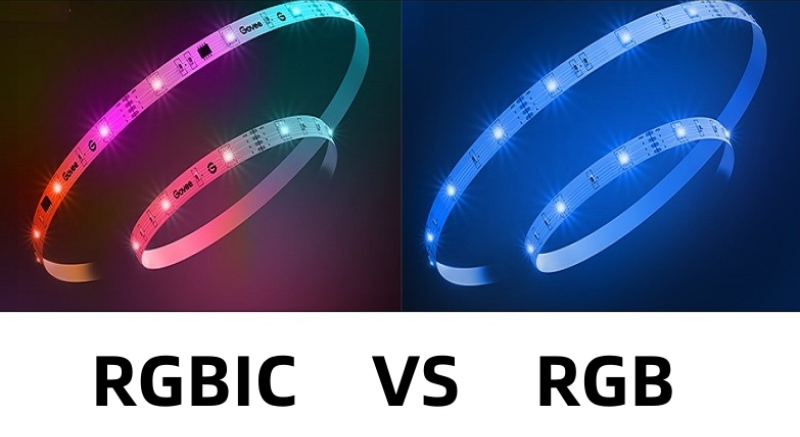 Part 1. RGBIC vs RGB: What Are the Differences?
1. RGBIC Strip Lights
RGBIC stands for Red Blue Green Integrated Circuit. An RGBIC strip light can do everything an RGB light strip can. It can produce red, green, and blue lights alongside any combination of the three. But it also comes equipped with multiple integrated circuits on the strips. These circuits allow for much more control over how the RGB LEDs on the strip behave and light up. Each integrated circuit divides the strip into separate segments. On each segment are some LEDs and an integrated circuit.
The number of LEDs per segment can vary between RGBIC light strip models. Each segment can be individually controlled. What this means is that you can have various light colors on a single RGB light strip, with each segment outputting a different color light.
RGBIC strip lights are basically an upgraded version of the standard RGB light strip. Their installation and setup process is quite similar to a standard RGB strip light as well.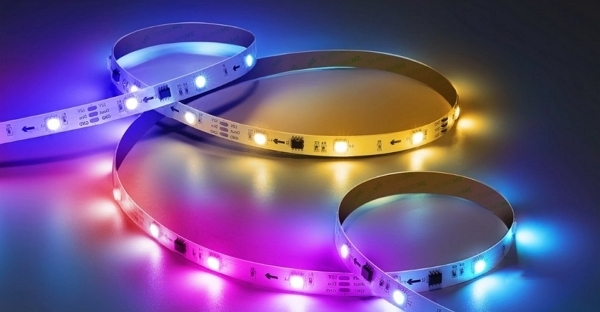 2. RGB Strip Lights
RGB stands for Red Blue Green. An RGB strip light consists of RGB LEDs installed along the length of the strip. Each RGB LED can produce red, blue, and green lights, and with a combination of these colors, it can produce millions of different hues. An RGB strip also has one or more controllers built into the chip itself that control all the LEDs.
After installing an RGB strip light, it can be controlled via a remote control. Most remote-controlled RGB lights allow you to select from an array of basic colors with a button press. You can also pick between various lighting patterns.
An RGB remote control will also let you cycle between all the colors the light can produce. RGB lights are the most commonly used and widely popular type of multicolor lighting.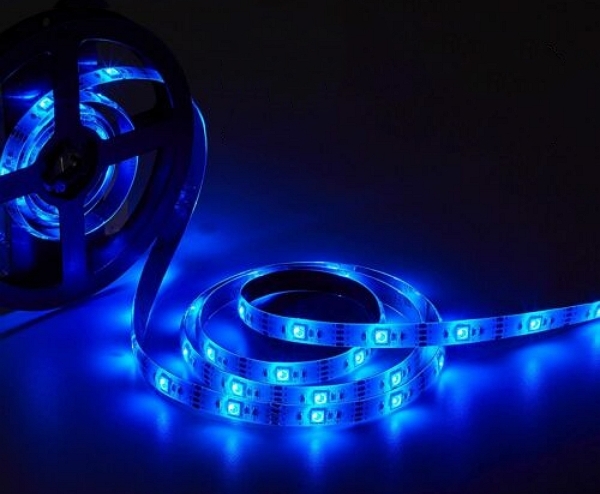 3. The Differences Between RGBIC and RGB
The difference between RGB and RGBIC strip lights comes down to the number of features each type offers. In a standard RGB light, you get all the light colors an RGB LED can produce. You also get many standard lighting effects.
Aside from this, an RGB light strip acts as a whole single segment. So any color you set will be applied to the whole strip. What sets RGB lighting apart from RGBIC lighting in terms of features is its lower costs and length adjustability. You can easily cut away excess RGB lights from a strip at certain points, making installation easier.
An RGBIC light strip, on the other hand, offers an additional set of features. As mentioned before, RGBIC lights have all the same features as RGB lights, with a few exceptions. RGBIC light strips are not recommended by the manufacturers to be cut for length adjustments like RGB light strips. They are also more expensive compared to RGB light strips.
Since an RGBIC light strip is divided into segments, it can produce more complicated lighting patterns across the strip. This is because you can get separate colors in each segment of the strip using the IC technology. Each segment can also be controlled individually so a part of the RGBIC light can be turned on while the rest stays off. These added features make RGBIC light strips more unique than RGB light strips.
Part 2. RGBIC vs RGB: Which One to Choose?
Whether you should choose RGB or RGBIC light strips depends on your lighting needs. RGB lighting is definitely the cheaper option, so if you are on a budget, then you should opt for RGB strip lights.
Also, the length adjustment of RGB light strips means you will have a much easier time during installation. You can just cut off any excess light strip so there are no loose ends hanging off at the end, ruining the look of your RGB setup.
But if you are willing to spend more money for better performance, then RGBIC light strips are perfect for you. With RGBIC, you get much more complicated lighting patterns for lighting up your room. Additionally, if you intend to use light strips as the main source of light, RGBIC strip lights are ideal as they produce a much brighter light.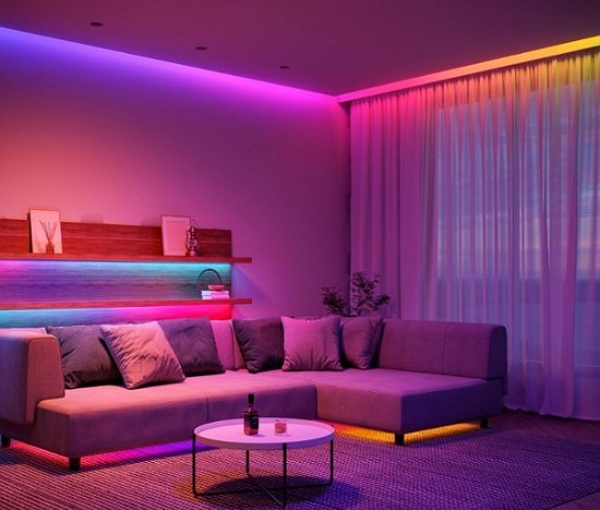 Part 3. 2023 Recommendations for RGBIC & RGB Strip Lights
1. AiDot Music Sync RGBIC Light Strip
This RGBIC light strip by AiDot can produce 16 million different light colors, making it the perfect choice to light up your room. It also features 64 different scene modes allowing you to instantly change how your surrounding are lighted. This pick also provides some great RGBIC lighting effects for you to enjoy.
It is voice-control compatible as well, eliminating the need for a standard remote control. Additionally, you can control the light color and effects using the AiDot app. The best part is that it can be synced with audio to produce cool light effects.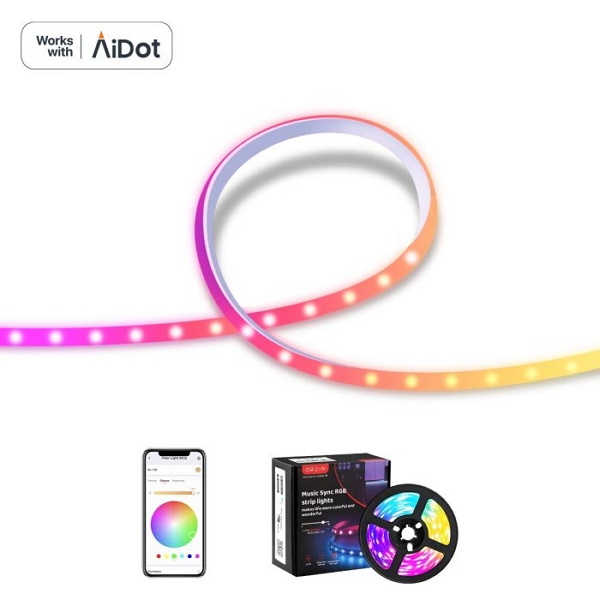 16 million color options: choose between millions of color options to best suit your mood.
Voice control: control the lights with just a voice command.
App control: free AiDot app acts as a remote control which you can keep with you at all times.
RGBIC lighting effects: various RGBIC light effects to bring more variety to your RGB lighting setup.
Audio sync: easily sync the lights with your TV, PC, or speaker audio.
2. AiDot Smart RGB LED Strip Lights
The AiDot Smart RGB light strip features a long strip length of 32.8ft, available at an affordable rate. It utilizes 60mA high-quality copper lamp beads to produce brighter and richer colors that will liven up your home. The LEDs don't produce too much heat either, keeping you safe upon touch.
A smart mic is built into the light strip itself to sync with any audio being played around it. You can also use the AiDot app to change how this pick behaves, such as adjusting the brightness, lighting effects, and setting timers.
Its cuttable design allows for easy installation as well. The adhesive used is also very strong, ensuring that the strip doesn't peel off even after prolonged use.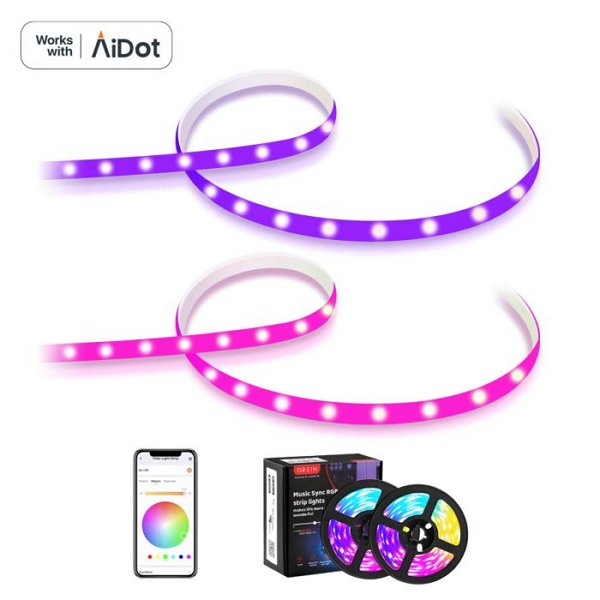 Bright LEDs: light up your room with brilliant colors using the bright RGB LED strips.
Personalized Control: set the perfect ambiance for every occasion with just a few taps on your phone.
Music Sync: sync with music and ambient sound, i.e. dance to the rhythm or the melody with multi music mode.
Cuttable Design: a cuttable design for easy strip length customization.
Low Heat Output: very low heat output to prevent damage to the light strip from overheating.
[Bonus Now]: Here is an exclusive coupon code only found in blog posts. Save it now (AiDotBG01) and get 10% off at AiDot mall!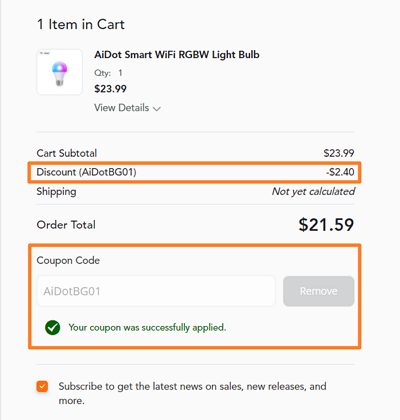 Part 4. FAQs About RGBIC vs RGB
1. Does RGBIC have warm white?
Yes, RGBIC light strips are capable of outputting warm white lights. Simply adjust the light colors through the remote control or the accompanying app to select a warm light color. The RGBIC light will then output the light of the selected color temperature.
2. Is RGBIC Better than RGB?
RGBIC is generally better than RGB in terms of the number of features it provides. But it is a bit more expensive compared to the traditional RGB light strips. So, if you want more functionality, then spending the extra money will be worth it, thanks to all the cool features and brighter light you get.
3. What is RGBIC vs RGB vs RGBW?
The RGB light is the most basic version, and it provides all kinds of light colors throughout the strip. An RGBIC instead subdivides the light strip into different parts so more patterns can be created. In an RGBW light strip, a separate LED is added for white light. This LED allows for a much brighter and brilliant white color compared to a standard RGB light strip.
Conclusion
The difference between RGB and RGBIC lights boils down to the number of features each type provides. As we have discussed, RGBIC offers more features but is more expensive. An RGB light has fewer features, but it can be cut and is cheaper. With these differences in mind, you can select the light strip type that best fits your lighting needs and budget.
Generally, an RGBIC light strip provides much more value for your money. It is becoming more and more popular among RGB enthusiasts nowadays. The amount of flexibility it provides makes it much easier to control how your RGB setup is lit. The more complex patterns also make for a livelier lighting environment. But if you just want traditional RGB features at an affordable rate, then RGB strip lights are a solid option as well.