AiDot Enhulk Cordless Paint Sprayer with Brushless Motor
10% OFF New User Benefit
Over $30
Obtained
Powerful Brushless Motor

Spray Angle Adjustment

Adjustable Flow Control

One-Button Disassembly

A Full Range of Accessories

Easy Cleaning & Maintenance

Cordless Design & Detachable Battery
Free & Fast Delivery (2-7 days)
Payment Security
Lifetime Customer Support
60 Days Back Guarantee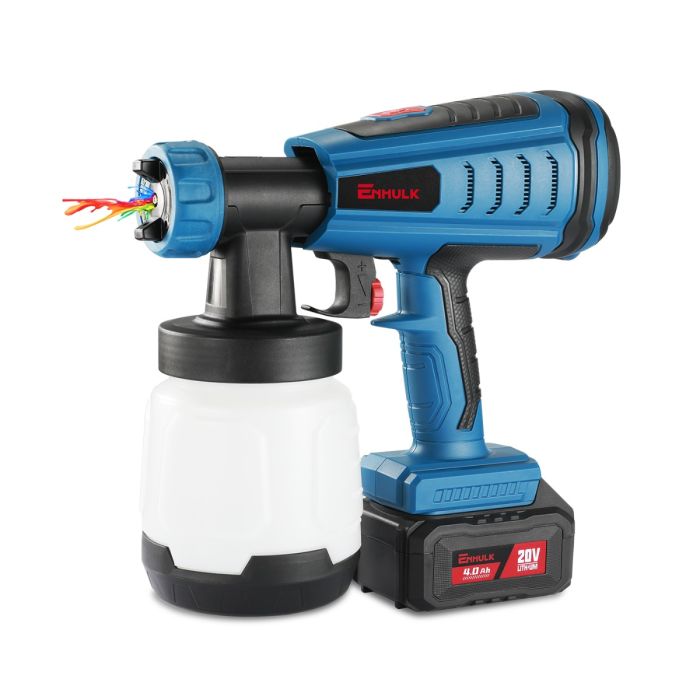 Free & Fast Delivery (2-7 days)
Payment Security
Lifetime Customer Support
60 Days Back Guarantee
You May Also Like

Specification
| | |
| --- | --- |
| Paint Sprayer Configuration | Battery |
| Paint Sprayers Product Type | Airless |
| Product Features | Cordless |
| Flow Rate | 0-1000 ml/min |
| Max. Viscosity | 100 din/sec |
| Spray Tip Size | 0.5mm, 1mm, 1.5mm, 2mm, 2.5mm |
| | |
| --- | --- |
| Product Weight | 6.6 lb |
| Paint Sprayer Type | Handheld |
| Usage Type | Light Duty |
| Trigger Configuration | One Finger Trigger |
| Performance Features | HVLP, 3-Spray Patterns, Flow Control |
| Compatible Paint Type | Walls, Sheds, Fences, Furniture |
Untethered & Unstoppable With Enhulk Cordless Paint Sprayer
Its cordless design makes it convenient to use, while the brushless motor provides excellent performance. With a full range of accessories included, it's a versatile tool that you can rely on to unleash your creativity freely.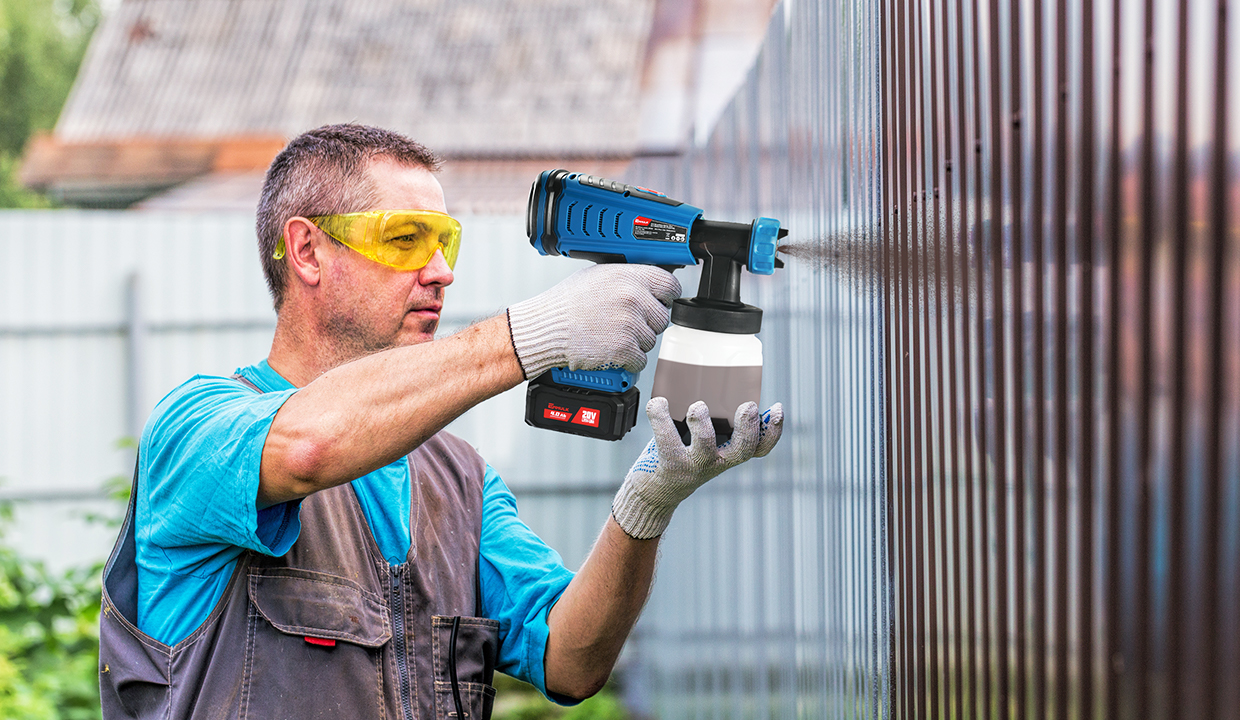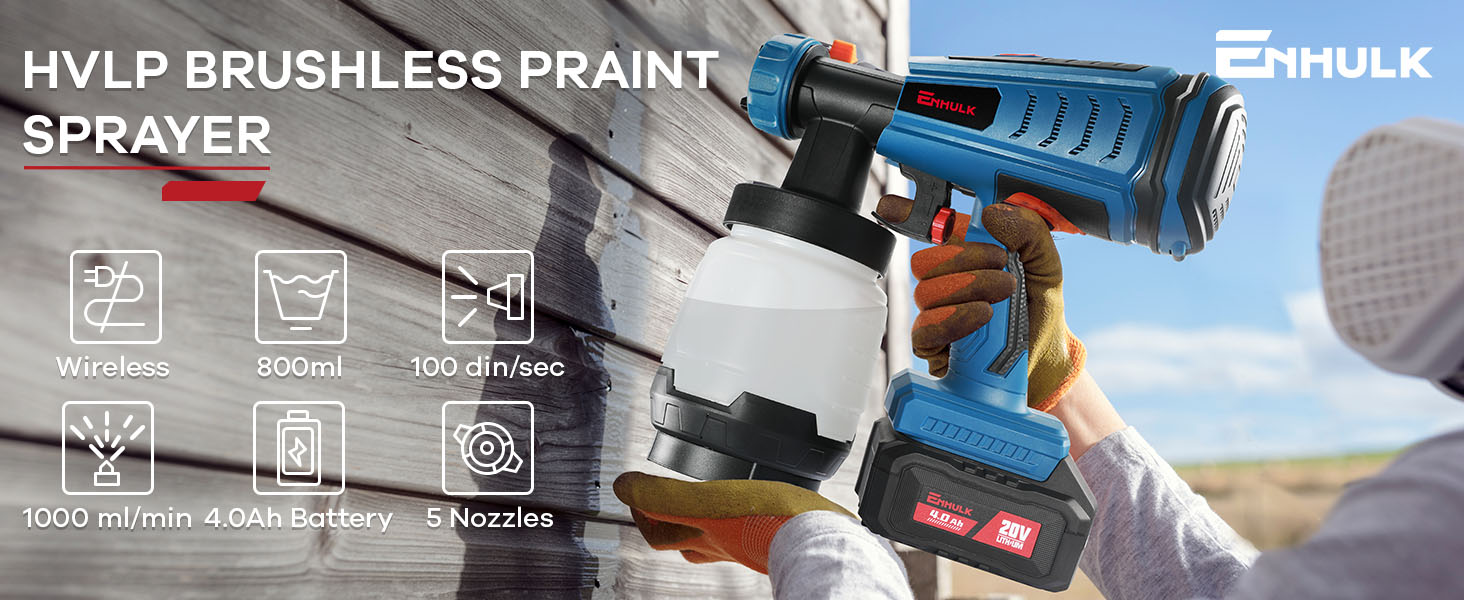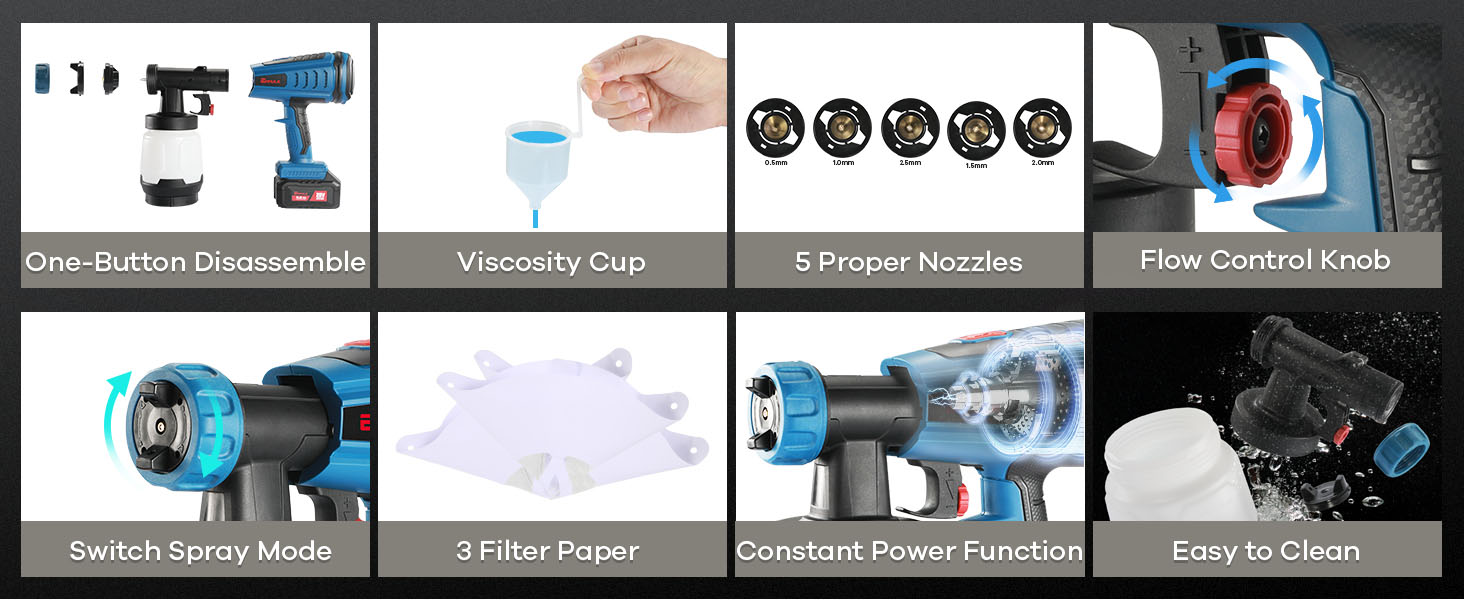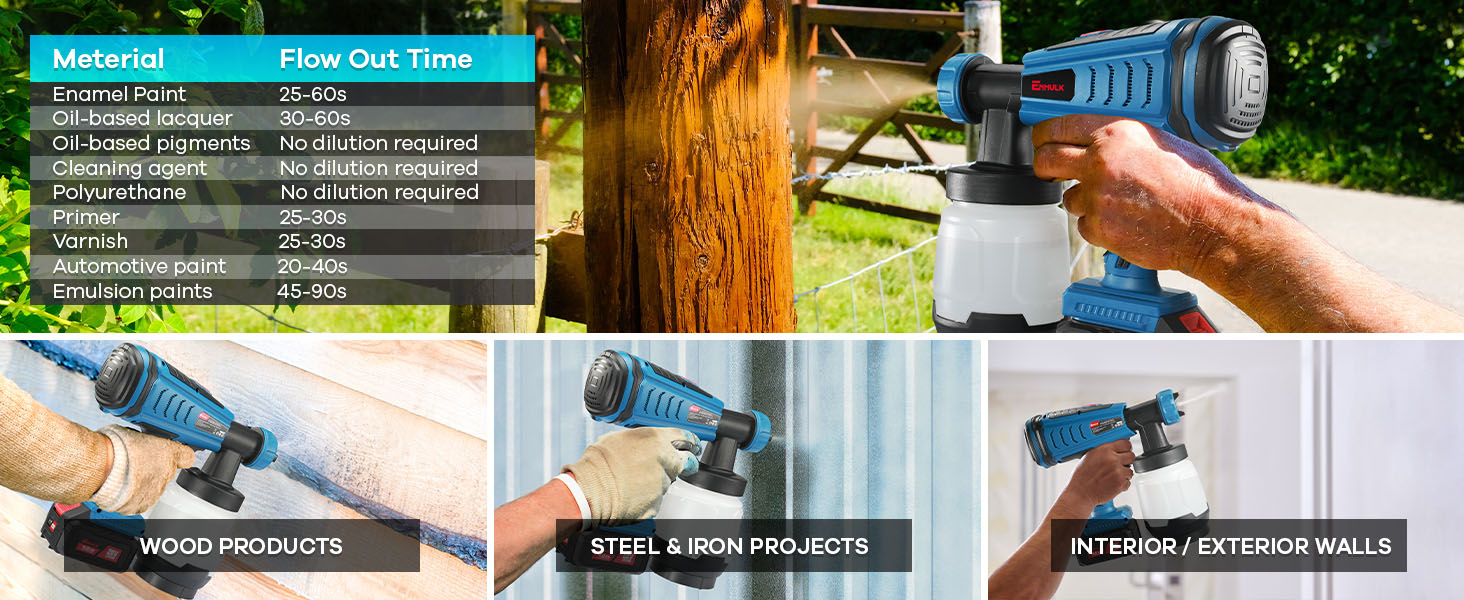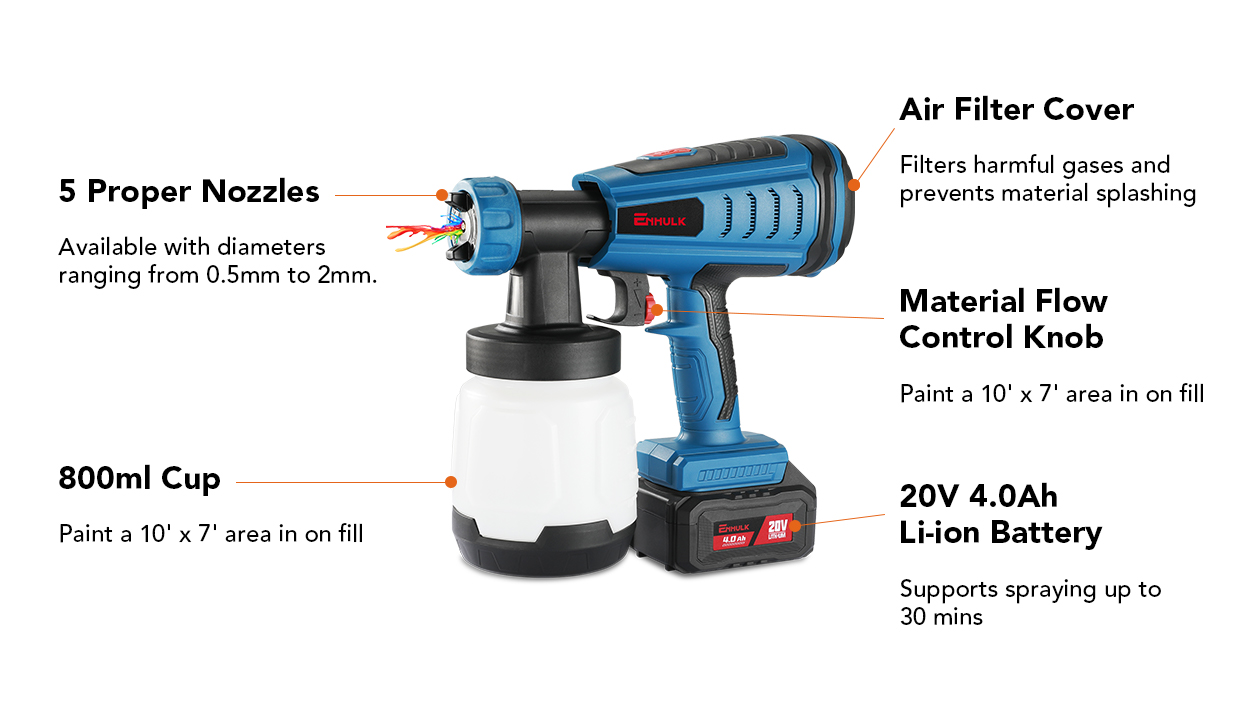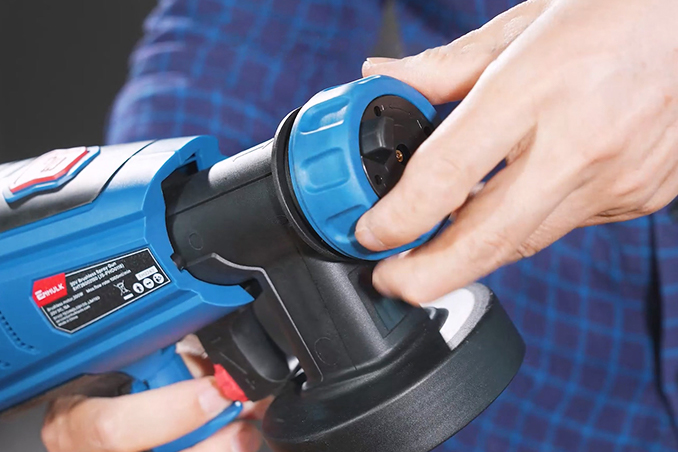 Easy to Assemble
This paint sprayer comes with nozzles of 5 sizes (0.5mm/ 1mm/ 1.5mm/ 2mm/ 2.5mm) to suit different surfaces and types of paint. You can quickly switch between the nozzles and start spraying right away without any hassle.
Cordless Design & Detachable Battery
Equipped with a 4.0Ah lithium-ion battery that can work outside continuously for 30 minutes, this paint sprayer can work more efficiently without the hassle of wires. No worry about the cable not being long enough for you to reach the working area anymore.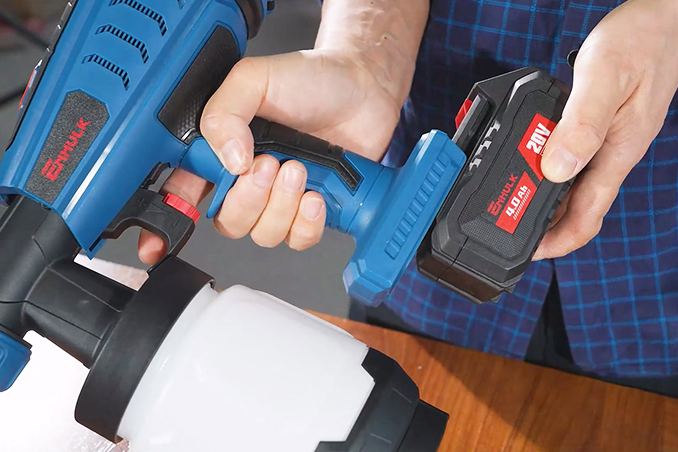 Spray Angle Adjustment
The rotating air cap makes it easy to adjust 3 different spray models for each nozzle: Horizontal, Circle and Vertical. This feature offers greater flexibility and precision in painting areas with different shapes and sizes.
Adjustable Flow Control
The material flow control knob enables continuous and precise adjustments of the spray output from 0 to 1000 ml/min. With this feature, users can customize the flow rate based on project needs, achieving professional-grade results with ease.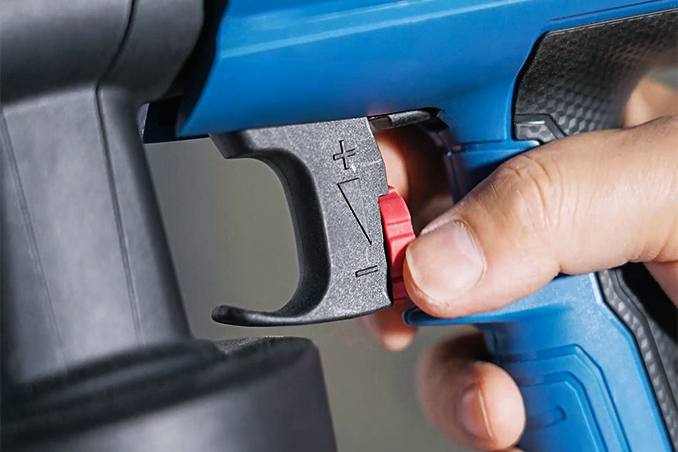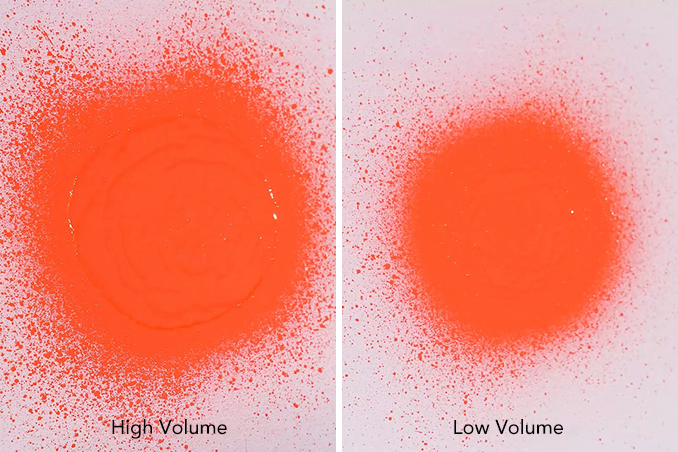 High Volume & Low Volume
You can choose low volume for small detail work and high volume for larger projects to achieve quick coverage. Such easy flow control ensures that no spot is left uncoated, providing a flawless finish every time.
Perfect Spray for Any Surface
This paint sprayer is a versatile tool that can handle various projects perfectly with its adjustable flow control knob. Whether you're working with wood products, steel and iron projects, or tackling interior and exterior walls, this sprayer will get the job done efficiently and effectively.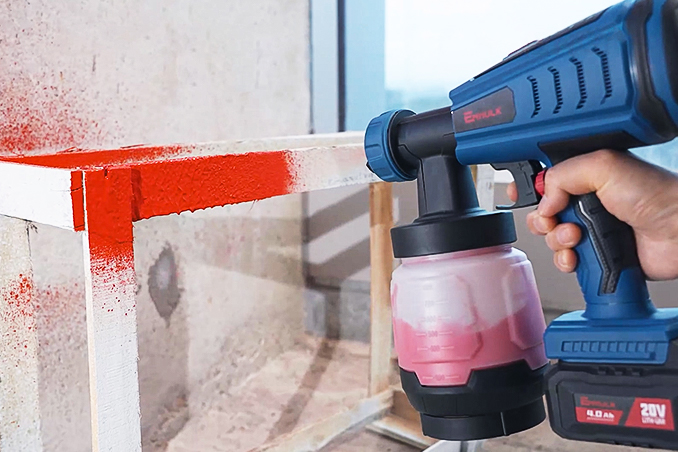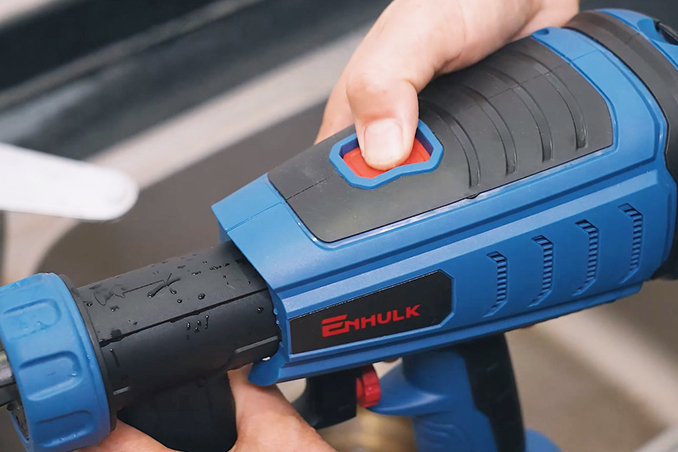 One-Button Disassembly
With just a simple press of a button, you can easily disassemble the sprayer and clean all its parts thoroughly. This not only helps to prolong the lifespan of the sprayer but also ensures that it is always ready for use when you need it.
Easy Cleaning & Maintenance
A nozzle cleaning needle and a cleaning brush are included in the package, making the cleaning process quick and easy. With these accessories, you can effortlessly unclog any blockages in the nozzle and prevent buildup that can lead to inconsistent spraying patterns.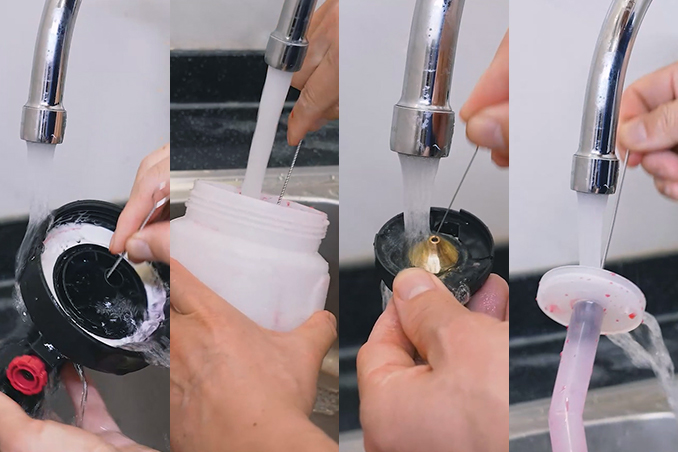 FAQ
Q1:How long does the battery last?
A1: 20V 4.0Ah Li-ion battery supports spraying up to 30 min per charge.
Q2:Does it work with car paint?
A2:This HVLP spray gun offers a softer spray using a high volume of air at low air pressure. It is ideal for painting smaller areas like a body panel, bumper, fender, or other kinds of small detail.