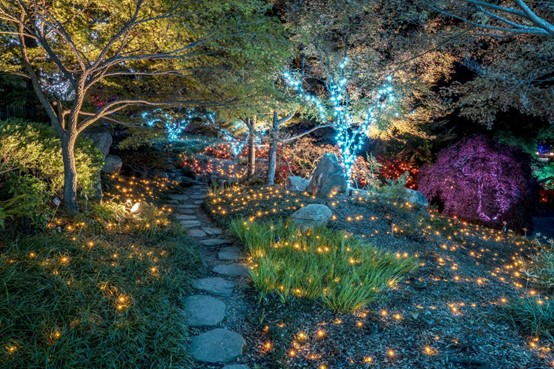 Colored flood lights are being used in many families to work as ambiance creators in outdoor spaces. No matter what you want to do, colored flood lights can give you the applicable colors to keep you company. There are also lots of color changing flood lights in the market for your purchase selection. Except for bright-colored scenes, some other elements should be taken into consideration as well. Some excellent samples are listed below for reference.
Part.1 5 Selections of Colored Flood Lights
1 AiDot Smart Colored Landscape Flood Lights
In terms of Colored Flood lights with all aspects, AiDot smart colored landscape flood lights must be mentioned here. The great features of this colored flood light make it an easy-to-use and money-friendly choice.
- A Colorful Flood Light with 16 Million colors
This landscape flood light has 16 million selections of colors for your lighting demands. No matter what your preference is or need for different scenes like birthdays, parties, barbecues, Halloween celebrations, or Christmas celebrations, it can be found. Besides, it can be used as a wall light or work light due to its wide range of light temperature: 2700K warm white to 6500K cool white.
- Smart Control
To have an easier and smarter using method, AiDot app is the ideal way to control this colored flood light than the traditional manual control. After connecting with AiDot app, this landscape flood light can be controlled remotely (control distance up to 131ft in an open area). The endless colors will recognize the rhythm of music and shine on the basis of it, to give you a non-delayed beat. You can also choose the preset scene in the app or customize unique scenes to enjoy a better ambiance.
It is also a good choice to create a lighting scene by group-controlling of all lights. Placing all the flood lights in your selected positions and connecting them to the app, then you can turn on your customized colorful lighting effect.
- Durable Raw Materials
As an outdoor smart flood light, it is made of die-cast aluminum housing and tempered glass that can make it durable and run for a long time which could be 25000-hour using time. What's more, the IP65 waterproof feature makes it works stable under most weather conditions. No worry about anything, just put it in the place you want.
2 Philips Hue Colored Flood Lights
Despite the price, the famous brand Philips Hue is a suitable choice. If you are already a user of Philips Hue, you can connect this Discover Colored Flood Light to the existing Hue Bridge and enjoy more smart scenes.
- Power Light with 16 Million Colors
As a high-price colored flood light, it also has 16 million colors which can be used to create the effect you want with no limitation. No matter the highlight objects, pathways, or flowers, you can make your outdoor space attractive. While figuring out the ideal lighting setting, use the Philips Hue app to save it as a regular scene and turn it on whenever you want. Behind the colorful lighting effects, the powerful light is the guarantee. This colorful flood light has a led light source that illuminates a large scale of your outdoor space. To light up every corner in your yard and see what is happening there.
- Smart Controlling
Light up your outdoor space and check what is going on while you are home or away. With the Philips Hue app, you can connect all colored flood lights together and control them in any way you prefer; with the Philips Hue outdoor sensor, there are many indoor remote control selections like the app, Amazon Alexa, Apple Homekit, and Google Assistant which can be used to control all outdoor colored flood lights in a smarter way. Controlling your color changing flood lights from the comfort of your home or any other location is the best smart-controlling method you can get. One more important thing is the requirement for a Philips Hue Bridge. It is necessary to connect your colored flood lights with the Bridge to control from the cellphone or you can also control lights with the Philips Hue dimmer indoor switch.
- Decorations for The Holidays
Your cheer-up begins with smart colored flood lights. Using smart colored flood lights to add better ambiance to your holiday celebrations. Some colors are very suitable for specific holidays: bright reds and green for Christmas, subtle pastels for spring, and purple for Halloween.
3 Melpo Colored Flood Lights
After the cost-effective and most famous brands, the third is a popular one in Amazon - Melpo colored flood lights.
- Outdoor and Indoor Smart Bluetooth Colored Flood Lights.
It also has the function of app control which provide you with a lot of dynamic modes including DIY Flash mode and DIY Fade mode. The other smart functions contain group control, single control, timing function, strobe, and DIY scenes, which are great for daily schedules and decorative lighting. It can be utilized as landscape lighting, stage lights, spotlights, strobe lights, accent lighting, background lights, and security lights without registration or internet.
- New Technology
This colored flood light is equipped with Bluetooth 5.0 chip and mesh function. It allows free control of any number of flood lights as desired. It is an outstanding solution for multi-light operations which avoids the shortcomings of remote-control lights and Wifi lights. The landscape flood lights can forward signals to each other which makes the connection simpler and more stable. Some valued specifications are as below: 80W, 800W equivalent, warm white(2700K), CRI>85, 8000LM, 16 million colors.
- Synchronization and Timing Function
The internally developed timing chip allows you to set your favorite color or mode, then you can turn it on or off automatically each time.
Setting an example: set your favorite color and mode in the yard, then the colored flood lights will turn on at 7 pm and off at 12 am every day which can make your entire nighttime cozy. While you are using the dynamic modes, the rhythm of the color-changing of the flood lights will be kept consistent.
4 Lepro Colored Flood Lights
Lepro is a brand that focuses on high-quality LED lighting with a better lighting experience and provides more value to partners and customers. It serves partners and customers from over 30 countries in Europe, North America, and Asia with advanced IT technology.
- Remote Control And Memory Function
Lepro has a 50W RGB flood light equipped with 15-key RF remote controller, 7 dimmable colors, and two more flashing modes that can set different speeds. This colored flood light also has the memory function that the lighting color stays in the previous setting mode when it is turned on again. You just need to click the button on the controller to enjoy your favorite modes of lighting.
- Durable Colored Flood Lights
The upgraded ultra-thin body design makes the heat dissipation performance much better. The extended product life and safety can be ensured by the ETL certification, and the special fine-grained tempered glass design makes the light soft, and cozy. Besides, it is made of the die-cast aluminum casing and tempered glass, the protection grade is IP65, which makes it suitable for outdoor use like yard, garden, and plant decoration.
5 T-SUN Colored Flood Lights
The last one on the list is the T-SUN 100W ultra-thin colored flood light. The exact product specification is as followed: shell material: die-cast aluminum; voltage: AC 85-265V; power: 100watts(RGB:50W); light source:144 SMD2835 Led lights; drive: AC110-130V 50/60HZ; cable length: 59.1 inches.
-Different Modes And Flexible Installation Methods
This colored flood light has 16 colors and 4 modes including flash/strobe/fade in/smooth that can be used to create different atmospheres. It has an adjustable lamp body and a metal bracket that can meet your lighting requirements. It is great for shop windows, warehouses, gardens, advertising signs, and buildings that you want to light up.
-Durable Materials
Made of the high-quality aluminum housing, this colored flood light has a good dissipation performance, making the RGB lamp safer and more durable. It is also suitable for both indoor and outdoor use with IP65 protection grade. Some scenes like parties, barbecues and lighting decorations can be created easily with this flood light.
After introductions of 5 different brands of colored flood lights, you might have a better understanding of this kind of lighting tool. In fact, many of them have similar functions and outlooks, you should be clear about what are the specific requirements of the colored flood lights before the purchase.