In today's digital world, where technology is advancing at a breakneck pace, smart home devices have become increasingly popular. Among these devices, smart light bulbs are widely used due to excellent connectivity, accessibility, and ease offered by them.
According to MarketsandMarkets, the smart lighting market is projected to reach $27.7 billion by 2026. Smart light bulbs are the perfect solution for those who want to control their lighting from anywhere and create a personalised atmosphere in their homes.
This write-up will cover multiple aspects of smart light bulbs and how these can take your home automation to the next level. We'll also discuss some of the best smart bulbs to help you make an informed decision relative to your preferences. Let's delve into them!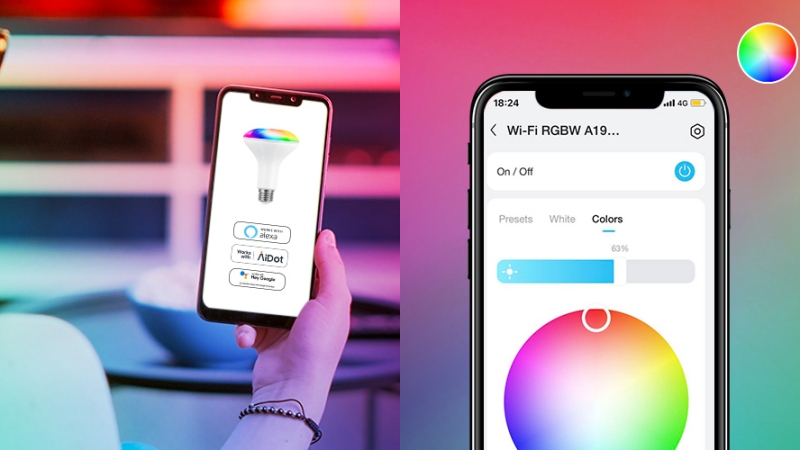 Part 1. What Are Smart Lights?
Smart lights are lights that can connect to a wireless network, typically via WiFi or Bluetooth, and be controlled through a smartphone app or smart home assistant. They are also commonly referred to as "Internet of Things" (IoT) light bulbs. Smart light bulbs use a built-in wireless receiver to communicate with all other devices on the network.
Smart lights allow users to control the light bulb remotely, adjust brightness, set schedules, and even change the color of the light. Some of them come with features like motion sensors, voice control, and compatibility with other smart home devices. Let's take a quick glance at key aspects of smart LED bulbs:
Some smart light bulbs require a separate hub or bridge device to be connected to the network, while others can connect directly to the WiFi network.
Users typically need to download a compatible app and connect the bulbs to their WiFi network.
Once the bulbs are set up, users can control them using the app, voice commands, or automated schedules.
Part 2. Are Smart Light Bulbs Worth It?
Here are a few key reasons which can make smart light bulbs a great investment for homes:
1. Customization
Smart LED bulbs allow you to customize the ambiance of your home hassle-free. Whether you want a bright white light for working, a warm yellow light for relaxing, or a colorful glow to create an ambiance for a party, a smart LED bulb facilitates you to set lighting as per your mood and event. Additionally, you can create light schedules, so the bulb turns on and off at specific times or automatically dims at night.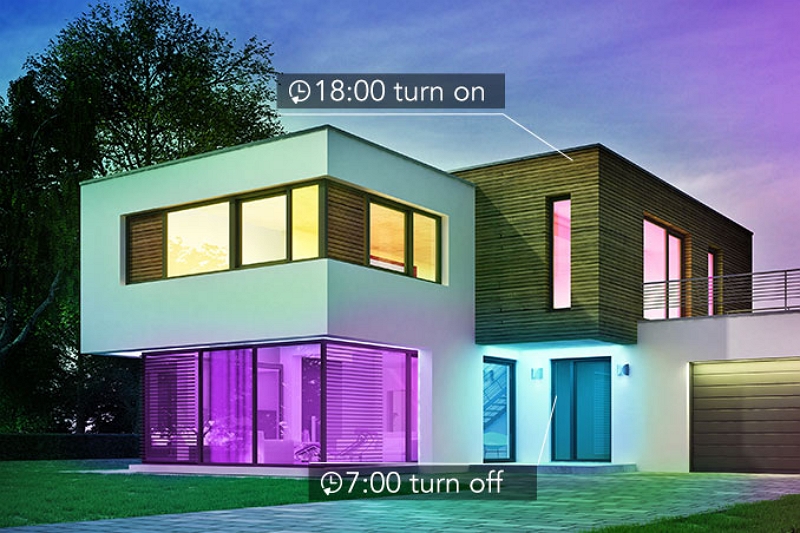 2. Convenience
With smart LED bulbs, you don't need to get up from your seat to turn the lights on or off. You can control them from your phone or voice-activated devices like Amazon Alexa or Google Assistant. This feature is especially beneficial for people with mobility issues or those who want to control the lighting without leaving the comfort of the bed.
3. Energy Efficiency
Smart light bulbs are designed to be energy-efficient, which means you can save money on your energy bills over time. Unlike traditional bulbs, these bulbs use LED technology, which is more efficient, requires less energy, and serves you in the long run. Moreover, you can control the brightness and timing of your lights to ensure they're only on when you need them, reducing unnecessary energy use.
4. Security
You may not know it, but a smart LED bulb can potentially enhance your home's security. By setting up schedules and timers for your lights, you can give the impression that someone is in the house, even when you're away. Some smart bulbs also have a "vacation mode" feature, which randomly turns your lights on and off, making it look like someone is moving around the house to deter thieves.
Part 3. Some Essential Tips for Choosing Smart LED Bulbs
If you're planning to install smart LED light bulbs at your home, make sure to consider these points:
1. Check Compatibility
Before buying any smart LED light bulbs, check if they're compatible with your smart home system. The most popular smart home systems are Amazon Alexa, Google Assistant, and Apple HomeKit. This compatibility check can help you avoid a lot of unnecessary hassle.
2. Find the Best Brightness Range
When it comes to brightness, smart LED light bulbs typically range from 800 to 1100 lumens. While 800 lumens may be suitable for smaller rooms, you may opt for brighter bulbs for larger spaces. Additionally, look for bulbs with adjustable brightness settings to customize the lighting per your preference.
3. Look for Additional Smart Features
Look for bulbs that provide features like scheduling, dimming, color-changing, and voice control. Some bulbs also come with motion sensors, allowing you to turn the lights on and off automatically. In a word, pick the smart LED bulbs that complement your primary needs.
Part 4. Best Smart Light Bulbs in 2023
We have shortlisted some of the best smart bulbs based on the above parameters. We have discussed their features and downsides so you can make an informed decision to achieve perfect home automation.
1. AiDot Smart Light Bulb
If you are looking for an energy-efficient bulb that offers a huge color variety, then AiDot Smart Light Bulb is the best! This bulb is compatible with AiDot app, Siri, Google Assistant, and Alexa, which means it can work with any of your existing smart home systems. With this bulb, you can customize lights as per your mood to create a personalized environment. Now check the following list for more key features: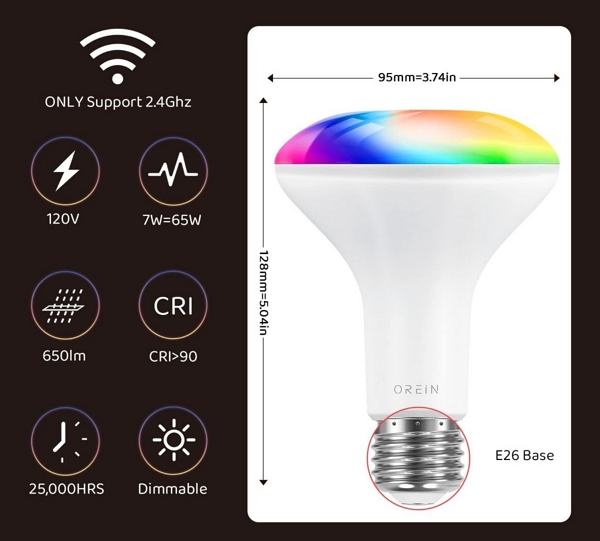 Over 16 million colors; dimmable from soft to cool (1800k-6500k)
Music sync and color-changing abilities
Customize animated lighting effects through the AiDot App
Group control multiple LED bulbs via AiDot App
Works with Alexa, Google Home and Smart Things
No hub is required
Long lifespan of 25000 hours
2. AiDot Smart WiFi RGBW Light Bulb
When it comes to budget-friendly smart light bulbs, there's nothing better than the AiDot Smart WiFi RGBW Light Bulb. This cost-effective smart bulb can connect to WiFi and help you create a colorful environment in your home anytime. With 16 million color options, you can set the one that best suits your mood and complement your home decor. Additionally, the AiDot app allows you to create automatic scenes and manage the lighting remotely.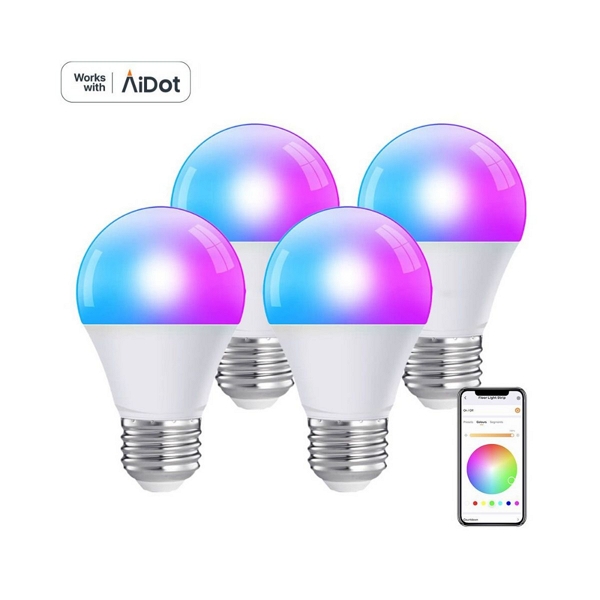 Change colors with the music rhythm, allowing you to enjoy every beat
Turn on/off based on the your daily routine
Support group control, i.e. multiple bulbs can be controlled through one-click on AiDot app
Provide over 16 million vivid colors and dimmable warm to cool whites (1800K-6500K)
Work with Alexa, Google Home and Siri (after Siri Shortcuts are set up in AIDOT App)
[Bonus Now]: Here is an exclusive coupon code only found in blog posts. Save it now (AiDotBG01) and get 10% off at our AiDot mall!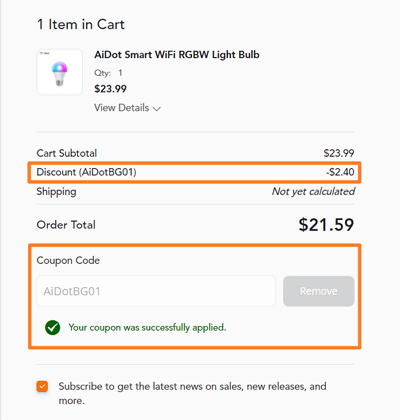 3. TP-Link Tapo Smart Bulb
Another one of the top smart light bulbs is the TP-Link Tapo Smart Bulb, which offers a wide variety of colors and has the best color temperature. Moreover, it's compatible with Alexa and Google Home, making it easy to be in charge of your home's lighting. This smart led bulb allows you to monitor your energy usage in real-time via the Tapo app.
Overall it's a good option, but the setup procedure is highly complicated, especially for non-tech-savvy people. Though compatible with various voice assistants, many users have reported connectivity issues with Alexa.
4. Wyze Bulb Color
Wyze Bulb Color offers the best color-changing features to turn your moments into memories. You can use it to create automatic lighting through the Wyze app. It's compatible with Alexa and Google Assistant, so you can give voice commands without compromising your comfort. Wyze smart led bulb also has a white light temperature control feature, allowing you to adjust the light intensity.
Some users have also reported connectivity issues. Firmware updates cause a lot of trouble for users as they can't use any of its features during this period. Although developers have responded to resolve the issue soon, no improvements have been reported at the user end for now.
5. Philips Hue Smart LED Light Bulb
Last but not least on the list of the best smart lights is this Philips Hue Smart LED Light Bulb, perfect for your party nights or study sessions. It has WiFi connectivity and is compatible with Alexa, Siri, Google Assistant, Smart Things, etc. The best part about using this LED light bulb is that it allows you to save your favorite colors and modes, so you don't have to repeat the settings.
Though being an expensive alternative to the aforementioned products, multiple connectivity issues have been reported by users, especially with Alexa.
Conclusion
Smart light bulbs are great for making your home smarter and provide you with excellent lighting experience. The AiDot Smart Light Bulb and AiDot Smart WiFi RGBW Light Bulb are the best smart bulbs in terms of value for money. They are affordable and offer a huge variety of colors, so you can select the one that perfectly complements your mood and decor!