Lighting is an integral part of every home that illuminates your living space and creates a unique ambiance. Whether for functional purposes or just wanting to add an aesthetic appeal to your room, the right lighting can significantly impact the overall atmosphere. However, navigating the world of lighting terms can sometimes be challenging. You may come across various technical terms and specifications that may confuse you when deciding the best lighting for your home. One such term or question that frequently comes up in this regard is "What is an E26 bulb?"
If you have also come across this question and want to know more about the E26 bulb and how it fits your lighting choices, we got you covered. Let's discuss the details of an E26 bulb, its benefits, and how it's different from an A19 bulb!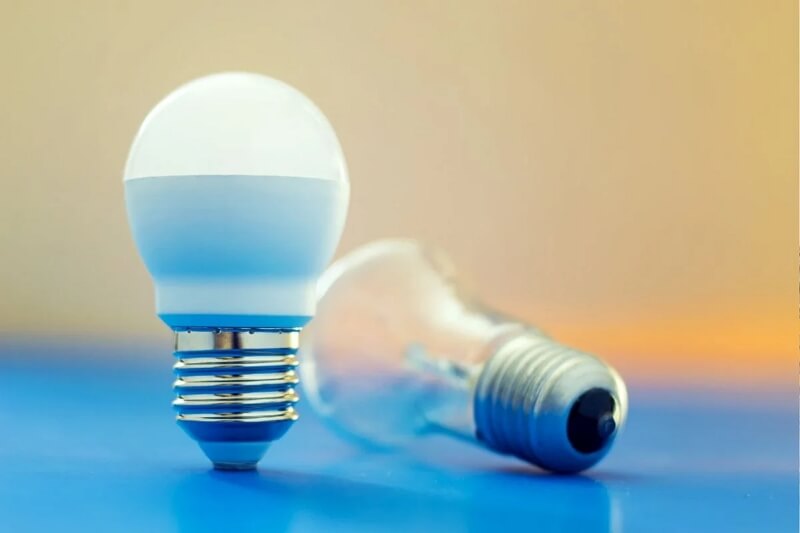 Part 1. What Is an E26 Bulb?
Whether you are at home or in a commercial setting, you'll come across E26 bulbs. The term "E26" refers to the Edison screw base type, with the number "26" representing the diameter of the base in millimeters, generally one inch. Whereas 'E' stands for Edison (Thomas Edison).
This standard socket type is prevalent in America and some other regions. However, a similar but slightly smaller socket type called E27 is more common in Europe as it meets European safe-use standards. Now let's discuss an E26 bulb in detail to know what is an E26 Bulb:
Voltage and Wattage
E26 bulbs operate at specific voltage levels. The standard household voltage in America is 120 volts, so most E26 bulbs are rated for this voltage. However, in other regions with different voltage standards, you can find E26 bulbs adapted to their respective voltage levels. The wattage of an E26 bulb indicates the amount of power it consumes to produce light.
Bulb Types
In the past, E26 bulbs were available in only incandescent lamps. However, now you can get them in various technologies - compact fluorescent lamps (CFL), halogen, and LED (Light Emitting Diode) bulbs. Incandescent bulbs have relatively low energy efficiency, so they are getting less in the market. On the other hand, LED bulbs' wattage requirement is low and are energy-efficient. And nowadays, they are built with an E26 screw base, making them a popular choice for many.
Base Type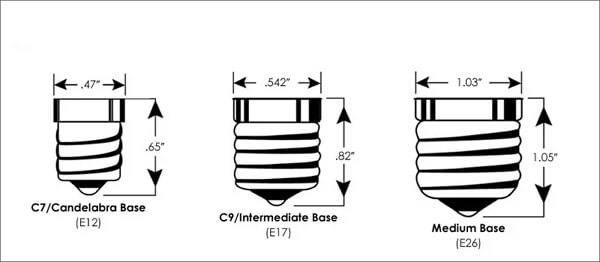 The E26 bulb features a metal screw base that easily fits into standard light bulb sockets. The base has threads that allow it to be easily twisted into the socket for a secure connection. Generally, these bulbs have a simple and convenient design, which makes replacing bulbs a straightforward task for everyone.
Part 2. The Advantages of E26 Bulb
Wide Compatibility: E26 bulbs are designed to fit into standard E26 sockets, the most common type of light bulb sockets in North America. This compatibility makes them versatile and allows for easy retrofitting or replacements.

Hassle-Free Installation: E26 bulbs have a standardized screw-in design, making them easy to install in compatible sockets without additional tools or complex wiring. This user-friendly installation process allows for quick and hassle-free bulb replacements.

Energy-Efficient Options: As mentioned earlier, E26 bulbs are available in various energy-efficient options. You can get them as LED and CFL (compact fluorescent) bulbs. These options consume less energy than traditional incandescent bulbs. Resultantly, you've reduced electricity bills and a smaller environmental footprint.
Part 3: Is E26 a Regular Light Bulb?
Well, the answer to this question is YES! E26 is a regular light bulb in the US, and it's also known as a "medium" or "standard" (MES) bulb. If you are concerned about the shapes, there's nothing to worry about! Generally, E26 standard bulbs had shapes like vintage bulbs, globe bulbs, tubular bulbs, intelligent bulbs, candle bulbs, sphere bulbs, and more. They easily fit into various light fixtures, including table lamps, floor lamps, ceiling fixtures, and wall sconces.
However, it's worth noting that E26 is not the only type of light bulb socket available in the US. You may also come across different types, such as E12 (candelabra) and E39 (mogul), each with specific uses and applications. But E26 is the most common and widely used type for general household lighting purposes in the US.
Part 4: Is an E26 Bulb the Same as an A19?
No, E26 and A19 aren't the same; however, they are related. In A19, the 'A' refers to Arbitrary, a bulb form with a pear-like structure. At the same time, E26 refers to the type and size of the base. The standards for A19 state that A19 bulbs must use an E26 screw base (or E27 for the European version).
This means that all A19 bulbs will have an E26 base, and they are designed to fit into fixtures with E26 sockets. However, not all bulbs with an E26 base are A19 bulbs. The E26 base is just one type of bulb base, and it is widely used in the US for a variety of bulb shapes and sizes.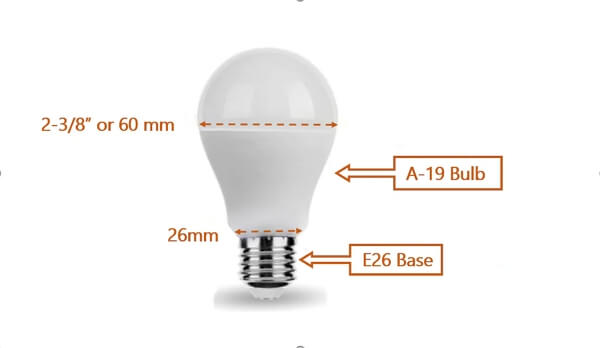 Part 5: If You're Looking for a Suitable A19 Bulb
In case you are searching for an A19 bulb with an E26 base, the AiDot Mujoy A19 Smart Light Bulb is the best option! An A19 bulb is a widely used bulb shape and offers a perfect balance of downward and omnidirectional light distribution. This makes it suitable for various lighting applications, such as wall sconces, lamps, and ceiling fixtures. Moreover, they are available in multiple colors and feature an energy-efficient LED bulb. So you can enjoy a great ambiance and reduced energy bills!
The AiDot Mujoy A19 Smart Light Bulb is a top-notch lighting solution designed to transform your home's ambiance easily and conveniently. With its color-changing capabilities, this LED light bulb is a dynamic addition to any room, offering an astounding 16 million DIY colors to suit your every mood and occasion. What's more, its compatibility with popular voice assistants allows you to control lights with Alexa and Google Home, as it enables effortless control with simple voice commands.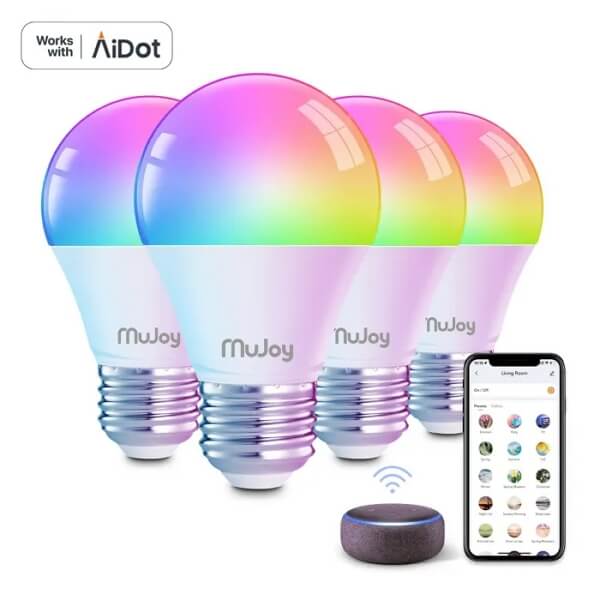 Dimmable: Easily adjust the brightness level to create the perfect ambiance for various activities

WiFi Connectivity: Connect to your home's WiFi network and support remote control via smart devices

Versatility: Provide dynamic lighting options for bedrooms, living rooms, kitchens, and more.

Voice Assistant Compatibility: Seamlessly integrate with Amazon Alexa and Google Home

Music Sync: Dance to the beat of your music and create an immersive visual experience
[Bonus Now]: Here is an exclusive coupon code only found in blog posts. Save it now (AiDotBG01) and get 10% off at AiDot mall!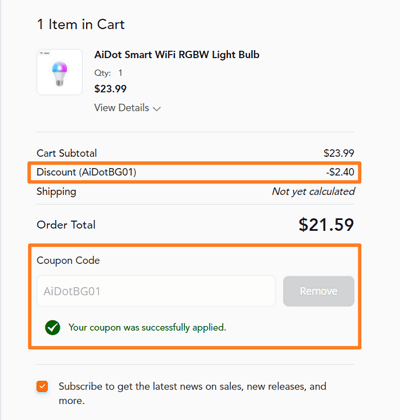 Conclusion
What is an E26 bulb? It is a type of light bulb socket that is widely used in North America for general lighting purposes. The term "E26" refers to the bulb's socket size and type.
As many A19 bulbs come with E26 bases, the two are closely related. If you are looking for an A19 bulb with an E26 base to brighten up your space, the AiDot Mujoy A19 Smart Light Bulb is an ideal choice. With over 16 million color options, it's perfect for brightening up your space and making your home smart. So, contact us at AiDot and get your favorite smart bulb now!