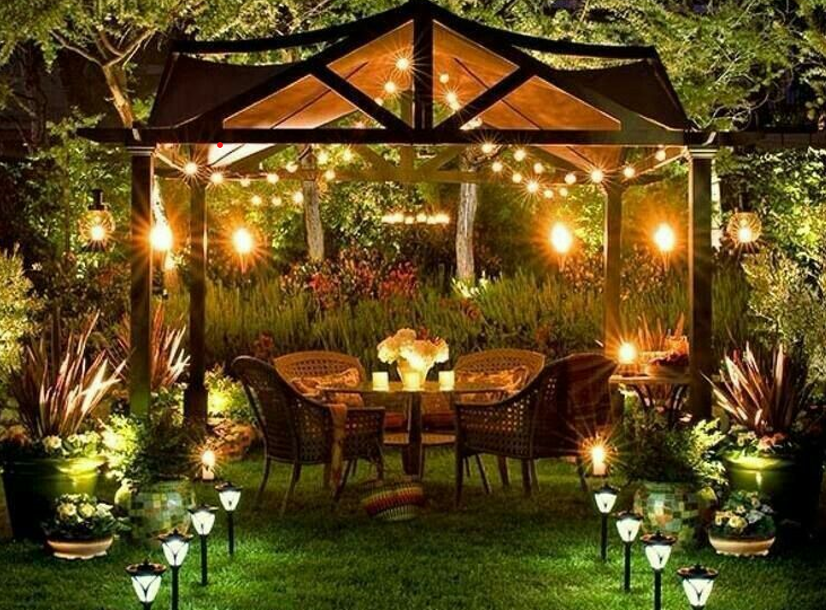 Every homeowner wants their home to look nice. Although ornamental trees and plants, such as bonsai pots, tend to get all the attention regarding landscaping, the truth is that well-placed landscape lighting solutions contribute just as much to make the entire property seem stunning. When discussing the use of artificial lighting systems to brighten private gardens or public landscapes, the term landscape lighting is sometimes used interchangeably with garden lighting, but this doesn't mean landscape lights are strictly for gardens. In this guide, we'll be breaking down how you can perfectly discern where to place landscape lighting and how to arrange them.
Part.1 How to Decide Where to Place Landscape Lighting
When it comes to landscape lighting, sometimes little makes a lot, as with many other aspects of life. However, the need to illuminate everything—every detail, every tree, and little thing is not only wasteful but may also damage the yard. The use of light and dark to emphasize characteristics and create visual contrast with the shapes and plants in your yard makes a location distinctive at night. Playing with these components produces interest and drama, and a well-lit environment is frequently the most appealing. Perhaps you need some landscape lighting ideas.
So, what do you illuminate, and what do you keep unlit? Take into account the following factors:
● Find the things that you like best about your yard. Perhaps there's a pond or an incredibly majestic tree that you want to show off; by lighting it up, you can do just that.
● Enhance the ambiance of spaces that could otherwise go unnoticed during the day. When light and shadow are present at night, even the most ordinary stone wall can take on an entirely different character.
● Make use of your imagination, but don't forget about function. If you have a stairway or winding walk on your deck, it's important to light them so you can safely navigate your yard.
● Keep in mind the importance of a warm and well-lit foyer. A well-lit front door will help to securely direct family members and guests and provide a pleasant aesthetic.
One of the main principles of landscape lighting is to conceal the light fixture so that only its effect is seen. Bearing this in mind would help you better understand where to place landscape lights and how to place them in your yard better.
Part.2 Where Should Exterior Lights Be Placed
Lights outside your home can provide safety and beauty to your yard or garden, but only if you know where to put them. Lighting the exterior of your home is simple, but if you take a nighttime stroll through your neighborhood, you'll notice how simple it is to make mistakes. At night, it's not uncommon to encounter homes with unlit front doors, treacherous walkways, and unusable patios and decks. You might also notice an overnighter's residence: When you pull into the driveway, it's like pulling onto a landing strip, and when you step out into the yard, it's like walking into a well-guarded prison. It's important to understand that direct lighting of things is not required to illuminate a space adequately. You may create a beautiful blend of aesthetics and security by incorporating reflected light into your design. Some of the most incredible spots for your landscape lighting include;
Front Porch
Front door lighting provides multiple functions, including signaling visitors' arrival, preventing falls on the steps, and guiding them to the doorbell or lock. Another benefit is that it allows those inside to see who is knocking.
Driveway and Garage
A brilliantly lit post lantern at a driveway entry is a handy landmark to help visitors and emergency vehicles find your property after dark. However, you don't need to illuminate the entire approach length; your car's headlights will do just fine. Most driveways only need a few low, partially covered low-voltage spread lights to demarcate the edges of the paved area.
Steps and Walkways
Illuminating the whole length of paths and steps using low-voltage fixtures that cast equal, overlapping pools of light is ideal for preventing slips and trips. In addition, staggered, rather than parallel, institutions will assist avoid a runway effect, as was seen in the driveway. Ground-hugging bollard lights, mushroom lights, and shaded layer lights are all great options for these settings.
Part.3 How Far Apart Should You Place Landscaping Lights
When considering how far apart your landscape lights should be, there are a few essential aspects to consider.
What level of brightness do you want?
Determine the desired effect of the lighting before settling on a spacing plan for the lights. This varies based on individual preference. Do you want some ambient lighting so you can unwind and savor the warmth of a summer evening?
Size and Lumen Output Per Light
The dimensions and luminosity (Let's pretend you're interested in purchasing a light that advertises itself as having 400 lumens and an 80% light output. The output of the lights you wish to purchase will significantly affect the number you require, and the distance between them must be placed.
The optimal spacing for lights is between 6-8 feet, though this varies with their brightness. In the case of walkways less than five feet wide, lighting on both sides would be excessive. Having lighting on both sides of something more comprehensive is aesthetically preferable. If you want to maintain a distance of 6-8 feet between each light, you may switch them every three to four feet. For example, you could have a light to the left every three to four feet.
Part.4 Advantages of Landscaping Lights
Everybody who owns their own home wants to have a beautiful home. Decorative plants may get all the attention regarding landscaping. Still, well-placed landscape lighting solutions can do wonders for the overall aesthetic appeal of a property. These lighting options highlight the most excellent characteristics of the yard, and the atmosphere is cozier. Other noteworthy and appealing benefits of landscape lighting are;
● Lights up the outdoor decor
● Add more value to the house.
● Maximizes protection and reduces risk
Lights up the Outdoor Decor
Proper and planned lighting arrangements can enhance the aesthetic value of landscaping design by drawing attention to specific characteristics. For example, the most reputable producers of landscape lighting say that different types of LED lights can be used to restrict property lines or to highlight the colors of flowers and plants.
Add More Value to the House
Improving the home's interior or exterior significantly can raise its market value. Since landscape lighting is a vital aesthetical feature, it can give individuals an immediate return on investment. One survey found that outside lighting was a must-have feature for 41 percent of homebuyers.
Maximizes Protection and Reduces Risk
Landscape lighting solutions not only boost the visual value of the location but also strengthen its safety and security. These lighting solutions aid in damage and injury prevention by illuminating high-risk areas like stairs and sidewalks. They also reduce the likelihood of burglary, theft, and vandalism.
The purpose of landscape luminaires extends well beyond providing illumination. It serves both as a beautifier and also improves landscape value. Based on most individual personal preferences, there are a lot of benefits to gain from landscape lights, which are determined according to taste, distance, lumen output, and landscape structure. Understanding where to place landscape lighting and how to space them would help maximize their benefits.