The solar landscape light has been used frequently because it does not need any connection with a power source except for the biggest one – the sun. It is possible to illuminate your outdoor space without costing any energy which means no electricity bill. This eco-friendly and user-friendly item can be customized in different areas of outdoor spaces to create a much better landscaping spot. When you need to add some different lighting effects to the driveway, front door, back yard, or some other outdoor backspaces, the solar landscape light is definitely the first choice on the list.
Part.1 What Are The Usage Scenarios of Solar Landscape Lights
Actually, solar landscape lights are designed to be used in outdoor spaces, in order to create a diverse lighting scene. The front door is a good place to set it up. Many solar landscape lights have many different colors which can establish beautiful lighting effects. For some outdoor events like parties and barbecues, this product could add a more fantastic atmosphere. With the help of this kind of landscaping tool, you and your family or friends will be given an unforgettable meeting.
On the other hand, are you still considering the decoration of Halloween? Another advantage of solar landscape light is that it can add holiday ambiance by giving out different colors. With the buff of lighting, the other tangible decorations like pumpkin lanterns, tombstones, or skeletons can reach the optimal effects. Making your Halloween decoration become the best one in the whole strict is an easy task with solar landscape lights. You even do not need to think about energy consumption because it uses solar energy which is absorbed during the day.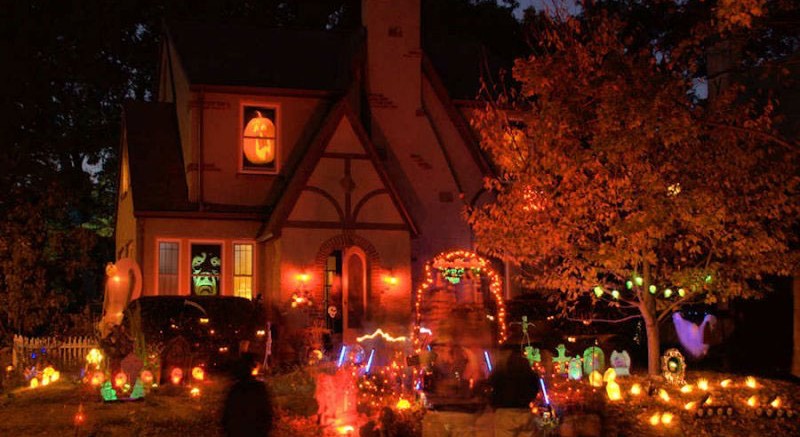 Part.2 How to Choose The Best Solar Landscape Lights?
Usage Purpose
The first element that needs to be taken into consideration is the usage purpose. On the basis of your exact demands, you will know how to select those solar landscape lights on the market. If you need more colors to decorate your outdoor space, the color selection and color mode might be the first thing you focus on.
Working Time and Lifespan
The working time may be the first concern about all solar products. The working time of a full-charging solar landscape lighting could be various. Normally, this data is between 3 – 12 hours. About the lifespan, this target may vary according to your usage frequency. The usage frequency of once a day and once a week will end up with different lifespans. These two targets depend on the solar panel.
Material
The solar landscape light is used in outdoor spaces, so it needs to have a durable feature in case of hard conditions like rain, wind, and snow. Only with durable materials can it work well no matter how terrible the weather is. A waterproof level is a good standard for this consideration.
Flexibility
Based on your demands, you may put the solar landscape lights in different spaces and adjust angels as well. Therefore, installation methods and angel flexibility are important if you have these kinds of requirements.
Price
The last element of selection is the price. You can analyze the price and quality of the product together. Figure out the cheapest one which contains all features you need is a common path for users. Currently, this product comes in the form of a bundle( perhaps two or four in one kit), most price is below 100USD.
Part.3 Recommendation of Best Solar Landscape Lights
While talking about the best landscape lighting, AiDot solar landscape light can not be ignored. This solar landscape light has lots of basic and advanced features that a solar landscape light is supposed to own. Not only about the single solar landscape light, it also has a landscaping lighting kit which is a magic combination.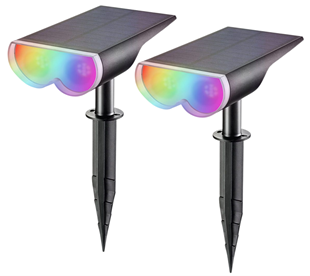 Diverse Color Mode And Long Working Time
AiDot solar landscape light has several color modes in both dynamic and static status for the selection of users. 8 colors including red, green, blue, lemon yellow, purple, cyan, rainbow, and cool white, and 1 auto-changing color mode can be adjusted for different purposes. To change the color according to your mood and what you want your yard to be. Based on different modes, the lifetime of this RGB solar landscape lighting may have a difference. Normally, under full-charging conditions, it can be used for 12 hours in fixed color mode. Under the color cycling mode, the lighting can last for 6 hours at high brightness and 12 hours at low brightness. After running out of electricity, it can absorb energy from the sun and offer continuous lighting.
IP67 Waterproof And Flexible Solar Panel
For an outdoor solar landscape light, the function of waterproof is something that cannot be ignored due to the occurrence of rainy days. AiDot solar landscape light has no barrier in this aspect because it has IP67 waterproof which enables it to work well on rainy days. The only barrier could be the lacking of sun. Besides, this solar landscape light has a flexible solar panel that can offer a higher photoelectric conversion rate(up to 20%) which shortens the charging time dramatically. When you want to change the direction of light, this solar panel can be adjusted by 90 degrees vertically or 180 degrees horizontally.
2 Installation Methods
2-installation method is another advantage of AiDot solar landscape light. Whether you wish to put the solar landscape lights on the ground or even on the wall, the product of AiDot can make it realized. If you want to put it on the ground, just insert it into the ground with an included ground stake; if you want to put it on the wall, just install it on the wall with included screws and wall bracket. It is very portable and convenient for users to install in different spaces. Thinking about the solar landscape lights for your patio, pool, porch, garden, yard, and pathway? AIDot landscape light is the ideal selection.