AiDot Enhulk 900W 7.2AMP Electric Drywall Sander with Vacuum Auto Dust Collection
10% OFF New User Benefit
Over $30
Obtained
900W Powerful Motor

6-Level Variable Speed

Sanding Dust & Self-Suction System

Extendable Aluminum Handles

90° Pivoting Head

Double-Deck LED Light

Detachable Sander Base
Free & Fast Delivery (2-7 days)
Payment Security
Lifetime Customer Support
60 Days Back Guarantee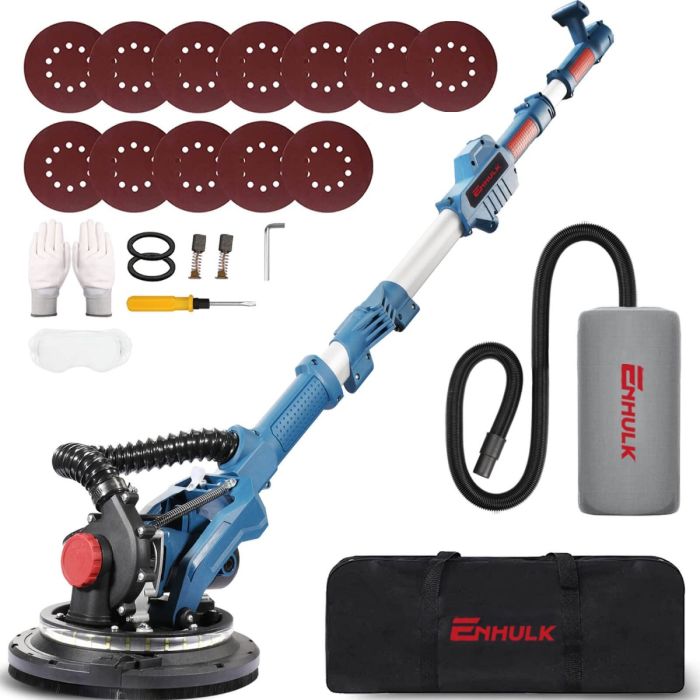 Free & Fast Delivery (2-7 days)
Payment Security
Lifetime Customer Support
60 Days Back Guarantee
You May Also Like

Specification
| | |
| --- | --- |
| Amperage (amps) | 7.2 |
| Cordless/Corded | Corded |
| Voltage(volt) | 120 |
| Corded Tool Type | Disc Sander |
| Dust Collection Method | Bag |
| Power Tool Features | Variable Speed |
| Speed (rpm) | 800-1800 |
| Switch Type | Trigger |
| Max Reach(ft) | 5.6 |
| Light Type | Double-deck LED strip lights |
| Pivoting Head | 90° pivoting head |
| Dust Absorption | 92.5% |
| Included | 1x drywall sander, 12x sandpapers(80/100/120/150/180/240 * 2), 1x user manual, 1x 6.5ft dust hose, 1x dust bag, 1x carrying bag, 1x hexagonal wrench, 1x dual hook tension spring, 1x work glove, 1x work glasses, 1x screwdriver, 2x carbon brushes, 2x gaskets. |
Smooth Surfaces, Effortlessly Achieved!
Enhulk drywall sander is a versatile tool designed to meet the needs of both DIYers and professionals. It is perfect for grinding various surfaces such as drywall, popcorn walls, mudded walls, knockdown texture walls, orange peel walls, and even clearing floors.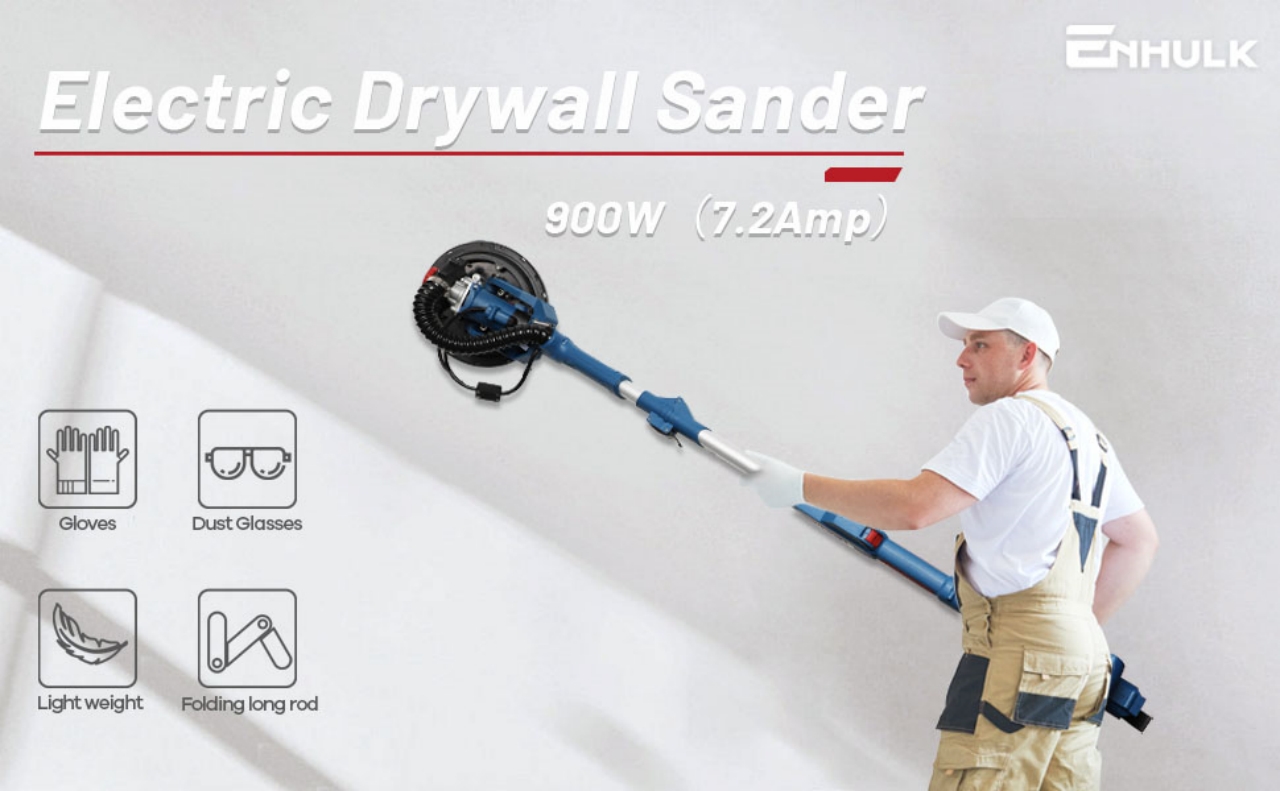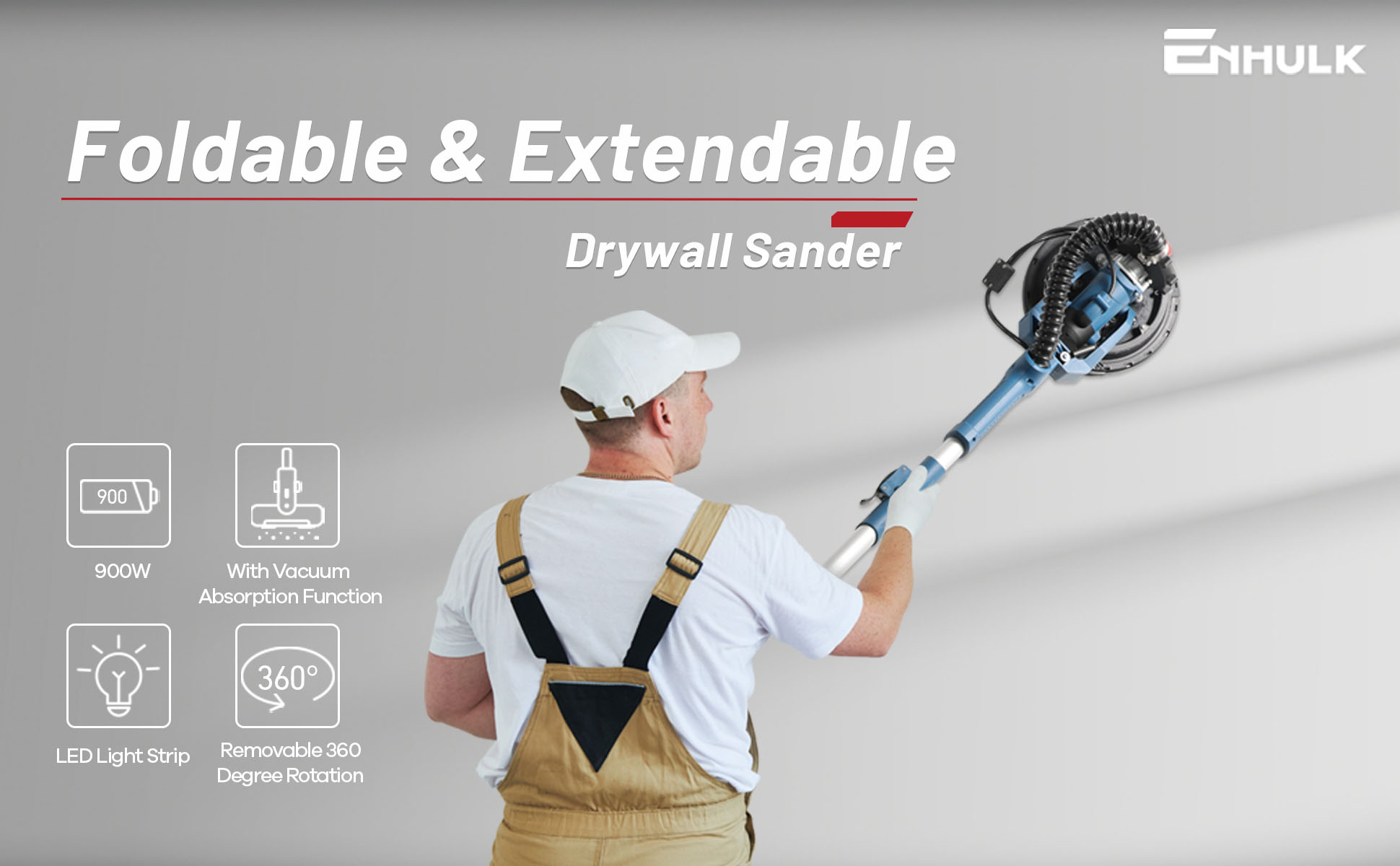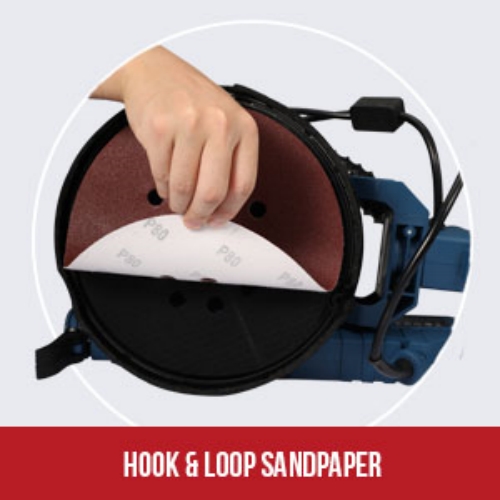 This drywall sander is equipped with a convenient hook and loop sandpaper system, allowing for quick and easy sandpaper changes. This feature saves you time and effort, ensuring that you can seamlessly transition between different sandpaper grits to achieve the desired finish.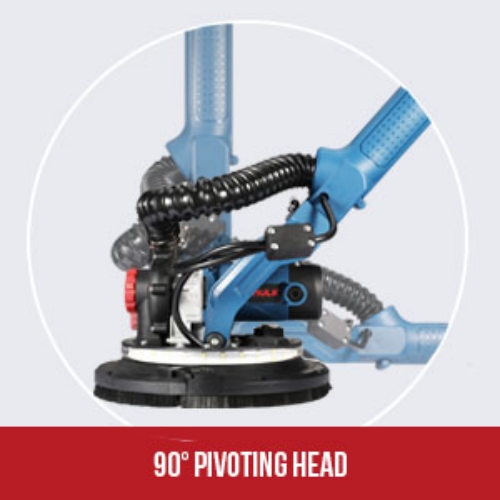 The head can swivel effortlessly in all directions, granting you unrestricted access to hard-to-reach areas and ensuring a thorough and even sanding experience. Whether you're tackling ceilings, walls, or corners, the ability to adjust the head to any angle provides you with optimal control and precision.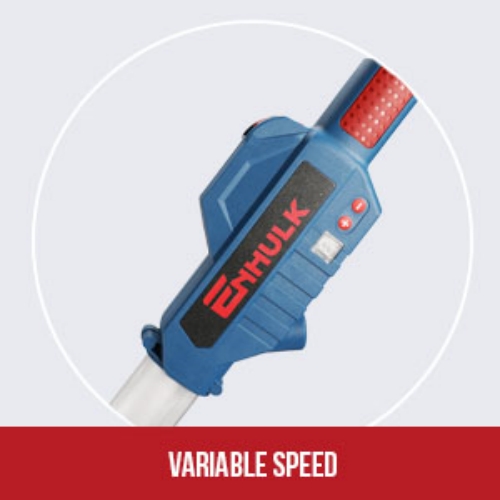 The exceptional 6-level variable speed trigger empowers you to effortlessly adjust the sanding speed to your desired level, ranging from 800 to 1800 RPM. Whether you need gentle precision for delicate surfaces or powerful sanding for stubborn areas, the ability to fine-tune the speed ensures optimal results.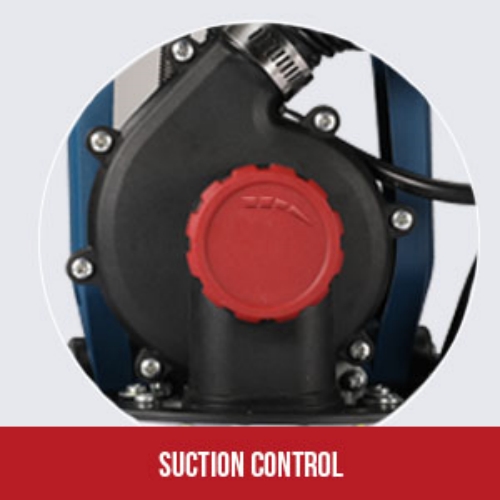 You can easily adjust the level of suction power according to your specific needs, enhancing both the efficiency and cleanliness of your sanding projects. Whether you're working on a highly textured surface or a smoother area, the suction control enables you to optimize the sanding process for efficient dust extraction and a cleaner workspace.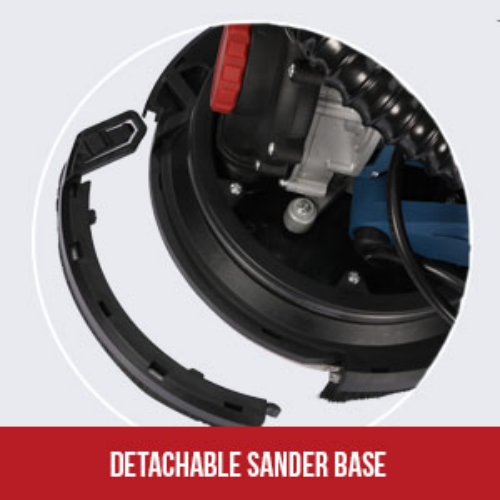 With a simple adjustment, you can detach the sander base and effortlessly navigate corners and right angles on ceilings and walls. Whether you're refinishing a ceiling or sanding along intricate edges, this innovative feature ensures thorough and even sanding, leaving behind a smooth and professional finish.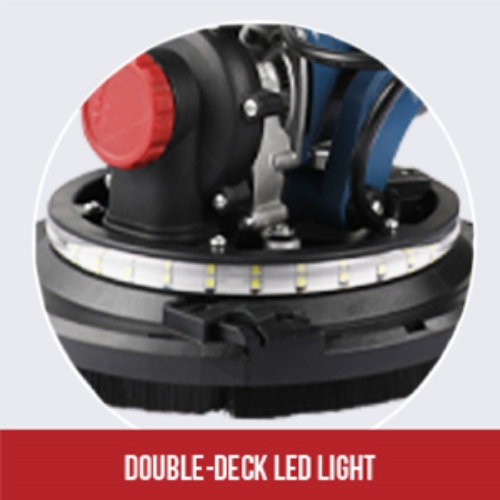 This powerful LED light ensures that every detail of your sanding project is visible, enabling you to achieve professional-grade results with ease. Say goodbye to shadows and guesswork as the bright and efficient LED light guides your every move, revealing any imperfections or uneven surfaces.