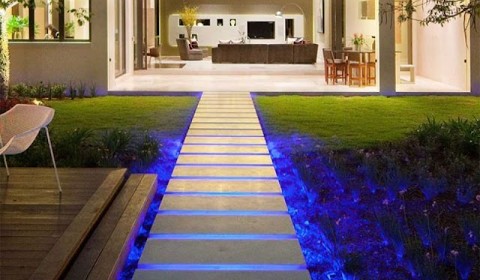 The best solar lights enable you to enjoy the outdoors well after dusk without increasing your electricity bill. These lights use photovoltaic energy obtained from the sun and stored in either a rechargeable battery or to charge a solar panel placed at a remote location. There are different solar lights out there, so it's crucial to be sure the ones you choose do what you want them to. Brightness, longevity, and aesthetics are factors to think about. Here are ten of the best solar lights to choose from.
Part.1 Top 10 Best Solar Lights
1. AiDot Solar Landscape Lights
While talking about the best solar lights, AiDot could be the first one on the list.The AiDot solar landscape lighting is up to 50% brighter than regular lights, thanks to its 16 high-intensity LED bulb beads and 90-degree beam angle. Porch, deck, yard, pools, driveways, patios, and garages may all benefit from having this light because of the ground stake and wall bracket that come with it. The solar panel offers a conversion rate of up to 20%, reducing charging time. The adjustable tilt of 180 degrees horizontally and 90 degrees vertically helps increase charging efficiency and overall working duration. In addition, the IP67 rating for water resistance and the anti-UV ABS construction ensures that the light will remain hidden from the elements for an extended period.
2. AOOTEK Solar Motion Sensor Lights
These solar-powered LED lights have motion sensors and may be set to turn on automatically or on command. Those lights have a detection range of 120 degrees, which means they can spot motion up to 26 feet away. In addition, these high-efficiency, wide-angle wall sconces come with a smart dimmer switch. These two lamps have solar panels with a higher conversion rate of 20.5% than other lamps of the same type. These Aootek lights may be installed anywhere around the exterior of your home without worrying about the elements or excessive heat. They will provide you with both brightness and security.
3. KOOPER Solar-Powered Calla-Flower Decorations
These solar-powered lanterns are perfect for decorating your outside space while being functional. The solar-powered lights can be shaped in various ways thanks to their bending quality wire stems and seven built-in LED 'flower' bulbs in a rainbow of colors. They charge from the sun's rays during the day and turn on by themselves when night falls. After fully setting, the lights can shine for up to 12 hours on their internal batteries. Installing these solar lights is as easy as placing each bulb into a hole in the ground. Fun for gatherings or any time you want to brighten up your outside space at night, these flower lights are a fantastic option.
4. GIGALUMI Solar Pathway Lights
Twelve solar-powered lights illuminate your landscape at night. Automatically turning on at night after being charged during the day can last up to ten hours. The LED pathway lights have a lantern style with a grid pattern above the bulb, making them suitable for use along the walkways of both classic and modern residences. You may place these anywhere in your garden, flower beds, on your patio, path, driveway, or even around your pool. The lights can withstand being submerged in water and hit by a car. In addition, the wireless design of these lights makes setup a breeze.
5. BEAU JARDIN 8 Pack Solar Pathway Lights
The solar lights from Beau Jardin are IP65-rated, which means they can withstand snow and rain and are water resistant. Their eight- to 12-hour battery life is more than plenty for a late-night get-together. In addition, they are available in bundles of four or eight, so you can choose the perfect number for your garden. Besides functionally lighting your garden, yard, or pathway, these solar lights are also aesthetically pleasing. When turned on, the beautiful pattern in the glass lampshade illuminates the floor below. These are on our list of the best outdoor landscape lights because they are versatile and come in three colors (silver, black, and brown).
6. InnoGear Solar Outdoor Light
These solar spotlights from Innogear are perfect for highlighting specific features of your yard, such as landscaping or a flag pole. In addition, you may find that these solar lights enhance your sense of safety at home and illuminate your garden. Each light is simple to install and features a pivoting head that can be turned 90 degrees and a solar panel that can be rotated 180 degrees to find the optimal position for sunlight. The solar lights have two brightness settings that can be toggled on and off with a switch, and they can last for up to six hours on high or twelve hours on low, respectively. A full charge takes roughly eight hours.
7. Qaxlry Solar String Light
Using string lights is a simple way to spruce up any outdoor space, whether it's a garden, patio, or balcony. However, they typically have higher energy costs. The solar string lights sold by the Qaxlry Store are cheap and efficient to keep your patio well-lit and pleasant. The package includes two rolls, each 80 feet long, with 240 LED beads. A portable solar panel, mounted on a pole for convenience, is included with every roll. The panels are wired to a powerful battery with a storage capacity of 1,200 mAh, making it ideal for extended periods of use.
8. Signature Garden 6 Pack Solar Lights
This solar-powered outdoor lighting system is a terrific buy because it includes six lights, making them perfect for gardens and walkways. These solar lights can shine for up to eight hours with a full charge. To further ensure that you don't waste battery life when it's not in use, it features an on/off switch. Due to the absence of wires, they can be installed without the help of a professional or any specialized equipment. In addition, it is energy efficient because it runs only on solar power. The solar lights are designed to be used outside, resisting rain, snow, and other elements, thanks to their IP67 water rating.
9. Nekteck Solar Spot Light
With its sizable solar panel, this solar light can keep its batteries charged while providing 200 lumens of light. As an added convenience, it operates automatically from dusk until dawn. The solar lights' versatility is one of its best features. The solar panel, for instance, may be tilted by up to 90 degrees, while the LED bulbs can be moved by up to 180 degrees. In addition, the light has an IP64 rating, meaning it is protected against dust and water.
10. LITOM CD011 Classic Solar Motion Sensor Light
Consider the Litom CD011 Classic Solar Motion Sensor Light for reliable illumination of your garage's entrance. With its 270-degree beam angle, a single Litom solar light can effectively light up an area of around 200 square feet. In addition, the IP65 rating for dust and water protection means the lamp can be used in virtually any environment. Also, you only need a power drill for the incredibly easy installation. Specifically, you can choose from three distinct modes of operation. The light can either remain on at a medium level of brightness all night, switch on at a high level of brightness for around 20 seconds when motion is detected, or remain on at a low level of the brightness all night and brighten when motion is detected. These settings provide a wide range of options.
When strategically arranged, solar lights are the focal point of any outdoor space. The best solar lights are efficient, whether you need them to illuminate your porch, garage, or yard. In this article, we have compiled a list of the best outdoor solar lights that are both easy to set up and independent of the availability of an electrical socket.