Are you looking to add some extra flair to your car? LED strip lights are a great way to customize the look of your vehicle and make it stand out from the crowd. Installing LED strip lights in your car is not as difficult as it seems, and with just a few tools, you can have them up and running in no time.
In this guide, we'll walk you through the steps for how to put LED lights in a car so that you can get those custom looks without having to break the bank. Let's get started!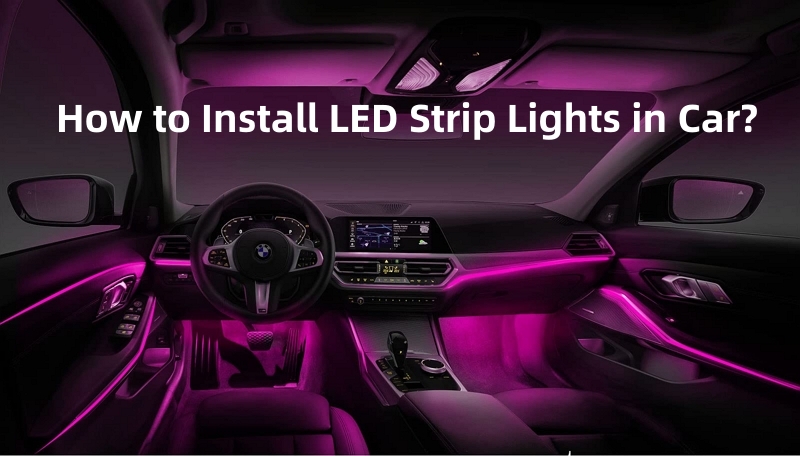 Part 1. How Do LED Strip Lights Work?
LED strip lights can make your vehicle look cooler by adding some extra style. They work by emitting light from tiny diodes, which are arranged in rows along a flexible circuit board. The lights come in various colors and intensities, so you can choose the perfect fit for your car's style. LEDs require very little power to operate, and they generate very little heat, making them a safe and effective option for automotive applications.
The flexibility of these lights allows you to easily attach them anywhere on your car, such as around the interior or exterior trim pieces. They can also be used to automatically trigger certain features when used with compatible switches or controllers.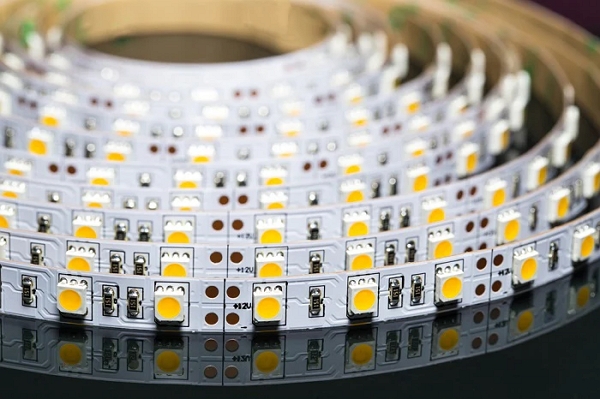 Part 2. How to Install LED Strip Lights in Car?
Installing LED strip lights on your car is a relatively straightforward process, but it's important to make sure you do it properly. Here are some tips for how to install car LED strip lights:
2.1 Get the Perfect LED Strip Lights for Your Car
The AiDot Orein WiFi RGBIC LED Strip Lights are made of high-quality plastic and are great for color-changing purposes as it allows you to get creative with its multi-dynamic light effects. Through the APP control feature, you can adjust the brightness, mode, speed and more. It also comes with voice control technology so you can control the device with your voice commands. The best part is that you can even sync it with your screen or music to create an amazing visual experience! Some of the key features of this product include: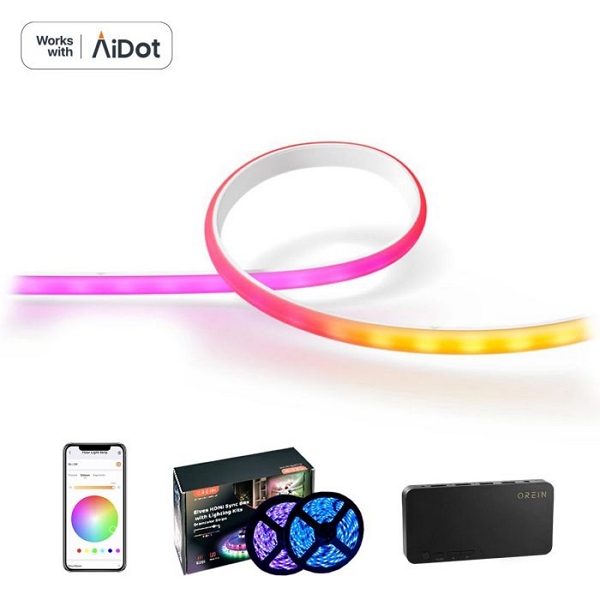 Real Screen Sync & Music Sync

3 Screen modes, 4 Music modes, and 4 Scene modes

Smart Voice Control & App Control

High Accuracy of Color Reproduction

Pair with Any HDMI 2.0 Devices
[Bonus Now]: Here is an exclusive coupon code only found in blog posts. Save it now (AiDotBG01) and get 10% off at our AiDot mall!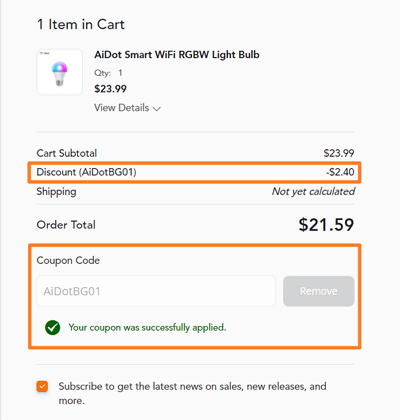 2.2 Complete the Preparatory Work
Before you begin installing LED strip lights in your car, a few preparatory tasks need to be completed.
To begin with, make sure that you determine the exact location where you want to install the lights in your car and measure the area so that you can purchase the correct size of LED strips. When deciding where to install LED strip lights in your car, it's important to consider the location of the power source and how easy it would be to access it. Ideally, you should pick a place that has enough space for the LED strips and that is relatively close to the power source.
Next, choose a power source that is compatible with your LED strips. After that, gather all of the tools and supplies you will need for the installation, such as a head screwdriver, electrical tape, cable clamps, and heat shrink tubing (optional). With everything in place, you can finally begin to install car LED strip lights.
2.3 Power the LED Strip Lights
Once you have decided on a location for your LED strip lights and prepared all of the necessary tools and supplies, it's time to power them up! Begin by connecting the power source to the "controller box" or wiring harness that came with your LED strips.
Make sure that all connections are secure and properly insulated. If needed, you can also use heat shrink tubing for additional insulation. Once the power source is connected to the controller box, connect the LED strips to the wiring harness and make sure that all connections are secure.
Method 1. Use the Fuse Box
Begin by locating the fuse box in your car. The fuse box is typically located underneath the dashboard or in the engine compartment. Once you have found the fuse box, identify the appropriate fuse that corresponds with your LED strip lighting installation.
Method 2. Use the Cigarette Lighter
If your car does not have a fuse box, you can power your LED strip lighting using the cigarette lighter port in your car. Begin by locating the cigarette lighter port and making sure that it is working properly.
If you need to replace it, you can purchase a new one at your local auto supply store. Once the port is ready to use, insert the power adapter into it and then plug in your LED strips.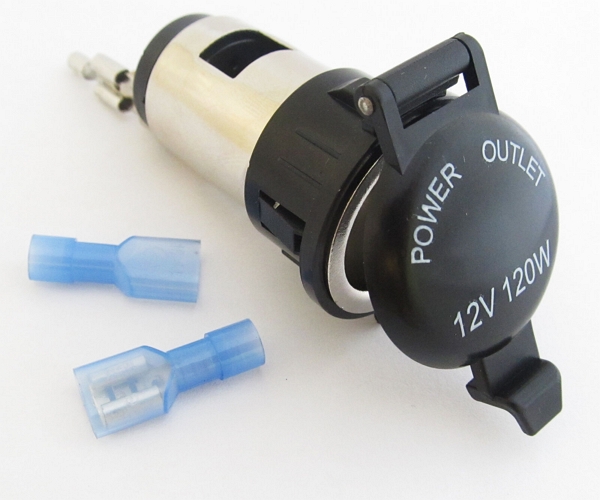 2.4 Connect & Mount the LED Strip Lights Properly
Now that you have powered up your LED strip lights, it's time to connect and mount them properly. Begin by laying out the LED strips and connecting them to each other using the connectors that came with your kit.
Make sure that the connection is secure and free of any frayed wires or exposed copper.
2.5 Test the LED Strip Lights
Once the LED strips are connected and mounted properly, it's time to test them out! Begin by powering on your LED strip lights and adjusting the brightness as needed. Make sure to check for any flickering or uneven lighting that could indicate a loose connection.
Additionally, if you notice any unusual heat coming from the LED strips, turn them off immediately and double-check the connections. Once you are satisfied with the results, your LED strip lighting installation is complete!
2.6 Enjoy the Vibes!
Now that you know how to install led strip lights in the car interior, you can enjoy the vibes that come with it! You can use your LED strips to create a variety of atmospheres, from a soft and cozy vibe to a bright and inviting one.
Depending on the colors and intensity of your LED strips, you can even create a unique ambiance that matches the mood of your car. Whatever atmosphere you decide to go with, LED strip lighting is sure to add a special touch to your vehicle!
Part 3. FAQs About LED Light Strips
1. Where can led strip lights be placed?
LED strip lights can be used in a variety of applications other than automotive. They can be used to enhance the aesthetic of any space, from the home to commercial buildings. For homeowners, LED strips are a great way to add a touch of style and sophistication to any room with their vibrant colors and customizable settings.
In addition to residential spaces, LED strip lights are also a great option for businesses looking to create a unique atmosphere. They can be used in shops and restaurants to create a vibrant ambiance that customers will love.
2. What are the disadvantages of LED light strips?
LED strip lights can be a great choice for many different applications, but they do have some drawbacks. One of the major drawbacks is their cost. LED strip lighting can be quite expensive, especially if you need to purchase a large number of strips or custom-made components. Also, the installation process can require additional equipment and labor costs that may make it difficult for some people to justify the expense.
3. How long will LED strip lights last?
LED strip lights for cars can last anywhere from five to twenty years, depending on a number of factors. The quality of the materials used in their construction is important - higher quality materials will lend themselves to better durability and a longer lifespan.
Conclusion
LED strip lights are a great way to add some extra lighting and style to your car's interior. They work by using small LED bulbs that emit light when electricity is passed through them, making installation relatively easy. With the right tools and knowledge of how they work, anyone can install LED strip lights in their car with ease. Now you have all the information needed to make this upgrade on your own vehicle!
If you want to take your lighting game up another level, then why not consider investing in AiDot Orein WiFi RGBIC LED Strip Lights? These strips come with their own remote control allowing you to customize the colors according to preference — perfect for adding even more character and style to your vehicle! With installation being as simple as plugging them into any USB port or power bank, there's never been an easier way to give your car interior a unique look!