Are you tired of watching your favorite TV shows in a dimly lit room? Do you want to enhance your viewing experience with some ambient lighting? Installing LED lights behind your TV can be a great way to add some extra ambiance to your entertainment space. Not only do they provide a stylish and modern look, but they can also reduce eye strain and create a more immersive viewing experience. In this blog, we'll walk you through the steps to install LED lights behind your TV, so you can enjoy your favorite movies and shows in style.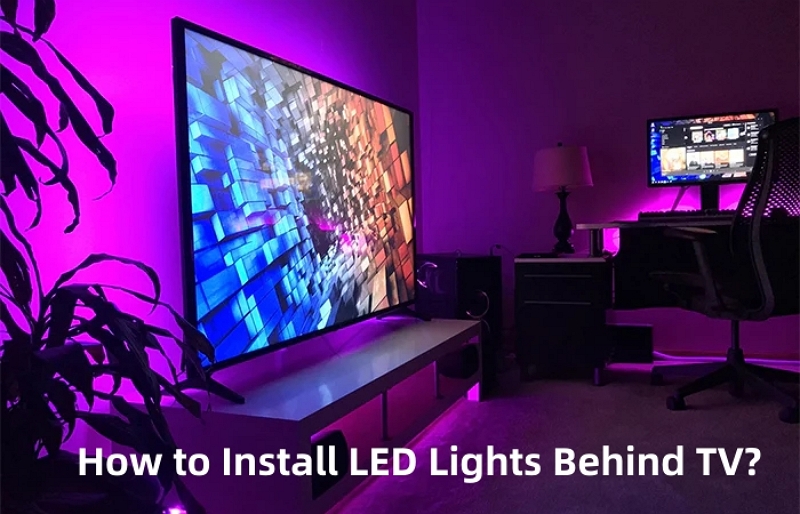 Part 1. Why Put LED Lights Behind TV?
If you haven't purchased LED lights for your TV yet, you may be wondering why you would want to put these lights behind your TV. There are a number of reasons that people enjoy having this added effect. However, it is perhaps more useful to explain how LED lights work first.
1.1 How Do LED TV Backlights Work?
You probably already know that LED lights are very effective. What you might not know about light-emitting diodes is that they use semiconductors to emit light in the form of photons. The design of these devices allows for multiple colors of light depending on how this energy is released.
With LED light strips, you have what amounts to a very flexible circuit board that is filled with these LEDs. This allows you to stick it almost anywhere you would like and enjoy the effects of LED lighting. One of the popular places for people to use LED lights is behind their TV.
1.2 What Can You Get From LED TV Backlights?
One of the common questions you may be asking is why bother putting LED lights behind the TV. There are many reasons for this. One of the most popular reasons is to add to the ambiance. Using LED strip lights to add a splash of color to your viewing experience can enhance the mood and make watching movies, sports, and other things more immersive.
Another major reason is bias lighting. You've probably noticed that your TV is very bright. When the TV is on and the room is relatively dark, it can create eye strain and headaches. Putting LED lights behind your tv creates bias lighting, helping your eyes adjust without straining.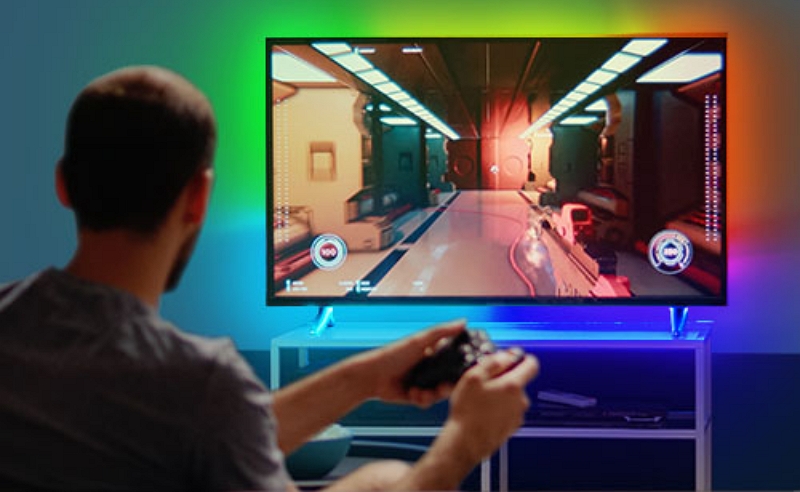 Part 2. Before Installing: Get the Proper LED Strip Lights
2.1 Consider the Following Aspects
Quality is an important aspect to consider. Quality LED light strips should have strong ratings and last a very long time. Price is certainly something else to pay attention to. You want to get quality lights at an affordable cost to you.
You also want to look for other special features. For example, some LED lights can react to music, be paired with devices, or operate with smart home units. Another important thing to consider is the size of your TV. Getting long enough LED light strips to use with your TV is important, especially if you have a very large Television.
2.2 Try AiDot RGB LED TV Backlights
While you have many options when it comes to LED backlights, AiDot LED TV backlights are made to be high-quality with all the features you need to get the most out of your TV-watching experience. You can reinvent your viewing experience by adding color while reducing strain on your eyes! With AiDot backlights, you get the following features: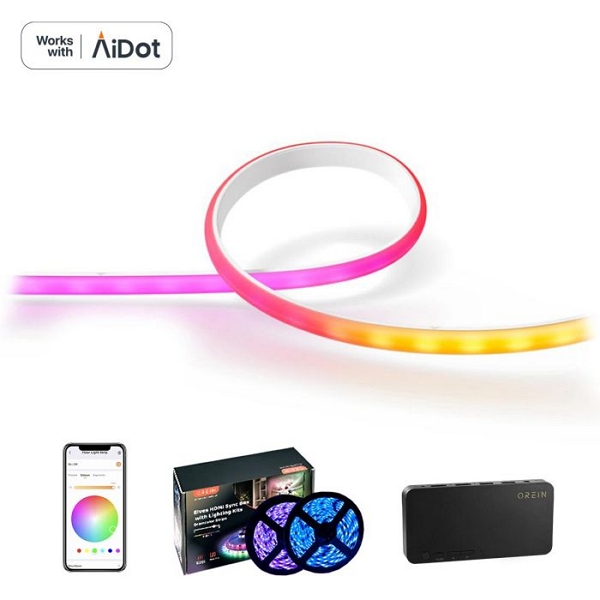 Syncs with either what's happening on the screen or the music playing
Numerous preset options (3 Screen modes, 4 Music modes and 4 Scene modes) to get the ambiance and effects started
Zero latency when it comes to immersion with your favorite video games and platforms
Comes with voice control via Amazon Alexa, SmartThings, or Google Assistant
Works perfectly with the AiDot mobile app, allowing you to adjust all settings from your smartphone
Cuttable and bendable to cater to your demand with different items
[Bonus Now]: Here is an exclusive coupon code only found in blog posts. Save it now (AiDotBG01) and get 10% off at AiDot mall!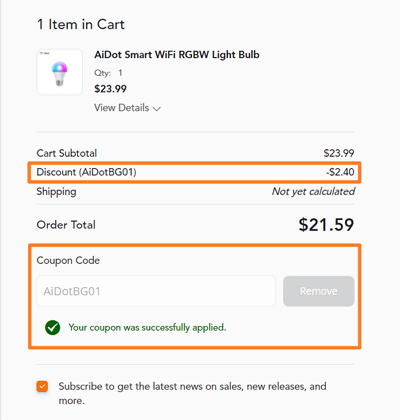 Part 3. How to Install LED Lights Behind TV?
Now that you understand why put LED lights behind the TV, you need to know the best way to put your LED lights behind the TV. Start by unboxing your AiDot LED TV backlights.
Step 1: Unroll the Strip Lights
The first thing you want to do is carefully unroll the strip lights. You don't have to worry about having to be overly gentle as LED light strips tend to be fairly durable. However, you do want to take some care. It's best to do this on a large, flat surface. This makes it easier to get the strip lights organized.
Step 2. Clean the Back of TV
If you are someone that hates cleaning, the good news is cleaning the back of your TV is not very difficult. However, it is very important to ensure that your LED light strips will stick correctly. You need to dust any cords first, allowing excess debris to be removed. Next, use a microfiber cloth to gently wipe the back of the TV. There is no need to use water or chemicals as these can damage your TV.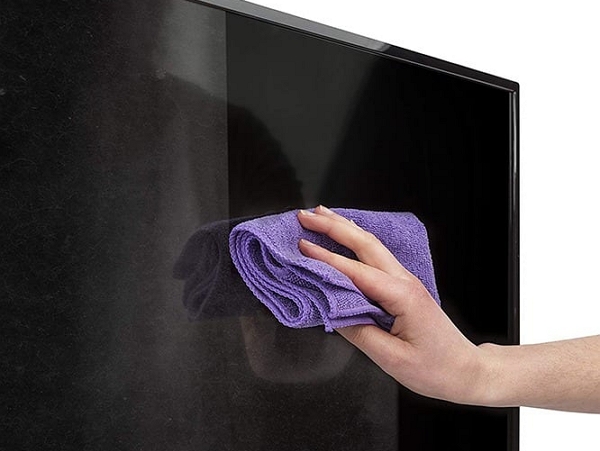 Step 3. Stick the LED Lights on the Right Location
A critical part of how to install LED lights behind your TV is placing them in the right locations. Where should you put them? Most people prefer to make a rectangle just about an inch away from the edge of the TV. The goal is to frame the TV without being directly visible from the front of the TV. This will create the desired backlit effect that people want.
Step 4. Get the LED Lights Well Connected & Enjoy!
The final step is to connect the LED lights. Depending on which brand of lights you purchased, this may involve a number of things. However, most lights, including our AiDot GRB LED TV backlights, just need to be connected to an HDMI outlet. Once you have them connected, just sit back and enjoy your new TV experience!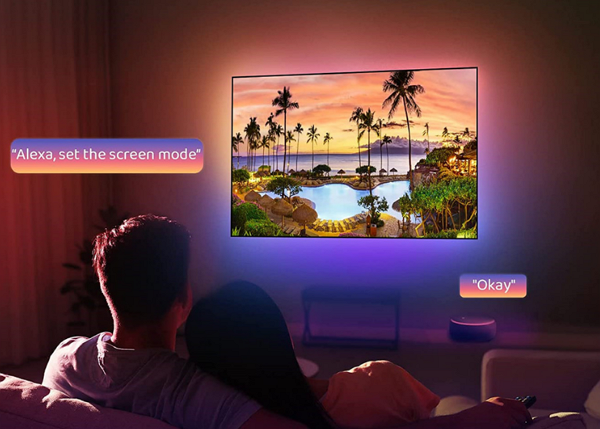 Part 4. Some FAQs About LED Light Behind TV
Now that you know how to install LED lights behind the TV, you may still have a few questions. Here are some of the most common questions we receive from customers.
1. Is it safe to put LED lights on TV?
Many people want to make sure that sticking LED lights to a TV is safe. This makes perfect sense given how much your TV costs. You can rest assured that it is perfectly fine to put LED light strips onto a TV. One of the benefits of LED lights is that they are very effective without generating a lot of heat like conventional lights. Thus, placing them on your TV is perfectly safe.
2. Do USB LED lights work when TV is off?
Yes, USB LED lights can work when your TV is off. It is all up to you whether you want them to be on or not. For example, the AiDot LED light strips can be controlled with smart home devices like Alexa or Google Assistant. This makes it easy to turn your LED lights on and off using your voice or even your smartphone.
Enhance Your TV Experience with LED Lights!
LED lights are excellent for making your TV viewing experience far more immersive. The added ambiance can help draw you in whether you are watching sports, a movie, or gaming. With AiDot's LED light strips, how to install LED lights behind your TV is quite simple. In just a short amount of time, you'll be enjoying watching your favorite programs with added effects.