For those that are looking to add a bit of ambiance to their home or just a specific room, LED lighting is a great, cost-effective way to achieve it. Typically the most common location to place LED lights is the ceiling. It may seem daunting, from what type of LED lighting to choose, to how to place and install it. However, no worries, as we're going to help you overcome this headache with our step-by-step guide on the installation of LED strip lights on ceiling areas.
Part 1. Haven't Got LED Strip Lights? Check These Out!
2.1 What Aspects Should You Consider?
When purchasing your LED lights, let's look at some things to consider so that you get the best option for your home.
Control Options – This has become a common feature in LED lighting which allows you to change various settings via a remote, mobile application, or even voice control. Double check this aspect beforehand and choose the LED strip lights with the control options you like.
Length – Make sure you do a proper measure of the area that you want to cover so that you are able to buy a long enough strip. Otherwise, it could be quite troublesome when you find the strip lights are way too short during the installation process.
Color and Brightness – In the past, it was rare to find strip lights with a variety of color options or brightness settings, but these days it's a common feature. You should always choose strip lights with the color you prefer and the brightness suitable for your needs. Apart from that, variable color change and convenient brightness adjustment are also important.
2.2 Try the Recommended AiDot RGB LED Strip Lights
We highly recommend AiDot RGB LED Strip Lights as it's feature-rich and simple to install, getting you toward the right type of mood lighting in no time. The total package comes with everything you may need for easy installation, from LED strips to brackets and all the cabling you'll need.
It also comes with a sync box to easily connect with your multimedia system, whether it's TV, PC, Mac, Apple TV, or gaming system. The LED strip lights include two spools of 7.8 feet each, which allows for customization as you see fit and makes it possible for the lights to be installed in multiple rooms.
Let these LED strips become your dancing partner for your next gathering or party. You're getting excellent quality at some of the best pricing out there. The following are the benefits that come with it: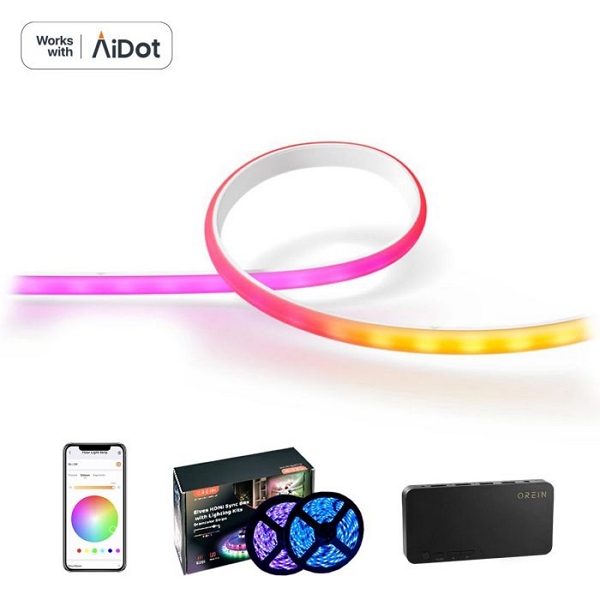 Syncs with either what's happening on the screen or the music playing
Numerous preset options (3 Screen modes, 4 Music modes and 4 Scene modes) to get the ambiance and effects started
Zero latency when it comes to immersion with your favorite video games and platforms
Comes with voice control via Amazon Alexa, SmartThings, or Google Assistant
Works perfectly with the AiDot mobile app, allowing you to adjust all settings from your smartphone
Cuttable and bendable to cater to your demand with different item
[Bonus Now]: Here is an exclusive coupon code only found in blog posts. Save it now (AiDotBG01) and get 10% off at our AiDot mall!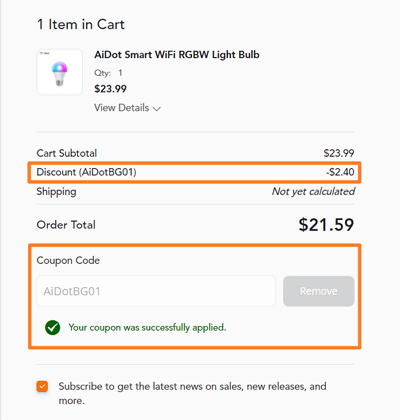 Part 2. How to Install LED Strip Lights on Ceiling?
Now we can get back to the core discussion at hand and help with getting those AiDot LED strips installed on ceiling and used in no time.
Step 1. Plan the Position and Take Measures
When looking at how to install LED strip lights on ceiling areas, you need to do some planning beforehand. First, decide exactly where the LED strip lights are going to be laid out.
Next, place some type of marker so you are able to visualize what it could look like when you finish the installation. Then you are supposed to take accurate measurements to ensure that you have enough length of LED strip lights. This is also the time to start cutting the strip to the appropriate size and length. On the other hand, you don't always have to cut the strips, as you can also wrap them around corners.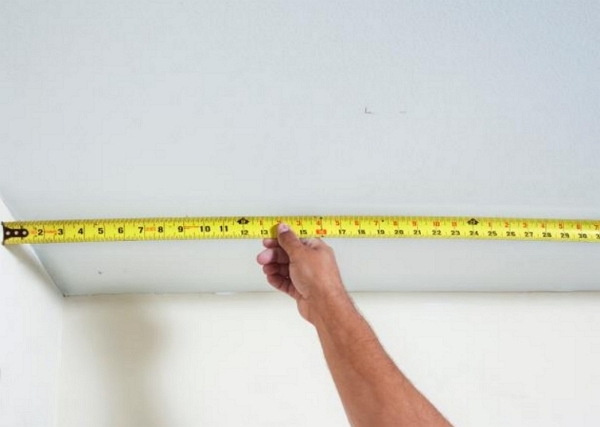 Step 2. Clean and Dry the Installation Surface
Now that you've prepared the space and measured out the LED strips, you need to properly clean the surface where you're going to install the LED strip lights. This helps to remove any debris that may get in the way, especially for the underlying adhesive.
Step 3. Put the LED Strip Lights in Place
Now it's time to peel the adhesive tape from the back of the LED strip lights and place them on the ceiling. Make sure to press down throughout the LED strip to ensure that the adhesive creates a strong bond with the ceiling itself.
Step 4. Trim Any Excess Light Strip
If you didn't cut the strip lights into the right size before and preferred to install the LED strips with the complete roll of LED strips, now is another chance for you to trim and cut excess LED lights to ensure a proper fit.
Step 5. Connect LED Strip Lights to Power
The time to power your creation has come, which means giving those LED strip lights a power source. This can come in the form of a power bank, a power adapter, or even a USB port. You can also start to set up your application and sync the application with the LED lights. Make sure to test out functions such as turning the lights on and off, adjusting the brightness, and changing the colors.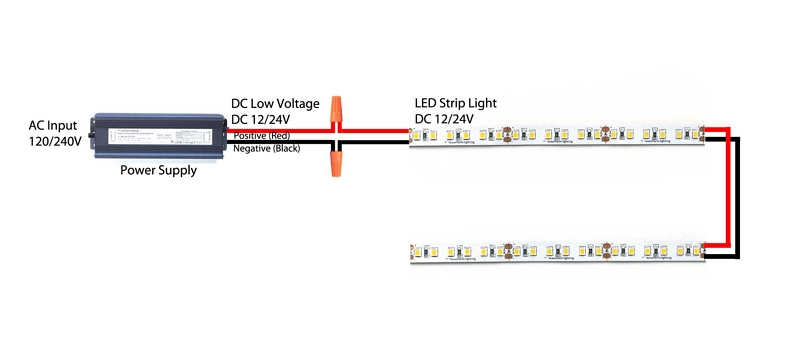 Step 6. Control Your Lights & Enjoy the Vibe!
Once everything is working properly, from all the LED lights functioning to the app doing its job, it's all about customizing everything to your preferences, then sitting back, relaxing, and enjoying the ambiance.
Bonus. How to Cut & Connect LED Strip Lights?
3.1. How to Cut LED Strip Lights?
It's necessary to be careful when it comes to cutting your LED strip lights. It's best done with a pair of scissors or a sharp knife. There should be cut lines on the strip itself, and that's where the cut should happen. If you don't cut on the right spot, you'll damage that area of the LED lights.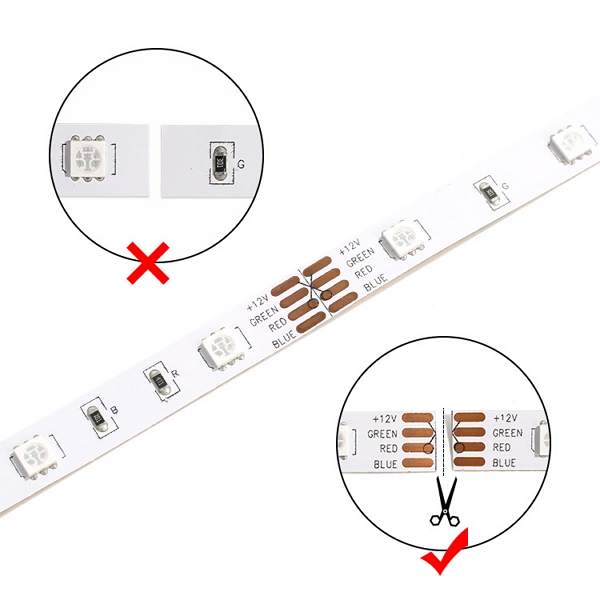 3.2 How to Connect LED Strip Lights?
You may want to do the opposite and connect LED strip lights. First, ensure that you find pieces that are of your desired length when connected. Then look for the connection points on the strip. Some LED lights may come with simple connectors, while others need a bit of soldering as you're reconnecting the wires. Feel free to reach out and drop us a line directly to get more information about which options enable you to easily connect LED strip lights.

Conclusion
Now that we've answered the question on how to install LED strip lights on ceiling areas, you can see how simple the task is actually. The most important and critical factors here are ensuring you have measured the dedicated space and that it's thoroughly cleaned before applying the lights with the adhesive on the strips.
Not only will LED strip lights give instant ambiance and the right mood lighting for the situation, but they also are excellent energy-saving option as well, meaning there are little concerns even when using them all the time.
As always, we're here to help you in any way possible when it comes to how to put LED strip lights on ceiling, so please don't hesitate to reach out to us. Whether the topic is how to put LED strip lights on ceiling areas or anything else with lighting, we're ready to answer your questions.