We all know how daunting removing hair from your home's carpet can get. Pet hair gets stuck deep in the carpet's material, and getting rid of it can be tricky. Dog owners try to find different solutions to efficiently remove dog hair and ensure their homes are clean and neat. However, one of the most common questions that pop up among people with pets at home is about how to remove dog hair from a carpet without a vacuum.
Here, we will discuss several methods that can help you remove dog hair from the carpet in your home. You will be able to explore your options and see which one fits the best for your needs. In other words, you will discover whether trying to remove pet hair without using a vacuum cleaner is worth it or if you should stick to the guaranteed ways of vacuuming people have used for years.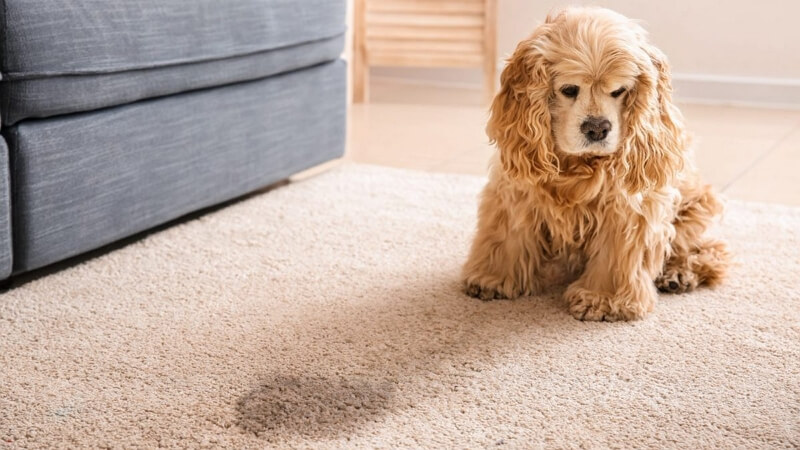 Part 1. How to Remove Dog Hair from Carpet without Vacuum?
When trying to remove dog hair from your home's carpet, you have several options at your disposal, some of which include not using a regular vacuum cleaner to achieve your goal. Additionally, many people have been wondering whether or not using a vacuum is a convenient and efficient solution to get rid of pet hair in your house. But before you get the answer to that question, you have to explore the methods and see whether any of them will work for your living conditions.
Method 1: Using a Hairbrush
Many pet owners use a hairbrush to get rid of pet hair that is stuck deep in the carpet. A hairbrush can be used on the carpet the same way you use it for your hair. Running it through a carpet can collect pet hair that has entered deep into the carpet.
Still, you should be prepared to spend time on the floor because this is a manual task requiring brushing your carpet part by part. This method might not be convenient for big spaces because it will take a lot of time and effort. Additionally, some people may be unable to physically do it since it requires kneeling for an extensive period. But it can do miracles in small areas or parts of your home that are not easily accessible. For instance, brushing the stairs with a hairbrush might be an efficient way to remove dog hair, and it might not take a lot of time.
Method 2: Using a Lint Roller
If you're a pet owner, you probably have an entire stash of lint rollers in your home. While it's mostly used for keeping your clothes tidy, it can also help with cleaning your carpets! A lint roller might be a convenient way to get rid of excess dog hair that you could not remove with your regular vacuum. Keep in mind that we are not talking about classic small lint rollers; Nowadays, you can find specially designed ones for carpets. They have longer handles and are much larger compared to the ones we use for clothes.
It is used in the same way as with clothes. The lint roller comes with a sticky layer that effectively removes hair, dust, and dirt from the carpet. Once the sticky paper is full of dust and hair, you can remove the layer and reveal a new one. You should continue rolling until you are sure there is no more visible excess hair on your carpet.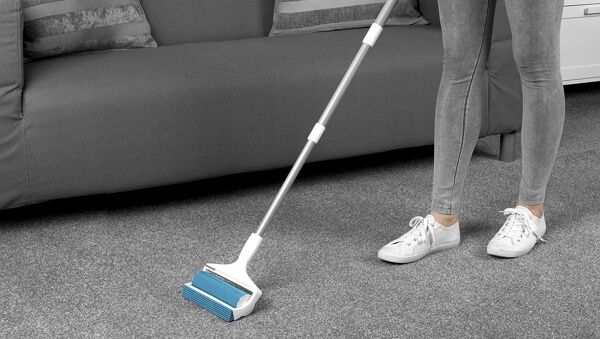 Method 3: Using a Carpet Rake
A carpet rake works in the same way as a regular hairbrush you use for your hair, only this one has a longer handle. When choosing the carpet rake you will use in your home, you can choose between metal and plastic. A rake with plastic bristles will offer you a more gentle action, while metal bristles will ensure you get rid of the stubborn pet hair that gets stuck deep in the carpet.
While cleaning your carpet with a rake, it is convenient to carry a bag where you can efficiently dispose of collected hair. It will make your process quicker and more efficient.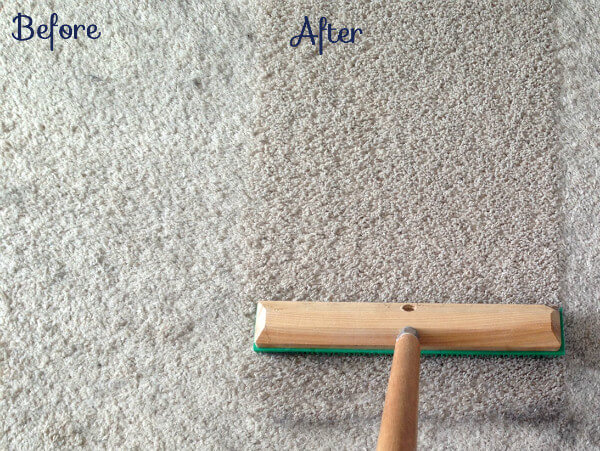 Method 4: Using Wet PaperTowels
When trying to figure out how to remove dog hair from a carpet without a vacuum, you can consider using wet paper towels. This may be the cheapest and easiest way to get rid of pet hair from small rugs around your home. You will need a few paper towels damped with water. Just apply them on the carpet you want to remove hair from, and the water adhesive properties will do the trick.
While this method is convenient, you should be careful not to make additional mess while trying to clean your carpet. Namely, once paper towels are wet, they can start ripping off, leaving residue on your carpet. So, if you are not careful, you may end up with more work rather than a clean space.
Method 5: Using Duct Tape
Using duct tape is a simple yet effective method for removing dog hair from carpets. To employ this technique, wrap a piece of duct tape around your hand with the sticky side facing outward and gently pat it over the carpet surface. The adhesive quality of the tape will attract and pick up the dog hair. As the tape becomes covered with hair, replace it with a new piece to maintain its effectiveness.
This method allows you to cover a larger area quickly, and it's especially useful for reaching into corners and crevices where pet hair tends to accumulate. Remember to press the tape firmly onto the carpet to ensure it catches the hair effectively.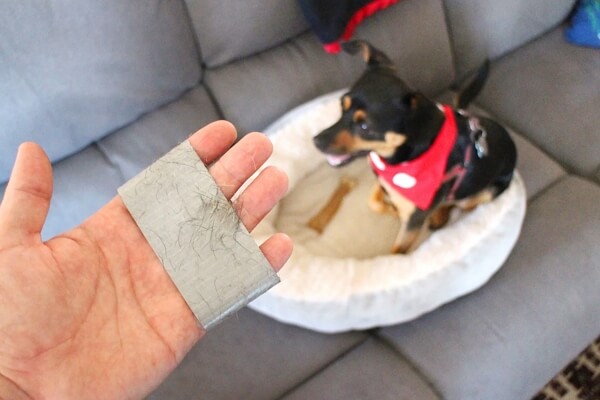 Part 2. A Pet Vacuum Makes Everything Easy!
When trying to find how to remove dog hair from a carpet without a vacuum, you will notice that most methods that work are convenient for small spaces or spaces that are very hard to access. However, nothing can replace the miraculous work of a pet vacuum. The AiDot Syvio Pet Hair Vacuum & Pet Grooming Kit is the perfect solution for keeping carpets free from pet hair.
Our pet vacuum cleaner comes with a long runtime and significant efficiency, ensuring the removal of 99% of pet hair. Plus, the vacuum comes with a pet grooming kit, meaning you can use the device on your dog and put your appliance to good use. The AiDot Syvio Pet Hair Vacuum is quiet, so you can say goodbye to the noisy vacuums you have used in the past. We offer you the chance to experience vacuuming differently and more easily and guarantee your home will be clean in several minutes!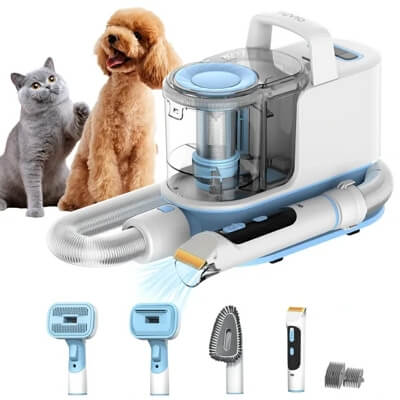 5-in-1 Vacuum & Dog Grooming Kit

Brush & Suck in 1 Step

Instantly Capture 99% of Hair

Low Noise Less Than 60dB

Long Runtime & Clear LED Display

1-Year Warranty & 45-Day No-Worry Return
[Bonus Now]: Here is an exclusive coupon code only found in blog posts. Save it now (AiDotBG01) and get 10% off at AiDot mall!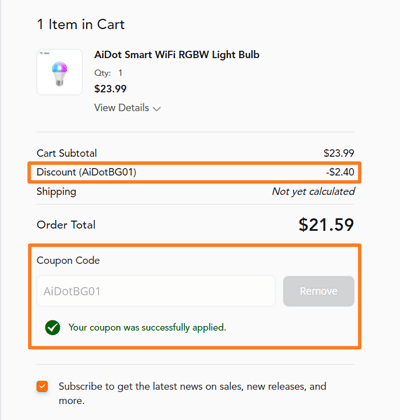 Final Words
When figuring out how to remove dog hair from a carpet without a vacuum, you can rely on several methods that can serve as a quick solution when you do not have a lot of time. Nonetheless, nothing can replace the efficient work of a pet vacuum cleaner that has specific features to keep your home clean. So, you can rely on some quick ways to remove pet hair, but never abandon the convenience of a pet vacuum cleaner!
If you are interested in more convenient appliances for your home, please check out our homepage and other blogs. Furthermore, AiDot has just launched a collection of new products. Explore the review on the AiDot Enhulk Cordless Electric Snow Shovel for insights into the upcoming winter season.