Having a swimming pool in your home is great, especially for the really hot summer days. However, your pool needs proper and regular maintenance, which involves cleaning, among other things. The most convenient way to keep it clean is by vacuuming, but this process seems challenging to many people. Luckily, figuring out how to use a pool vacuum is a piece of cake as long as you have the proper guidelines and an adequate appliance.
To shed light on the notion of pool cleaning, we have prepared a meticulous guide to help you master the process. We have also explained what makes a good pool vacuum so you can find the most suitable one, so cleaning your pool will not seem such a difficult sport, after all!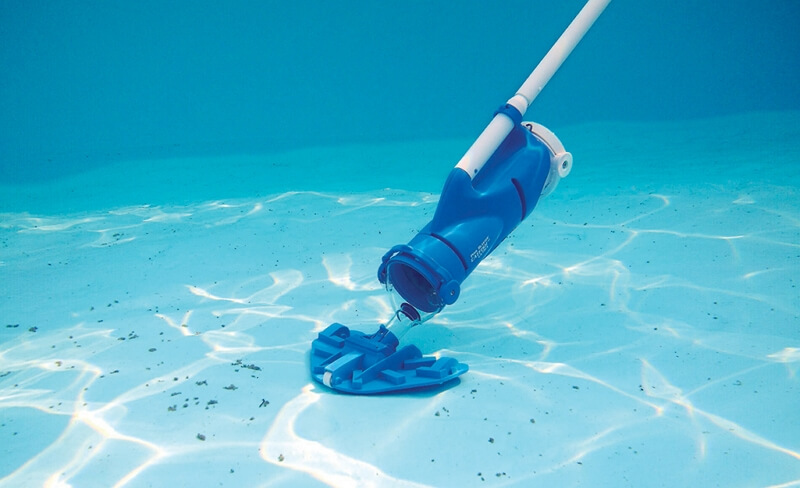 Part 1. What Is Pool Vacuum?
Before purchasing a pool vacuum, you need to discover the device's features. Understanding the properties will help you choose the right one for your pool. We are not talking about a regular vacuum cleaner, even though the appearance might deceive you. In fact, a pool vacuum is quite a revolutionary appliance that will change the way you maintain your swimming pool.
Namely, the main role of this type of vacuum is to eliminate debris, grime, and dirt from the basin of your pool. It works by creating suction and removing all the dirt from the pool's floor and walls. You won't be able to keep your pool hygienic without a proper cleaning device. Surface dirt can lead to bacteria and algae, which can be extremely harmful to your health. Moreover, dirty floors and walls of your pool can lead to green or cloudy water. Not only is this extremely unappealing, but it can also cause your pool to deteriorate. Therefore, regular cleaning will help you maintain good hygiene and keep it in excellent condition.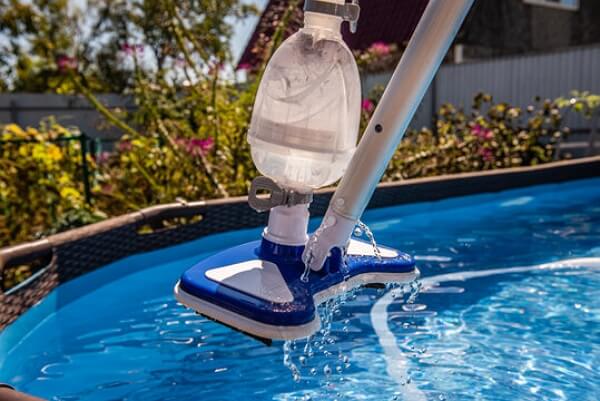 A pool vacuum is the most convenient tool for this purpose because it gives fast results. Plus, learning how to use a pool vacuum is quite easy, meaning you should not wait anymore to purchase one.
Part 2. Do You Really Need a Pool Vacuum?
Advanced technology has provided us with many innovations and solutions for maintaining our homes. However, with so many devices on the market, you might start asking yourself whether you really need to buy every single one of them. When it comes to pool vacuums, many people are unsure whether they should invest in one.
For some, the old-fashioned way of using chemicals to clean it works fine. Nonetheless, as debris and dirt start building up, the chemicals in the pool start losing their power. This is where a pool vacuum can be extremely beneficial. Opting for a vacuum means reducing the need for adding chemicals and the necessity to increase the water's volume. Moreover, using a pool vacuum helps lower energy consumption and decrease the need for filtration. Here are just some of the benefits: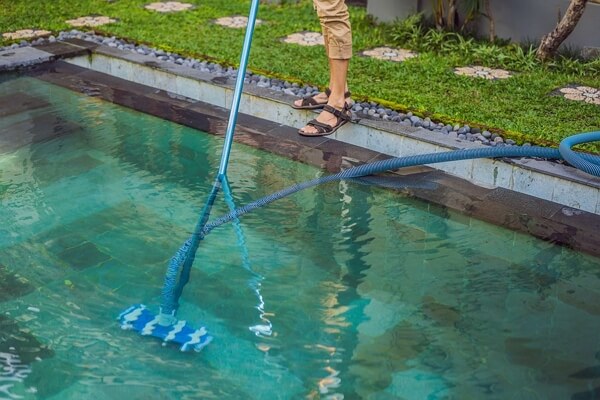 Efficient Filtration: Removes debris and particles for clean water without chemicals.

Time-Saving: Automated cleaning process saves you time.

Freedom of Movement: No need for external power sources, providing mobility.

Versatile: Suitable for various types of pools.

Eco-Friendly: Rechargeable batteries lower your carbon footprint.

Energy-Efficient: Saves money by not consuming much energy.
If you look at the pros and cons of using a vacuum for your pool, you will realize that it is way better to go for vacuuming. You get access to more advantages plus save money. Therefore, the answer is yes - you need a pool vacuum.
Part 3. How to Pick a Good Pool Vacuum?
We have established that a pool vacuum has many benefits, but that does not mean you have to go for the first one you see. On the contrary, you should consider particular factors determining whether the vacuum suits your needs.
1. What Should You Consider?
Before choosing a pool vacuum to purchase, you should look into several factors that will impact the functionality of the cleaning device you pick. Here is what you should consider:
Pool Size: The size of your pool is very important when making a choice. That is, if you have a large pool, you will need a more efficient and powerful vacuum. Vacuum types for larger pools are usually pressure-side or robotic cleaners.

Pool Type: Another thing you have to take into account is the type of your pool. There are cleaning devices that are created for certain pool materials, such as vinyl or concrete. Moreover, the pool's structure is also important, i.e., whether you have an above-ground or in-ground pool.

Features: There are cleaning devices with more functions that improve efficiency, such as remote controllers, timers, and so on. In this case, you should consider your needs and determine what will make your cleaning process easier and more efficient.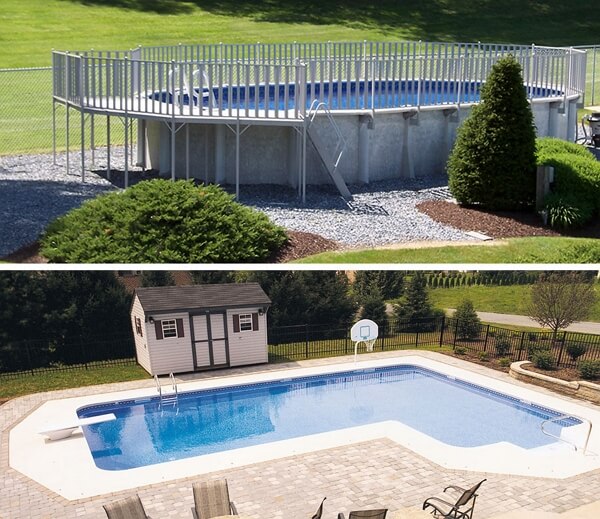 2. We've Picked the Best Pool Vacuum for You!
If you are new to this whole concept, you might get overwhelmed by the numerous choices you have. Besides learning how to use a pool vacuum, you also have to learn its features, which makes it quite confusing to pick one. That is why we have created the best one for easy and convenient use.
If you are searching for a convenient, durable, powerful design with a long runtime that can genuinely lift the pool cleaning burden off your shoulders – we have the perfect solution! The Enhulk Cordless Pool Vacuum is designed with the sole purpose of easing up your cleaning process and providing anything from quick to deep cleaning for your pool! It is incredibly convenient as it has a telescopic pole that will ensure easy cleaning, powerful suction, and a strong motor for guaranteed efficiency. Plus, it provides 60 minutes of running time, which will be enough to clean your pool to perfection.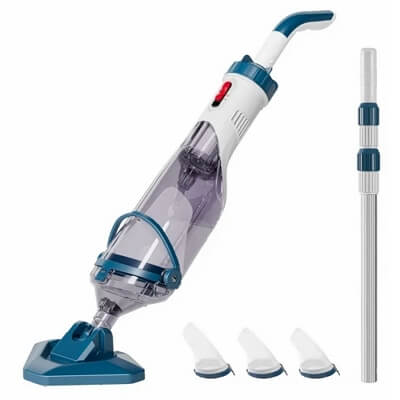 Strong Motor & Powerful Suction

Long Runtime & Fast Charging

Multi-Purpose Vacuum Head

4 Reusable Filter Bags

7.3FT Telescopic Pole Included

Different Debris Handled
[Bonus Now]: Here is an exclusive coupon code only found in blog posts. Save it now (AiDotBG01) and get 10% off at AiDot mall!
Part 4. How to Use Pool Vacuum?
The trickiest part comes when you try to figure out how to use a pool vacuum. Luckily, it is quite simple and easy, and it is done in only a few steps.
Step 1: Make sure the pool pump is turned off.

Step 2: Attach the vacuum head and hose to the telescoping pole.

Step 3: Put the vacuum head into the pool.

Step 4: Attach the opposite end of the vacuum hose to your filtration system for the pool.

Step 5: Turn on the pool pump.

Step 6: Start moving the vacuum head around the pool, cleaning the surfaces of the pool's floor and walls.

Step 7: After cleaning, turn off the pool pump and disconnect the device.
Final Thoughts
As you can see, learning how to use a pool vacuum does not include complex steps and guidelines. You only have to figure out where to connect your cleaning device; the rest is easy. Using a vacuum for your pool will up your maintenance game and allow you to ensure appropriate hygiene in the outer part of your house! For more information on advanced devices, please check out our other blogs.