As we enter a time where technology is on the rise, it's no surprise that home automation has become increasingly popular. You've probably heard of "Alexa" or "Google", new family favorites in many households. Meanwhile, smart devices have become an important part of our daily lives—making things easier, more convenient, and more comfortable. One smart device that has caught everyone's attention is the smart light bulb.
These bulbs can be controlled using mobile apps and voice assistants like Alexa, making them an easy and efficient way to light up your home. But with so many options to choose from, it can be hard to decide which one is the best fit. That's where we come in! In this article, we will review some of the best light bulbs that work with Alexa to help you make the best decision.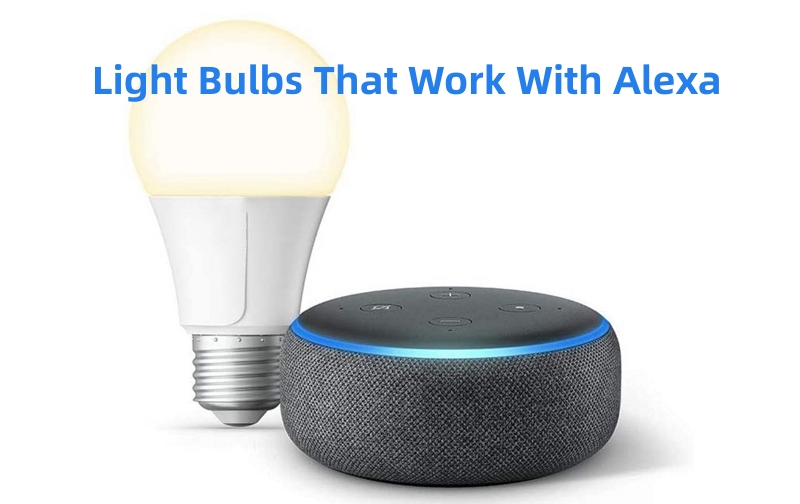 Part 1. What Does Alexa Do Exactly?
We've all heard of Alexa, but what does she do exactly? To start, Alexa is a virtual, voice-controlled assistant technology. Becoming a staple in households across the country, Alexa works with hundreds of smart home devices, one of them being smart light bulbs. Alexa is mainly used for entertainment purposes (like when people request "Alexa, tell me a joke"), but this device is also capable of performing tasks around the house, such as turning on lights, playing music, and reading the news.
For houses that are becoming increasingly "smart", Alexa is now able to connect to those smart devices which allow users to control settings through voice commands. For example, with smart light bulbs that work with Alexa, users can control your lights by turning them on or off, dimming them up to 100 percent, setting them to a specific level, changing their color, and more.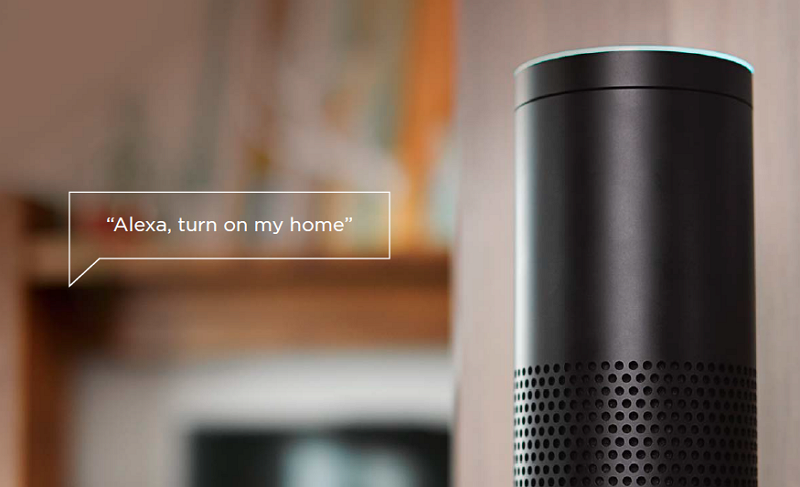 Part 2. What Kind of Light Bulbs Can Alexa Control?
As the world becomes more tech-savvy, smart devices are becoming increasingly popular. Amazon Alexa is a leading example of this trend, and one of its most practical features is its ability to control various smart devices in your home, including light bulbs. But not all light bulbs are compatible with Alexa unfortunately, so it's important to find the bulbs that are.
There are two main types of bulbs, traditional and smart, but only smart ones work with Alexa. You'll need to purchase a smart bulb if you want to enjoy Alexa connectivity. Smart bulbs are especially useful due to the wide range of capabilities they offer. There are many options for smart bulbs, including dimmable bulbs, which can be adjusted to a specific brightness, color-changing bulbs that allow you to create a specific ambiance with the ability to pick a color, and smart outdoor bulbs that can withstand the elements and even be programmed to turn on or off at a certain time.
Since only smart bulbs work with Alexa, it can be difficult to find the right types, especially if you're used to traditional bulbs. Let's take a look at our top recommendations for smart light bulbs that are compatible with Alexa.
Part 3. Recommended Light Bulbs That Work With Alexa
1. AiDot Smart WiFi RGBW Light Bulb
The AiDot Smart Light Bulb is our top recommendation and is truly one-of-a-kind, with an LED lamp that can be adjusted to your desired color. This is perfect for creating your ideal setting, whether it's a relaxing night with dim lights or an upbeat party with flashing colors. Speaking of parties, the AiDot Light Bulb even dances to the music rhythm. Since it's compatible with Alexa, this bulb only needs a voice or a click of a button on the app to change its settings. In a word, the AiDot Smart Light Bulb is a reliable option with durability that will last for years.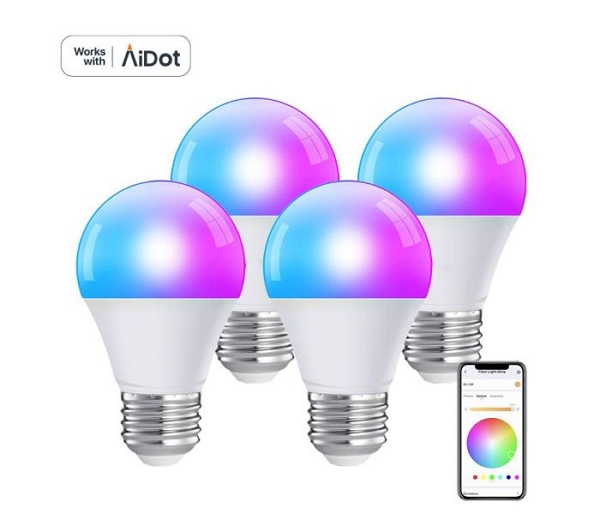 Warm to cool dimmable capabilities for ambiance
Smart & energy-efficient LED lamp
Color-changing options—over 16 million vivid colors
Set a schedule to turn on/off lights at a specific time
Dance to the music to create the perfect party atmosphere
App control for ease and simplicity
Adjust settings (colors, dimness, on/off) with simple voice command
Highly cost-effective with affordable price and great quality
[Bonus Now]: Here is an exclusive coupon code only found in blog posts. Save it now (AiDotBG01) and get 10% off at our AiDot mall!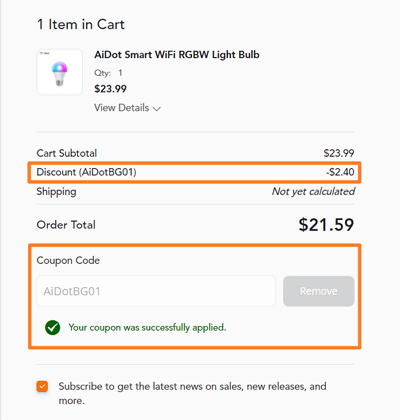 2. TP-Link LB100
Though the TP-Link LB100 lacks changing colors as the AiDot bulb has, it still has some of the same features. Remote access, dimming options, fine-tuning, and energy-saving features are all aspects that make this smart bulb easy to use and practical. Though it offers relatively good features, this light bulb is seen as a bit basic, especially when compared to the AiDot Smart Light Bulb.
There are a few drawbacks to the TP-Link LB100, including:
Occasional issues with installation and connection
Shorter bulb lifetime
Some brightness/dimmability issues
3. Lifx White 900
The LIFX White 900 Smart Light Bulb offers a selection of 1000 different shades of white to personalize your space and create the environment you're looking for. These Alexa compatible light bulbs also come with built-in Wi-Fi technology, eliminating the need for a hub, and they can be controlled by voice or through the app.
As with the second option, there are a few drawbacks that customers should be aware of before making the purchase.
Comparatively expensive—about $40 per bulb
Challenging to install
No color options (unless you pay for the $60 version)
Lights don't stay connected to Wi-Fi
4. Geeni Prisma 800
Here we have another multicolor option, with Wi-Fi and smartphone capabilities that make it easy to control your lighting as well as customize them to your desired dimness and color. With the ability to connect to Alexa and Wi-Fi connectivity, there's no need for a hub. It's a great option if you're looking for a simple multicolored option.
As a more basic lightbulb, it's a decent option. Here are some aspects to consider before buying though:
Difficult connection process
May stop working after a few months
Only 8 preset patterns
5. Philips Hue White and Color Ambianc A19
With a wide range of colors and shades of white, Philips Hue White and Color Ambiance A19 is designed to be fine-tuned. With the app, you can set schedules, dim the lights, and create custom scenes. It's also able to connect with multiple smart home devices like Amazon Alexa, Nest, Samsung SmartThings, and Apple Home Kit.
This bulb has more options than the past couple we've gone over, but there are also a few cons to look at:
Extremely expensive—$50 per bulb
Another $40 for the plug-in for other-device connections
Potential trouble with connection
Conclusion
With the rapid growth of technology, we are able to enjoy smart devices that provide ease and simplicity to daily life. Alexa has become a favorite, with the capability of connecting to smart devices within the home. Smart bulbs are great investments, from the practicality of lighting your space to the fun that comes with rhythmic, color-changing features.
It's important to find the best smart bulb for your home. Our recommended light bulbs offer the convenience of controlling your lights through mobile apps or Wi-Fi, but many of them still have drawbacks that can take away from the overall purchase, such as connectivity issues or being overly expensive. That's why our top recommendation is AiDot Smart Light Bulb, because it comes with every feature you could want in a smart light bulb (dimming, color-changing, rhythmic color-changing, voice command, app control, etc.), but all for an affordable price and with guaranteed reliability.