AiDot Orein Smart RGBWW Recessed Lights with Wi-Fi APP Control
As low as
$99.99
Regular Price
$99.99
SKU
OS09001-RGBTW-W-NA-4-1-1
10% OFF New User Benefit
Over $30
Obtained
16 Million Colors Available
Music Sync & Scene Setting
Customizable Schedule Setting
App Control from Anywhere
Hands-Free Voice Control
Convenient Group Control
Free & Fast Delivery (2-7 days)
Payment Security
Lifetime Customer Support
60 Days Back Guarantee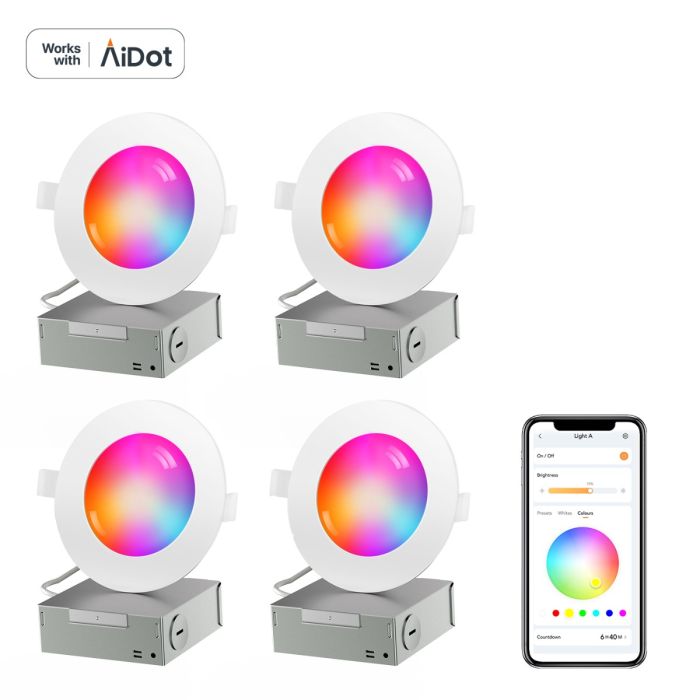 Free & Fast Delivery (2-7 days)
Payment Security
Lifetime Customer Support
60 Days Back Guarantee
You May Also Like

Specification
| | |
| --- | --- |
| Item Weight | 4.14 pounds |
| Package Dimensions | ‎9.09 x 6.14 x 5.79 inches |
| Power Source | ‎Battery Powered |
| Batteries Included? | ‎No |
| Item Package Quantity | 4 |
Illuminate with Ease, Express with Colors: OREiN Smart Recessed Lights
With vibrant colors and smart controls at your fingertips, you can transform your living space into a colorful and intelligent haven that matches your lifestyle.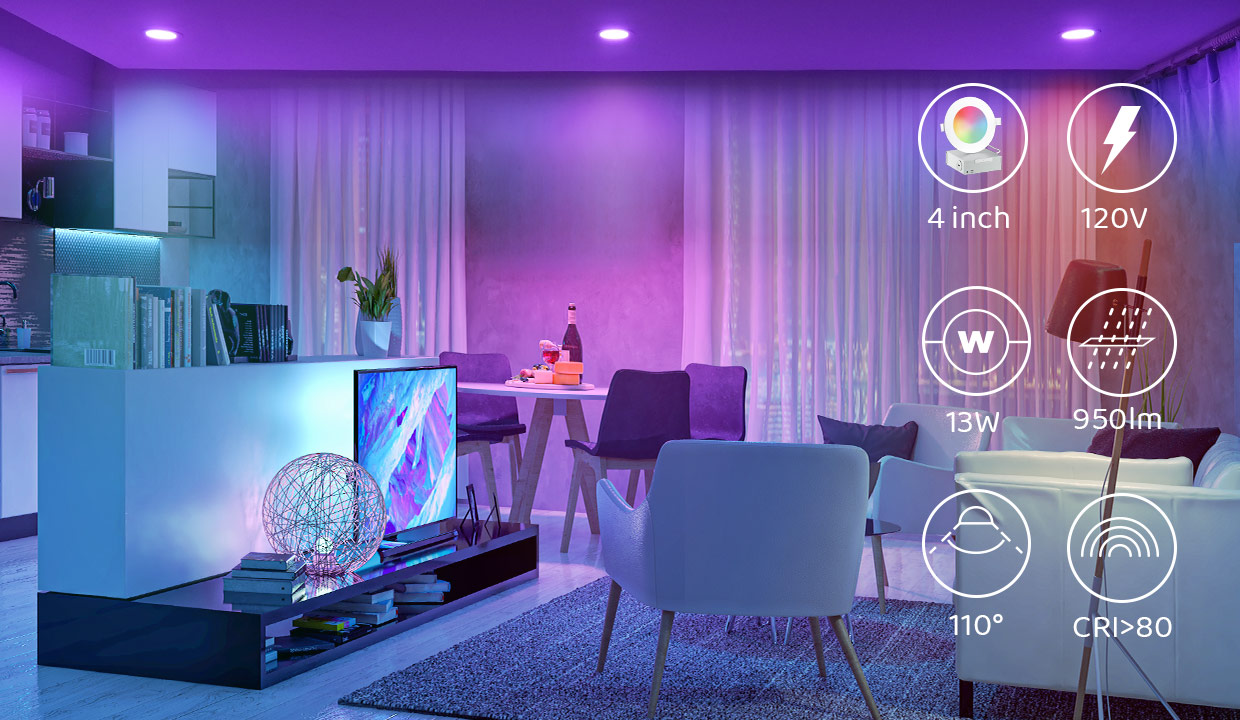 Power Memory: This light

features power memory, saving your preferred brightness and color temperature settings for seamless lighting customization.

Energy-Saving Efficiency:

Enjoy significant energy savings, reducing energy consumption by over 85% compared to traditional lighting options.

Over-temperature Protection: This light

incorporates over-temperature protection, actively dimming the brightness to prevent product failure or abnormalities when the working temperature exceeds the recommended range.
Activate Vacation Mode for Enhanced Home Security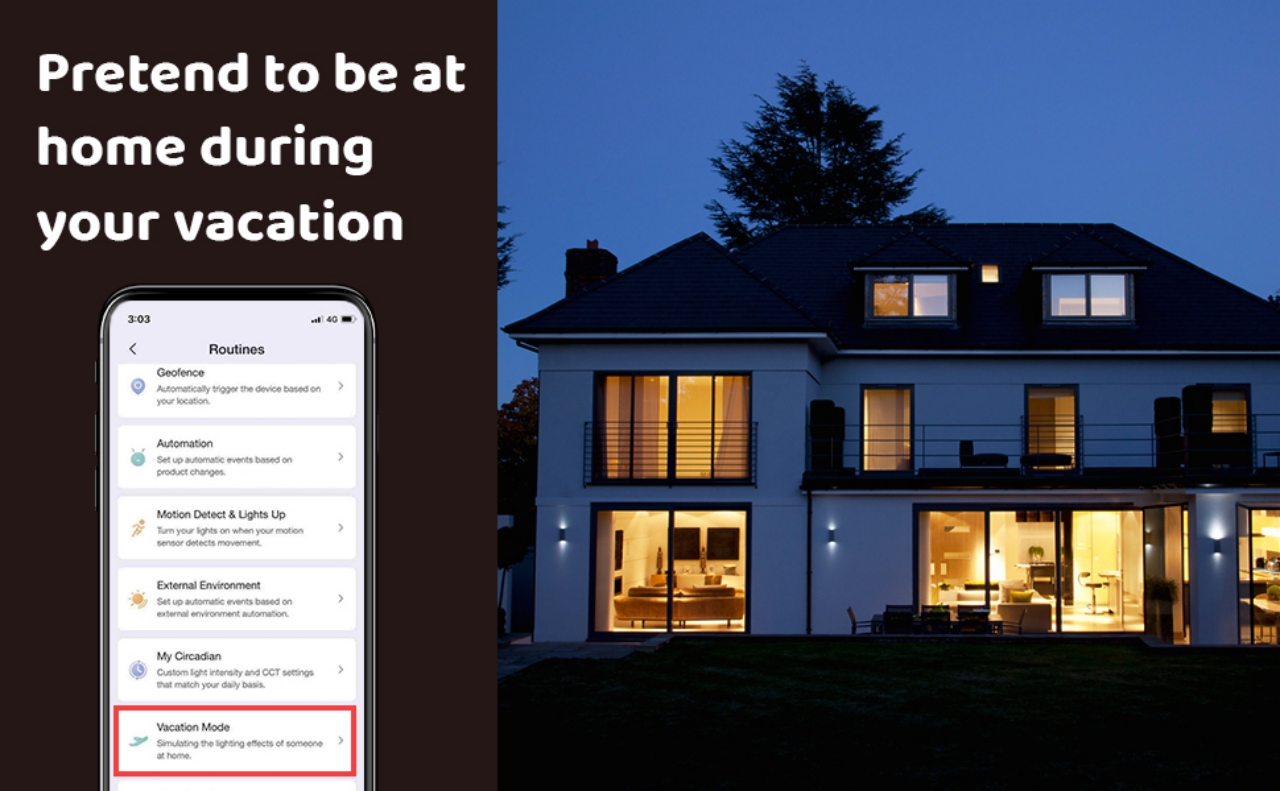 You can create a sense of home by intelligently controlling the lights, giving the impression that you're still there even when you're away.

The smart recessed lights go beyond mere scheduled on/off settings, adjusting dynamically based on your daily lighting preferences.

There's no need for complicated pre-set configurations.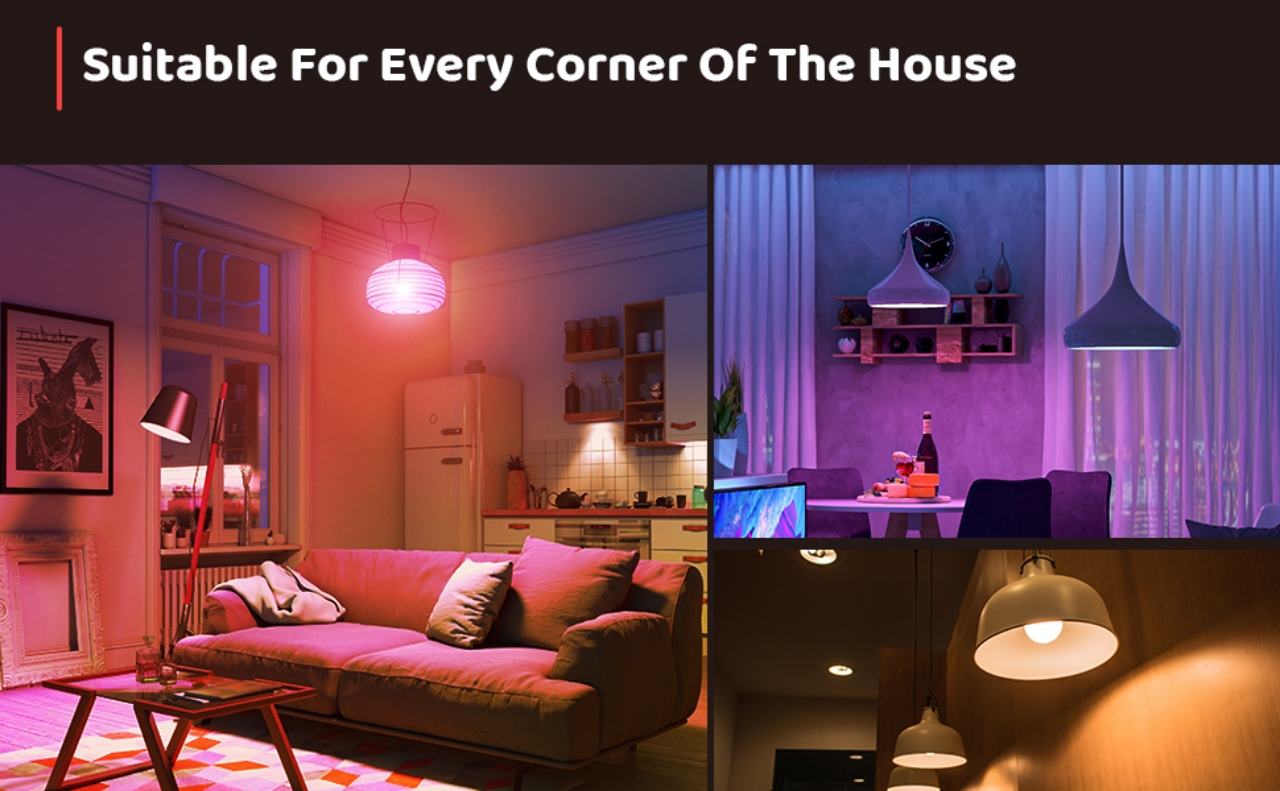 More than 15 Default Scenes & More Custom Scenes
Add Circadian Rhythm Mode to Follow the Natural Light's Change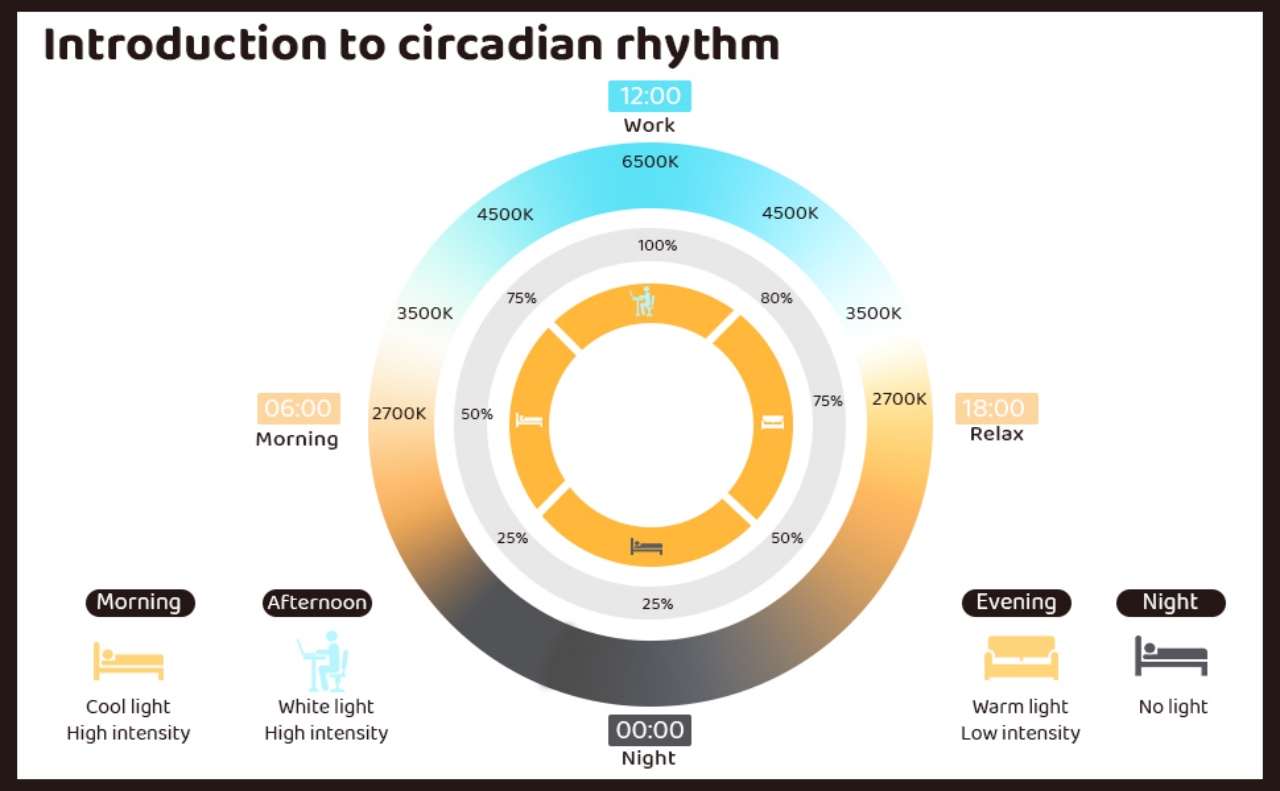 How does Circadian Rhythm work?
Artificial lighting plays a vital role in supporting the circadian rhythm and optimizing conditions through Human Centric Lighting. Beyond mere feelings, the impact of light can be attributed to chemical reactions in the human brain.

Light influences crucial factors including melatonin, cortisol, alertness, blood pressure, body temperature, coordination, and reaction time, shaping our overall well-being and daily functioning.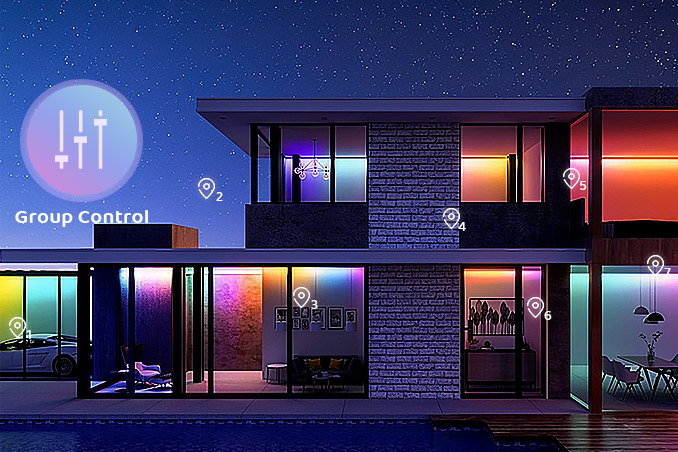 Streamlined Group Control
With the AiDot app, you can easily control multiple lights in different rooms all at once, eliminating the inconvenience of individually turning on/off each light. Experience seamless and efficient control over your lighting setup.
Smart Voice Control
No more fumbling for a switch! Now you can control the light with just one phrase effortlessly.
Working with popular assistants like Alexa and Google Assistant, the light can understand voice commands including adjusting brightness, powering on/off and changing colors.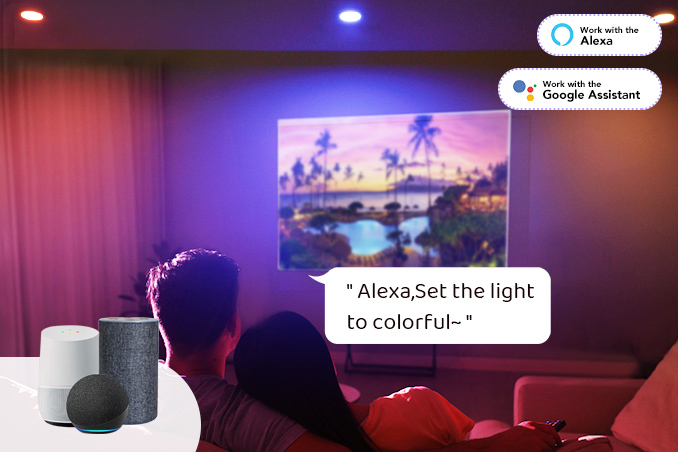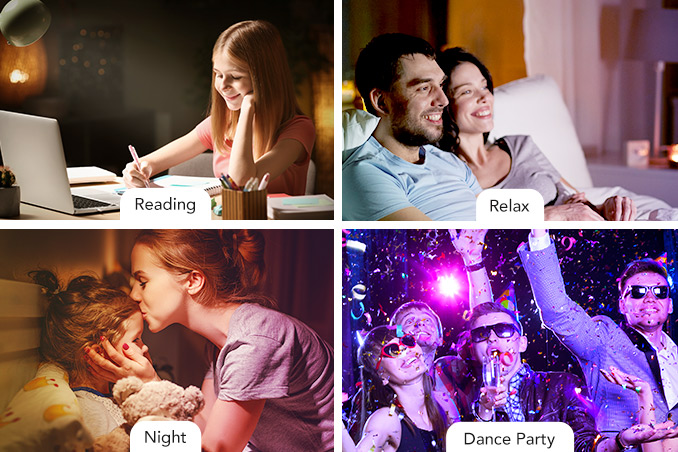 Versatile Lighting for Different Vibes
Experience the ultimate lighting solution with our meticulously designed lights, tailored to meet all the lighting demands of your entire house.
Whether it's for reading, relaxation, quiet bedtime or passionate dance party, you can easily switch through 16 millions colors and set the perfect ambiance to boost mood.
Sync Lighting with Your Routine
Take control of your lighting schedule with ease. Customize your lights to turn on/off automatically, aligning with your daily routine.
Wake up to refreshing light in the morning and enjoy a soothing ambiance at bedtime, effortlessly enhancing your daily rhythm for a harmonious experience.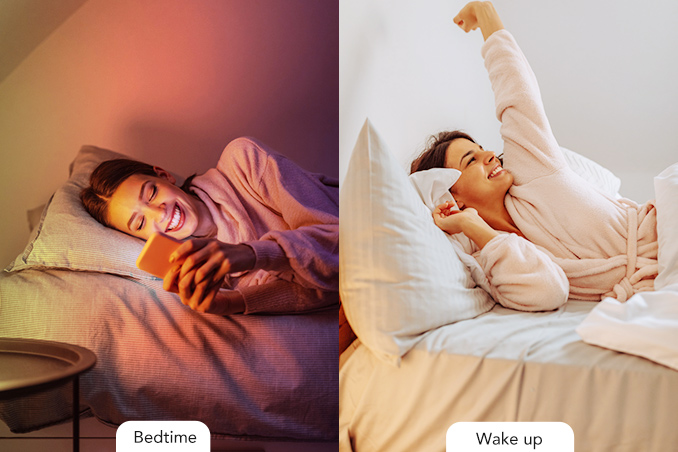 FAQ
1. How many recessed lights do I need for a 10x10 room?
Calculate the number of fixtures based on your room's measurements. As a general guideline, consider using one recessed light for every 4 to 6 square feet of ceiling space.
2. How far should recessed lighting be from the wall?
For illuminating an entire wall or accenting specific architectural features or art pieces, it is recommended to position recessed light fixtures between 1.5 feet and 3 feet away from the wall.
3. How long does the recessed light last?
LED lights are typically rated to last 50,000 hours or more. With continuous use, this translates to approximately 5 and a half years. If used for an average of 6 hours per day, they can last up to 22 years, or up to 45 years with 3 hours of daily usage.
4. How many lights can be on one circuit?
The number of lights on a circuit is determined by the load capacity. A typical 15A circuit can handle up to 1400W of lighting loads. For example, you can have one 1400W fixture or up to fourteen 100W fixtures on the circuit.
5. Can LED light cause a fire?
LED lights are generally safe and unlikely to cause fires. The low heat emission of LED bulbs makes them less likely to ignite anything. The main fire risks are usually related to faulty wiring or overloaded circuits, which are installation issues rather than problems with the LED lights themselves.
User Manual