Recessed lighting is getting popular in both residential and commercial spaces. They have an aesthetical design and add a touch of sophistication to any room. One of the critical decisions when considering recessed lighting is whether to opt for can or canless fixtures.
When it comes to can vs canless recessed lighting, the former refers to the traditional approach, where a metal canister, also known as housing, is installed within the ceiling to hold the light fixture. While the canless recessed lighting eliminates the need for a separate housing by integrating all components directly into the fixture. This fundamental difference impacts installation complexity, versatility, energy efficiency, and cost. So, to help you make an informed decision and choose the best lighting option between can and canless recessed lighting, we have developed this guide for you. Let's move forward!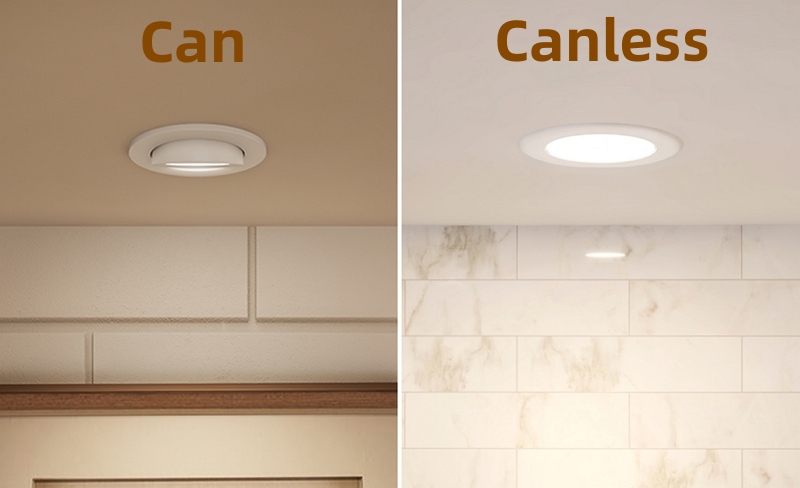 Part 1. An Overview of Can Recessed Lighting
1. What Is Can Recessed Lighting?
Can recessed lighting refers to a type of lighting fixture installed into a hollow opening in a ceiling — creating a streamlined and unobtrusive lighting effect. The term "can" refers to the cylindrical or square-shaped metal housing that holds the light source within the ceiling. This housing is typically hidden, with only the trim or baffle visible on the ceiling surface.
The housing contains the electrical components and connectors necessary to power the bulb. You can use any bulb in can recessed lighting fixture, like an incandescent, halogen, fluorescent, or LED bulb. However, if you want to save energy, an LED bulb is suggested.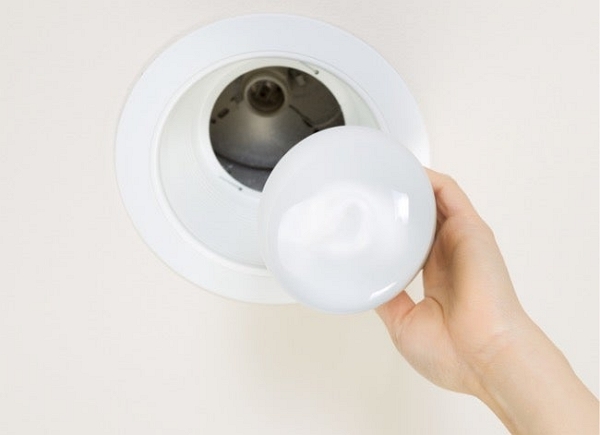 2. Pros of Can Recessed Lighting
Versatile and Aesthetically Pleasing: Recessed lighting provides a clean and modern look to any space, complementing various interior styles.

Protected from Damage: Can recessed lighting fixtures protect against rodent damage due to their housing design. The housing encloses the electrical wiring, acting as a barrier that prevents rodents from accessing and chewing on the wires. By concealing the wires within the fixture, Can Recessed lighting minimizes their exposure and vulnerability.
3. Cons of Can Recessed Lighting
Difficult Installation in Existing Homes: Retrofitting can recessed lighting in old or already-built homes can be challenging. You need to create openings in the ceiling and make electrical connections, which may require additional work and modifications.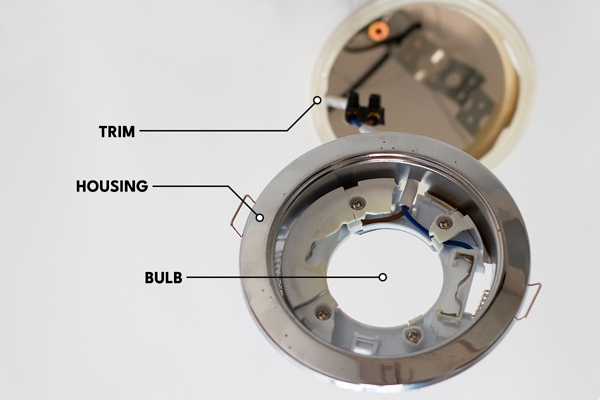 Part 2. An Overview of Canless Recessed Lighting
1. What Is Canless Recessed Lighting?
Canless recessed lighting refers to a type of lighting fixture that is installed directly into the ceiling. They don't have a recessed can or housing over them. Moreover, canless recessed lights are self-contained units that integrate the housing, trim, and light source into a single fixture. It's an ideal option for homeowners with old homes as it doesn't require any holes in the ceilings or drywalls.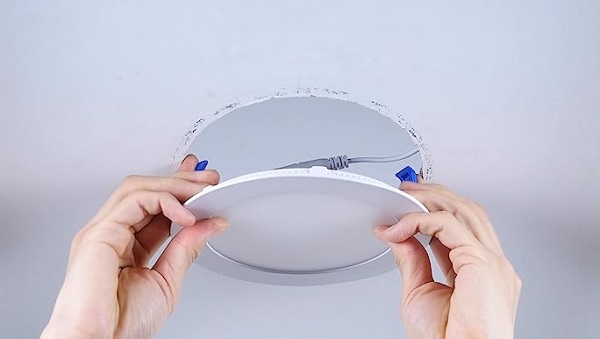 2. Pros of Canless Recessed Lighting
Energy Efficiency: Canless recessed lighting is generally more energy-efficient compared to traditional Recessed lighting fixtures. These lights make use of LED technology, which is known for its high efficiency and long lifespan. As per Gitnux, LED lights consume 80% less energy than traditional incandescent bulbs. Moreover, they consume less energy and produce less heat, resulting in energy savings and reduced cooling needs.

Preservation of Drywall: Canless recessed lighting eliminates the need for cutting large holes in the ceiling, minimizing damage to the drywall. This can be particularly beneficial when renovating or installing lighting in older homes with delicate or historic ceilings.

Easy Installation: These lights get easily installed into a home's wiring system. They can often be connected directly to the existing electrical junction box in the ceiling, simplifying the installation process. This makes them a convenient choice for both professional electricians and DIY enthusiasts.
3. Cons of Canless Recessed Lighting
Limited Bulb Options: Canless recessed lighting fixtures primarily use LED light sources. While LEDs offer numerous advantages, they may not be suitable for all lighting preferences. If you like the warm glow of incandescent bulbs, canless lights might not be your best option.

Fixture Replacement: Can recessed lighting only needs replacement when the bulb burns out. However, with canless recessed lights, if the light source stops working, you generally need to replace the entire fixture. This can be more expensive and time-consuming compared to replacing a bulb.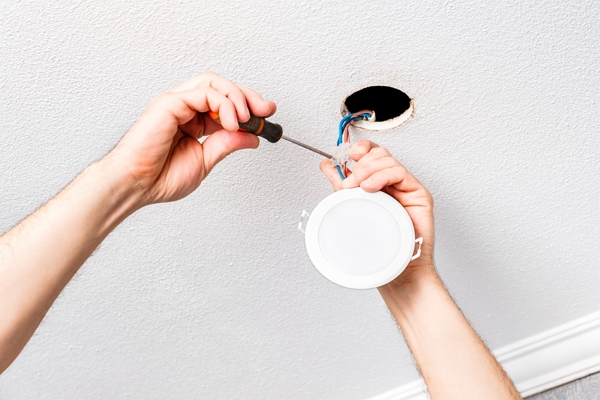 Part 3. Can vs Canless Recessed Lighting: Which to Choose?
1. Ease of Installation
Can lights require a housing unit that is installed above the ceiling. This housing holds the electrical connections and provides insulation from the ceiling material. In comparison, canless recessed lights are compact and do not require separate housing. They are directly mounted into the ceiling, making them easier to install, especially in limited spaces or locations with limited clearance.
2. Space and Energy Efficiency
Canless recessed lights are generally more compact, allowing a quick and easy installation. This makes them suitable for installations in areas with limited space between the ceiling and other structures, like ductwork or pipes. They also have better energy efficiency since they eliminate the need for separate housing, reducing air leakage and heat loss.
3. Versatility
Can lights are available in various sizes, shapes, and designs. They offer more options for customization, such as adjustable trims or directional lighting. Canless recessed lights are generally smaller and simpler in design, limiting the customization options. However, they can be a good choice for uniform lighting in large quantities or for specific applications like under-cabinet lighting or accent lighting.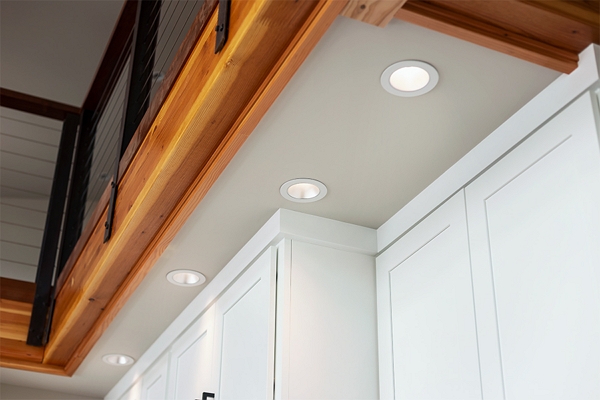 4. Trim Options
Both can and canless recessed lighting offers multiple trim options, like baffle trim, pinhole trim, eyeball trim, etc., to suit different design preferences. Can recessed lighting provides a broader selection of trim styles and finishes as it's compatible with various canister sizes.
This lets you do greater customization, and you can match the trim with the overall aesthetic of the space. Canless recessed lighting fixtures also have various trim options, although the selection might be slightly more limited compared to can lighting.
5. Cost
Canless recessed lighting is cost-effective as it doesn't need separate housing, which also reduces the installation cost. On average, the price of canless lights varies from $40 to $160. In comparison, the can lights range from $60 to $240. However, remember that these are average prices, and they may change depending on the brand, design, and other features.
All in all, in can vs canless recessed lighting, which is better depends upon your personal preferences. If you want something more aesthetic and versatile, a can recessed light is best. However, if you prefer minimal lighting, space-saving, and energy-efficiency features, the canless recessed lighting is a suitable option!
Part 4: A Good Canless Recessed Light Choice
The AiDot Smart RGBWW Recessed Lights are designed to bring convenience and versatility to your home lighting — adjusting brightness, powering on/off, and changing colors can be done effortlessly. Besides, the lights are energy-efficient, utilizing LED technology for a long lifespan and low power consumption. By using these canless recessed lights, you can save on energy bills while enjoying bright and vibrant lighting throughout your home.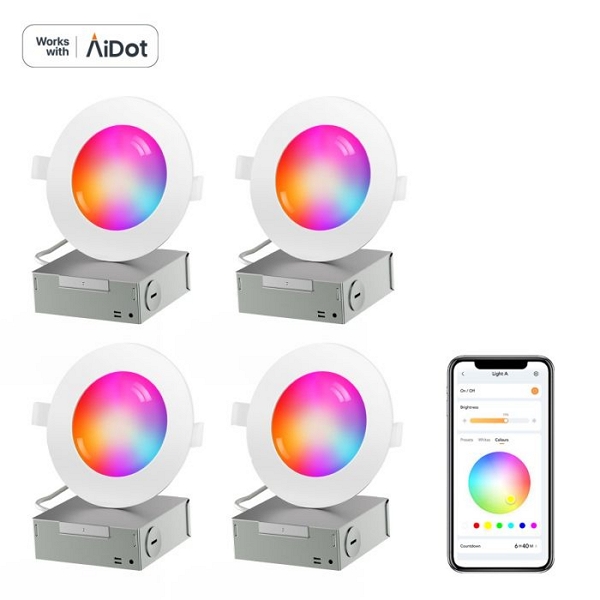 Creates multiple scenarios or lighting presets for different moods or activities.

Adjusts the color temperature to align with your body's natural sleep-wake cycle.

Supports group control, i.e., controlling multiple lights simultaneously.

Automatically turns on/off or changes colors based on your preferred routine.

Works with the AiDot app and smart voice assistants like Amazon Alexa or Google Assistant.
[Bonus Now]: This set of RGBWW smart recessed lights is participating in the AiDot Black Friday Sale now and you get it at an incredible half price! Grab the chance and get the lights now!
FAQs About Can & Canless Recessed Lighting
1. How long does recessed lighting last?
LED recessed lighting comes with a significant lifespan. If you have them, you can expect them to run for at least 3 to 6 years without major issues!
2. Do I need cans for LED recessed lighting?
No, LED recessed lighting doesn't require a can or separate housing as they are canless. You can directly wire them to your ceiling and enjoy a great room ambiance.
3. Are canless recessed light a fire hazard?
No! Canless recessed lighting has LED bulbs that don't produce much heat compared to other bulb options. However, remember that lighting of any kind, if not installed properly, can be a fire hazard. So, ensure you've installed the lighting properly to keep your family and loved ones safe.
Conclusion
While comparing can recessed lighting with canless recessed lighting, both have unique features, and the answer to which one's better depends upon personal choice. The former is more pleasant looking but occupies more space and isn't energy efficient. In comparison, the canless recessed lighting has a minimal, space-saving design and offers you energy efficiency.
If you want canless recessed lights for your home, AiDot Orein Smart RGBWW Recessed Lights is an ideal choice. They are versatile with smart features that make your life convenient and add elegance to your space. At AiDot, we also have a variety of smart bulb options that you can purchase to make your room exquisite. Get in touch and grab your favorite ones now!