If you're a proud parent of a loving doggo, you already know that our canine buddies are a source of endless joy and companionship in our lives. However, they also bring some less pleasant things — fur, dander, and the occasional muddy paw print. While regular brushing can help keep shedding in check, it still remains a never-ending struggle. That's where grooming vacuums offer a shoulder.
These devices are specially designed to help your home (and cherished valuables) get rid of pet hair, making your pup parenting journey a whole lot smoother. Whether you have a long-haired breed that sheds all too often or a pup who loves the great outdoors, this guide is for you. We will tell you everything you need to know about grooming vacuums for dogs—keep your home clean and your canine friend looking its best!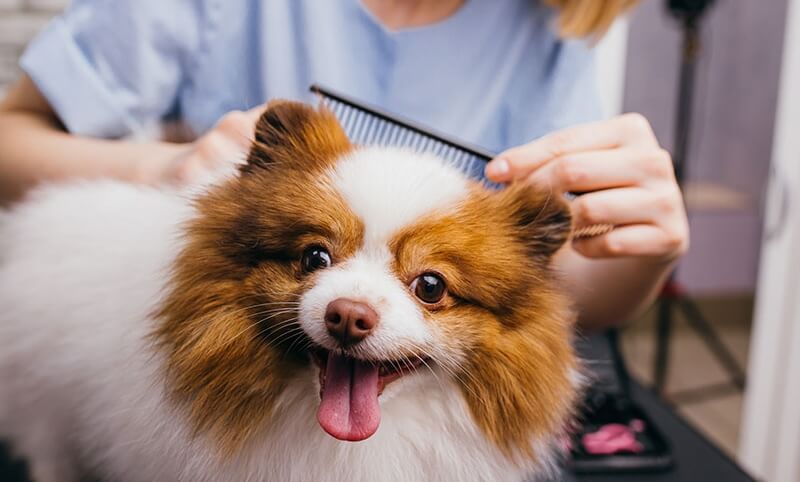 Part 1. What Is a Grooming Vacuum?
A pet grooming vacuum is essentially a vacuum cleaner designed with your furry companion in mind. It is almost like a regular vacuum but with some pet-friendly features. These are tailored to put an end to constant shedding from your pet and pesky dender. What sets them apart from standard vacuums is their attachments.
Pet grooming vacuums come with brush-like attachments that glide through your pet's coat, removing those loose hairs. The main aim here is to catch those loose furballs before they end up on your couch or stick to your clothes. Such vacuums are equipped with a gentle suction that makes grooming a breeze for your pet.
It's like a soothing, hair-removing session for them, minus the tugging or discomfort. Plus, some of these pet grooming vacuums also come with built-in filters. Not only do they keep your home fur-free, but they also snag those allergens away. Moreover, they banish any lingering pet odors, which is a win-win for any pet-loving household.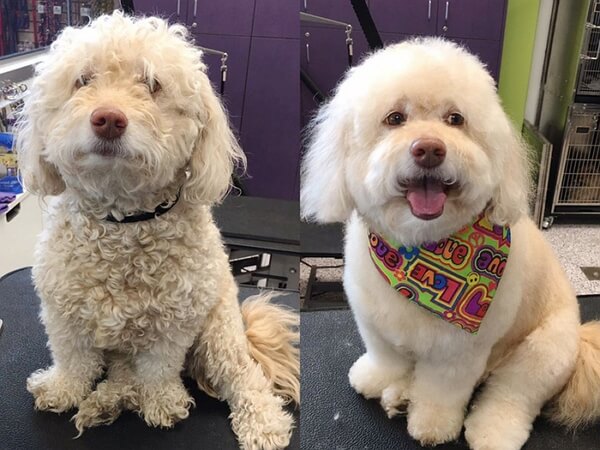 Part 2. How Often Should You Groom Your Dog?
Short-Haired Dogs
Grooming your dog is key to keeping them healthy and looking their best. The frequency of grooming depends on multiple factors (your dog's breed, coat length, type, etc.). As a general rule of thumb, brushing short-haired dogs every week is sufficient. This helps distribute the natural skin oils, keeping their coat shiny and healthy.
It's important to note that giving a haircut to your short-haired dog can sometimes be detrimental to their health. Thus, it is crucial to tackle their undercoat through brushing (or vacuuming) to get rid of loose hairs.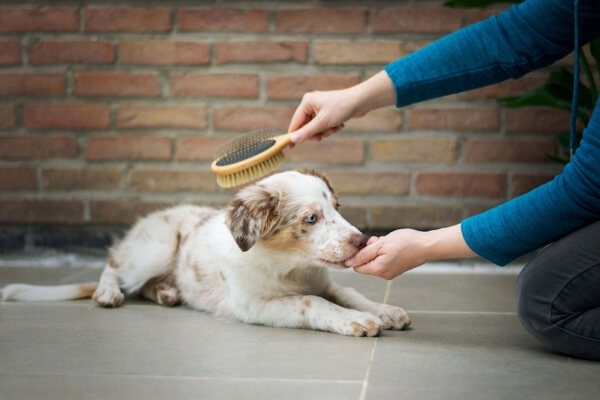 Long-Haired Dogs
Long-haired dogs need a bit more attention. Thus, grooming them twice a day is recommended to keep their flowing locks in place.
Regular baths every four to six weeks are necessary to keep their fur clean and manageable.

A haircut every 10-12 weeks can prevent excessive matting and tangles.

Daily brushing of long-haired dogs can extend the time between professional grooming visits.

If daily brushing isn't feasible, take more frequent trips to the groomer. This can help keep your dog's coat in good health.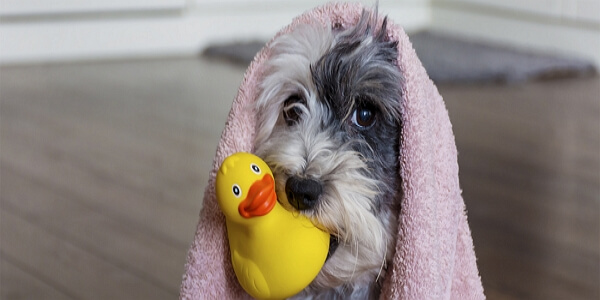 Apart from Regular Grooming
Apart from regular grooming, you should also vacuum your dog, especially if they have a longer coat. Dogs with longer fur tend to shed more than those with short or medium-length hair. For long-coated dogs, vacuuming at least twice a month is recommended. However, if your dog has a medium or short coat, you can reduce the frequency to once a month.
Vacuuming your dog can be a great replacement for brushing. It helps remove loose hair and prevent it from accumulating around your home. Keep in mind that dogs often shed more during the fall and spring seasons. Hence, you may want to increase the frequency of vacuuming during these times to keep your home clean and your furry friend comfortable.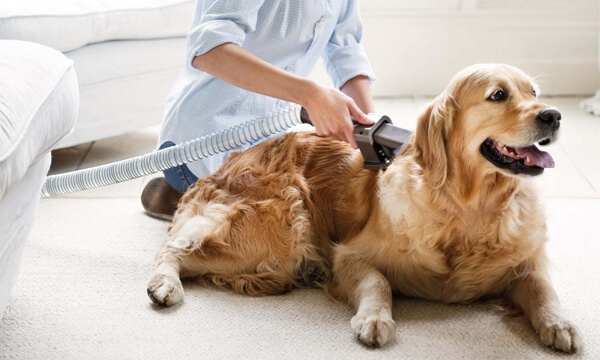 Part 3. Are Grooming Vacuums Worth it? Will Regular Vacuums Satisfy Your Needs?
Are grooming vacuums worth the investment, or will your regular vacuum function just right for pet hair cleanup? Well, grooming vacuums come with long, closely spaced bristles that suck pet hair and dander away from your pup's skin. As a result, you can enjoy a home with less annoying pet hair on your upholstery and carpets.
We all agree that regular pet grooming reduces pet hair on furniture, floors, and clothing. But there's more to it. Grooming your canine also contributes to its overall health and well-being. The vacuum's gentle brushing action stimulates its skin, which, in turn, enhances blood circulation. Simultaneously, it allows you to check their coat for any anomalies or parasites — a crucial aspect of responsible pet care.
The catch here is that grooming vacuums often come with attachments for different coat types and breeds. So, no matter whether you have a short-haired pet or a long-haired one, there's likely an attachment for you.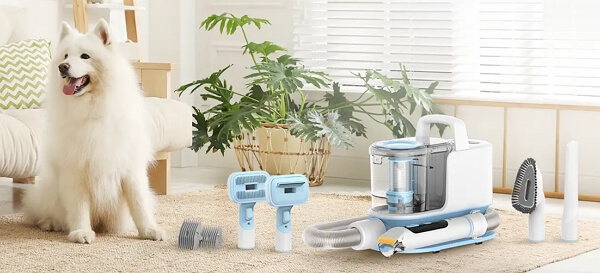 Also, grooming with a vacuum can be far less stressful for you and your pets than traditional brushing. Many animals find conventional brushes uncomfortable, and some even find them painful. However, the gentle suction of a vacuum is often better for them to tolerate. Thus, grooming sessions result in a smoother experience for all involved.
Part 4. You Cannot Miss This Grooming Vacuum for Dogs!
The AiDot Syvio Pet Hair Vacuum & Pet Grooming Kit stands out as a go-to tool for dog parents. This is because it blends the functionalities of a vacuum cleaner and a pet grooming kit into one compact and efficient device. With its 5-in-1 capabilities, brush and suck mechanism, and instant hair capture, it is a game changer for pet owners seeking a hassle-free grooming experience.
This innovative kit simplifies pet grooming and takes cleanliness to a new level. It offers not just one but five essential tools for pet care: an electric trimmer, clipping guards, a de-shedding brush, a grooming brush, and a convenient cleaning tool. Plus, this vacuum has a remarkable suction power that efficiently collects loose pet hair directly into the integrated dust bucket as you groom.
With its high-powered suction, this pick ensures that nearly all pet hair is captured in one go, preventing it from spreading around your home. This means less time spent cleaning up after grooming and more time enjoying the company of your furry friend. Unlike traditional handheld vacuums or noisy hair dryers that can startle and distress your pets, the Syvio Pet Hair Vacuum operates at a remarkably low noise level, measuring less than 60 dB.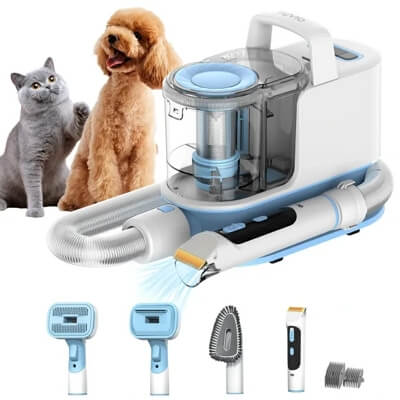 5-in-1 Vacuum & Dog Grooming Kit

Brush & Suck in 1 Step

Instantly Capture 99% of Hair

Low Noise Less Than 60dB

Long Runtime & Clear LED Display

1-Year Warranty & 45-Day No-Worry Return
[Exclusive Discounts Now]: The AiDot Crazy Black Friday event is in full swing, and this vacuum cleaner also has a great discount. Hurry and take a look, snag your favorite products at unbelievably low prices!
The Purr-fect Conclusion
Grooming your furry friend is not just about aesthetics; it is crucial for their overall well-being. A grooming vacuum for dogs helps keep your home clean and your pet healthy, making it a win-win for both your cherished valuables and loving doggos. The key here is to choose the right vacuum to simplify the grooming process, reduce shedding, and keep allergies at bay.
If you're in search of an efficient and reliable grooming vacuum, we recommend checking out the AiDot Syvio Pet Hair Vacuum & Pet Grooming Kit. With its advanced technology and user-friendly design, it's a great addition to any pet owner's toolkit. Say goodbye to pesky pet hair and hello to a cleaner, happier home. Invest in your pet's comfort and cleanliness today with AiDot. Additionally, AiDot has recently unveiled a range of new products. For more comprehensive insights, consider delving into the review of the newly-emerged H500 PRO ultrasonic cool mist humidifier.