The best solar garden lights are usually the highlights of every landscape aesthetic. They have a very stealthy but evident impact that takes your garden from regular to superior. They can be decorative solar garden lights that serve as both decorative and illuminating or just plain outdoor solar garden lights that act as only illuminating.
Outdoor solar garden lights are charged during the day by converting sunlight into electricity using solar panels. Solar garden lights, in contrast to electrically powered lights, are cheap, simple to set up, and will save you money on electricity and batteries. You may have efficient, autonomous garden lighting that serves both practical and aesthetic purposes with the correct lights. In no particular order, here are some of the best solar garden lights choices for you.
Part.1 10 Best Solar Garden Lights
The decorative solar garden lights are up to 50% brighter than regular lights, thanks to its 16 high-intensity LED bulb beads and 90-degree beam angle. Porch, deck, yard, pools, driveways, patios, and garages may all benefit from having this light because of the ground stake and wall bracket that come with it.
The solar panel offers a conversion rate of up to 20%, reducing charging time, and making it our number one choice for the best solar garden lights. The adjustable tilt of 180 degrees horizontally and 90 degrees vertically helps increase charging efficiency and overall working duration. In addition, the IP67 rating for water resistance and the anti-UV ABS construction ensures that the light will remain hidden from the elements for an extended period.
Pros
● Much brighter than regular lights
● Easy to install
● Durable built
Cons
● Short light time on its high brightness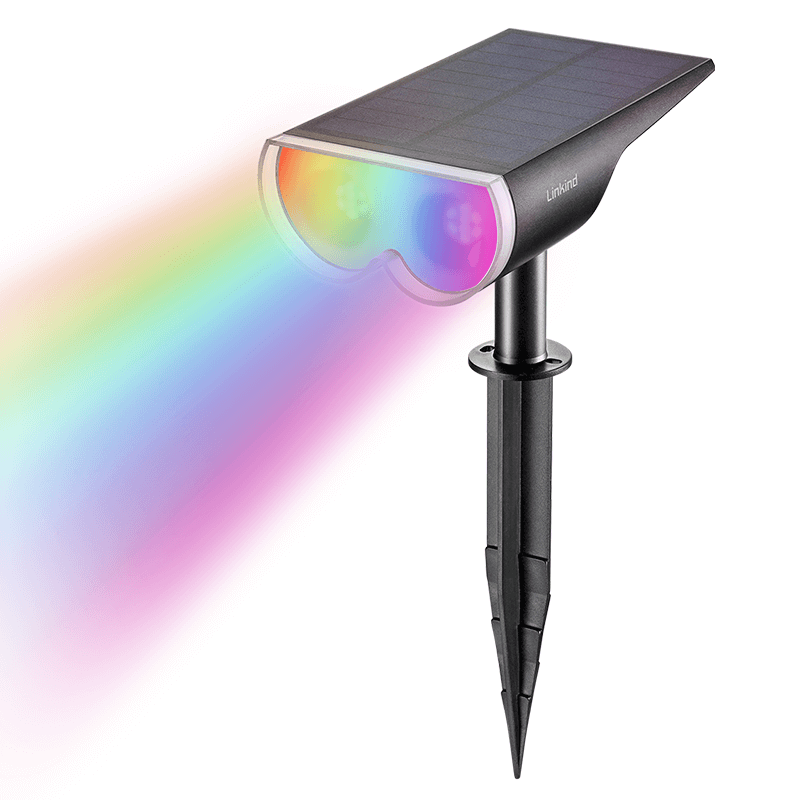 2. Atlas Solar Spotlights
Atlas spots solar garden lights are available singly or in pairs, and each one features a durable, sealed metal body and waterproof cabling that screws together. The solar panel is just 24 by 20 centimeters, so it's easy to set up on a deck or in the ground with the included spike. Then you can stake the lights into the ground after unrolling the 4.5 m cable connecting each morning to the panel. The battery in the solar panel soaks up sunlight all day (even in the dead of winter), then turns on at the first sign of twilight and stays on until long after you've gone to bed, among the most impressive solar garden light effects available.
Pros
● Very Bright
● Easy to Install
● Dusk Turn-on trigger
● Affordable
Cons
● Wires need to be kept appropriately
3. Solar String Lights Outdoor 60 Led
In addition to the standard steady on the setting, this beautiful solar garden light also features a combination of fireflies flashing, fading, waves, fading, and twinkle settings. This beautiful 8-meter-long garland may be hung from a tree, stretched along a patio wall, or hung from a garden fence and features 60 weatherproof tiny LED bulbs. When ambient light levels drop, a single tiny LED within each bulb turns on and creates a soothing warm white light.
Pros
● Affordable
● Easy to use
● Weather resistant
Cons
● Not the brightest
4. Claoner 128 Led Solar Outdoor Security Lights
Even though the four solar panel lights don't exactly seem appealing and give out a bright white glow, they do an excellent job of lighting the way. The ingenious part is that they turn on for around 30 seconds at a time unless the motion is detected within range, saving battery life. This conserves energy, allowing them to work through the night if necessary and in locations with insufficient sunlight to recharge their batteries. With 128 tiny LEDs, each module can light up a 270-degree radius around itself.
Pros
● Excellent security solution
● Motion light-up trigger
● Easy to install
Cons
● Light can be too bright at times.
5. Trueflame Mini Solar Torch Lights
These Solar garden lights in the form of a stake are a quick and easy method to softly illuminate a garden walk or create an atmosphere in a flower border. Rather than having a single, steady LED like most of the competition, each solar-powered TrueFlame has a squadron of LEDs that flicker in unison to create the illusion of a dancing flame.
Each TrueFlames device has a Li-ion battery that is charged by a small solar panel discreetly positioned on the top of the device during the day. They switch on automatically at sundown and can light brilliantly for as long as 10 hours during the summer and 5 hours during the winter.
Pros
● Realistic flame effect
● Durable
● Zero maintenance
Cons
● Plastic build material
● Dark aesthetic
6. Mini London Solar Post Lights
Whether in a modern or classic garden, these solar-powered lights made of stainless steel will add a touch of elegance. To set up, you need only twist the spike into the base of each post, remove the protective sticker off the solar panel, and press the posts into the ground. Leave it turned off to charge for 48 hours, and you'll be good to go.
The light turns on at dusk automatically, and there is also a manual on/off button and a power-saving option. The default setting casts a gentle glow that may illuminate a route for up to 10 hours on a single charge during the daytime.
Pros
● Easy to use
● On/off switch
● Power saving mode
Cons
● A bit pricey
7. BEAU JARDIN 8 Pack Solar Pathway Lights
The solar garden lights from Beau Jardin are IP65-rated, which means they can withstand snow and rain and are water resistant. Their eight- to 12-hour battery life is more than plenty for a late-night get-together. In addition, they are available in bundles of four or eight, so you can choose the perfect number for your garden.
Besides functionally lighting your garden, yard, or pathway, these solar garden lights are also aesthetically pleasing. When turned on, the beautiful pattern in the glass lampshade illuminates the floor below. These are on our list of the best solar lights because they are versatile and come in three colors (silver, black, and brown).
Pros
● High-quality materials
● Create an attractive light pattern
● Remain lit until dawn
Cons
● Faulty spike fitting.
8. GIGALUMI Solar Pathway Lights
These twelve solar powered garden lights illuminate your landscape at night. Automatically turning on at night after being charged during the day can last up to ten hours. The LED pathway lights have a lantern style with a grid pattern above the bulb, making them suitable for use along the walkways of both classic and modern residences.
You may place these anywhere in your garden, flower beds, on your patio, path, driveway, or even around your pool. The lights can withstand being submerged in water and hit by a car. In addition, the wireless design of these lights makes setup a breeze.
Pros
● Striking bronze color
● Attractive light pattern
● Dusk-to-dawn illumination
Cons
● Low lumens
● Low light spread
9. OSORD Solar Pathway Lights, 4-Pack Color Changing
The Osord Solar Pathway solar garden lights highlight any garden with their brilliant, multicolored illumination. They are bright enough to see clearly from a distance of roughly 3 feet away, and their 15 lumens allow them to illuminate a reasonably vast area. We noticed that their glow was at its widest when the bulbs were set to white.
The Osord lights are designed to shine in a fan-shaped pattern rather than a circular one. In addition, the plastic used to make the posts and lamp covers are thick, so they should last a long time.
Pros
● Bright, clear colors
● Large illumination area
● Push-button color selection
Cons
● Short illumination period (under 6 hours)
10. Signature Garden 6 Pack Solar Lights
This solar powered garden light is a terrific buy because it includes six lights, making them perfect for gardens and walkways. In addition, these solar garden lights can shine for up to eight hours with a full charge. To further ensure that you don't waste battery life when it's not in use, it features an on/off switch.
Due to the absence of wires, they can be installed without the help of a professional or any specialized equipment. In addition, it is energy efficient because it runs only on solar power. The solar lights are designed to be used outside, resisting rain, snow, and other elements, thanks to their IP67 water rating.
Pros
● Durable
● Easy to install
● Fully solar
Cons
● Weak light sources.
Best Solar garden lights are an excellent way to bring ambiance and elegance to an outdoor setting. Solar powered garden lights, in addition to bringing flair and convenience to your outdoor living areas, are suitable for safety because they can illuminate steps, gardens, and driveways, making it easier to navigate outside after dark. In addition, solar powered garden lights are a terrific low-maintenance and environmentally friendly choice for brightening your outside space.