LED light strips have become popular all around the world - not only because of their energy efficiency but also their flexibility. You can choose any corner of your house and brighten it up as much as you want. However, when it comes to adaptability and convenience, the rise of the question "Can you cut LED lights" is a frequent occurrence.
Here, we have included some points that will help you figure out how to use your LED lights. We are talking about revolutionized technology that can allow you to add another level of comfort to your home. And it is time to discover all the features of it!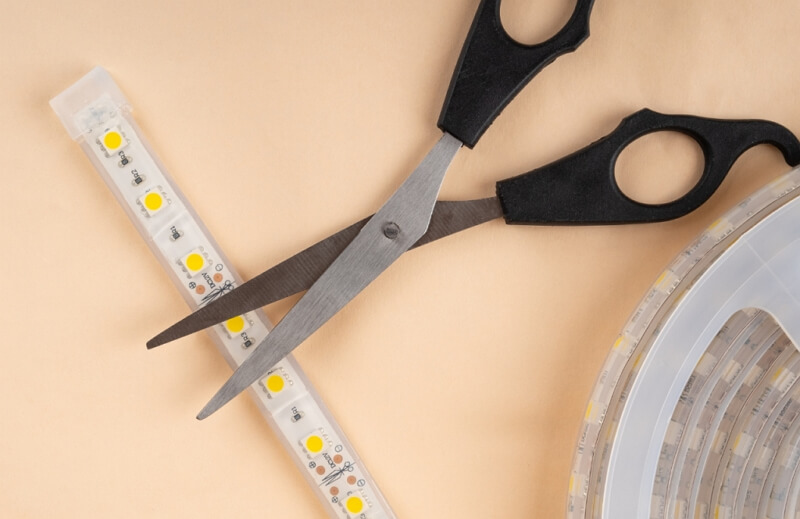 Part 1. Let's Talk About LED Strip Lights Briefly
You are probably aware of the influence lighting has over the ambiance of a place, meaning you know how important it is to invest in lighting fixtures. However, oftentimes, they can be quite expensive, and installing them might require great time and effort, not to mention money. So, this is where LED strips can come in handy!
In essence, LED strip lights are an adaptable and flexible circuit board that has LED lights all over it. They are super convenient because you can stick them anywhere you want – they can be easily adapted to any surface. Simply choose any corner of your home you want to illuminate and use a strip of LEDs. You can use LED strip lights to illuminate parts of your kitchen, shelves, furniture, or cabinets and achieve dramatic effect in your room.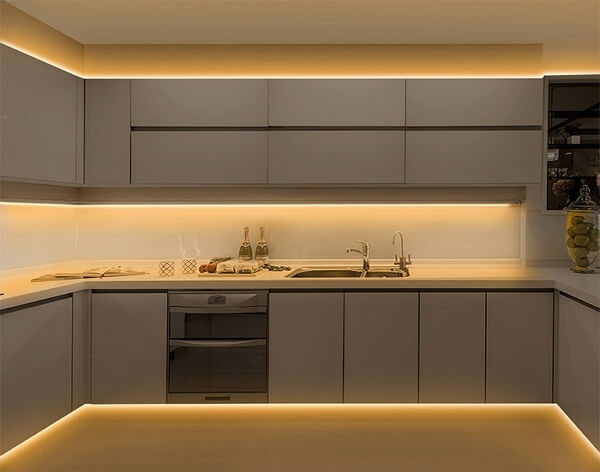 Moreover, these strips are quite versatile because they can come in many colors. For example, you can choose a different hue to illuminate a particular spot in your home. In addition, you can adjust the brightness level you need and have the exact lighting you desire.
Besides being very convenient for illuminating different parts, many people wonder, "Can you cut LED lights?" If you are wondering the same thing, do not worry because you are not alone! Being able to cut them will allow you to install them exactly like you want, so your question is completely expected. That is, you want to take advantage of their features, so cutting the LED strips will be really convenient.
Part 2. Can You Cut LED Lights?
LED strip lights are not only convenient but also flexible and adaptable. Therefore, cutting them is completely possible. You can trim LED lights and get the exact length of a strip for the part you need to be illuminated. So, now you have the answer to the question, "Can you cut LED lights" – you certainly can, but not all of them!
It is important to note that there are different kinds of LED strip lights – some are cuttable, while others are not. You can only cut those that have cut marks. How to identify them? Easy! Just see whether there are scissor icons.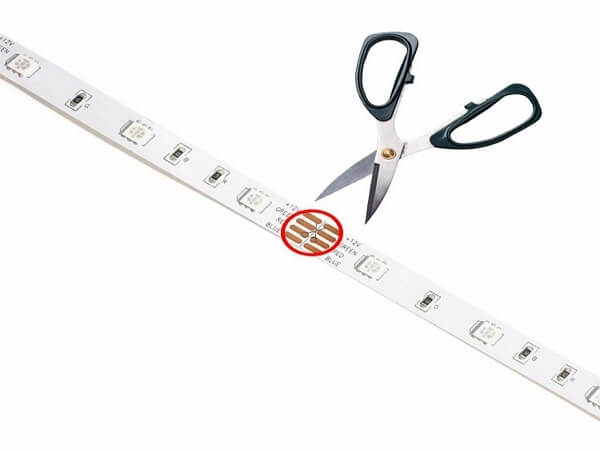 Once you get cuttable LED strip lights, you might be stuck with other questions once you get your answer. For instance, a common question among homeowners is where to cut LED strips and avoid damaging them. In addition, people think of numerous tiny details when it comes to LEDs. But don't worry, in the next part, we'll walk you through a detailed guide.
Part 3. How to Cut LED Strip Lights?
After deciding to do the cutting, you need to learn how to cut LED strip lights. The method you use will ensure that your strips are left undamaged and functional. Therefore, do not just randomly go for trimming. Instead, plan carefully how to execute the whole process.
Step 1: Make sure to get LED strips that are cuttable.

Step 2: Measure where exactly to cut LED strips to ensure they will continue working after the trim.

Step 3: Find the markings. LED strip lights are made of numerous individual circuits, and each of them has designated cut lines that mark the circuit's end. They are adaptable but also delicate, so you must know what you are doing to avoid dysfunctional and damaged lights.

Step 4: Cut them. To be sure not to damage your strips, cut with scissors along the lines that serve as markings (the scissor icons we mentioned above). Stick to the marked lines, and your LED lights will be safe and functional.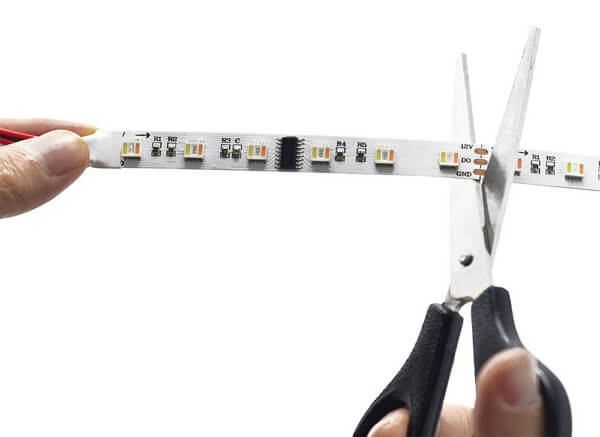 NOTE: If you cut outside the marked lines, you should expect your LEDs to not work properly. In some cases, people have cut outside the lines and still have functioning LEDs, but you do not want to run that risk!
Part 4: How to Reconnect LED Strip Lights?
Whether you've intentionally trimmed your LED strips to fit a specific area or are repurposing them for a new project, the process of reconnecting and ensuring their seamless functionality is well within your reach. By understanding the core principles of LED circuitry and following a few straightforward steps, you'll soon have your LED strip lights shining brightly once again. So, let's delve into the process of reconnection with confidence and clarity.
You can reconnect LED strip lights with connectors, which is quite easy. Just follow the steps below:
Step 1: Measure how much you would need.

Step 2: Pick the right connectors – there are various types, and it is best to find the match for your model.

Step 3: Take both LED strips and attach them to the connector. Please ensure you connect "+" and "-" the right way. While doing so, do not press too hard because that can inflict damage.

Step 4: Once everything is connected, close the connector clips and test whether it is working. If not, simply gently press until it lights up.
Apart from connectors, it is also feasible to reconnect LED strip lights with wires, in which way you will have to scrape and reveal the end of your LED strip, then use wires to connect it to another end. Using wires, you have to match the sides, and your LED strip will continue working uninterruptedly. Your strip will not work properly if some wire is left without a match.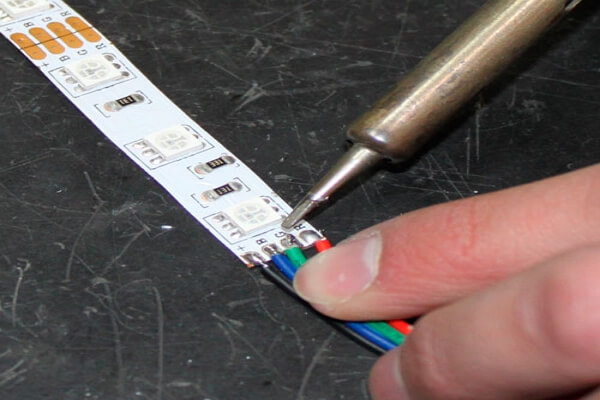 Bonus: If You're Considering Buying New Strip Lights
Once you get your answer to the question "Can you cut LED lights" and how to do so, you might want to consider investing in this amazing technology. If you want something revolutionary for your home, going for the AiDot Orein WiFi RGBIC LED Strip Lights might be the ideal solution. We offer you a LED strip with astonishing features that will upgrade the appeal of your home for sure: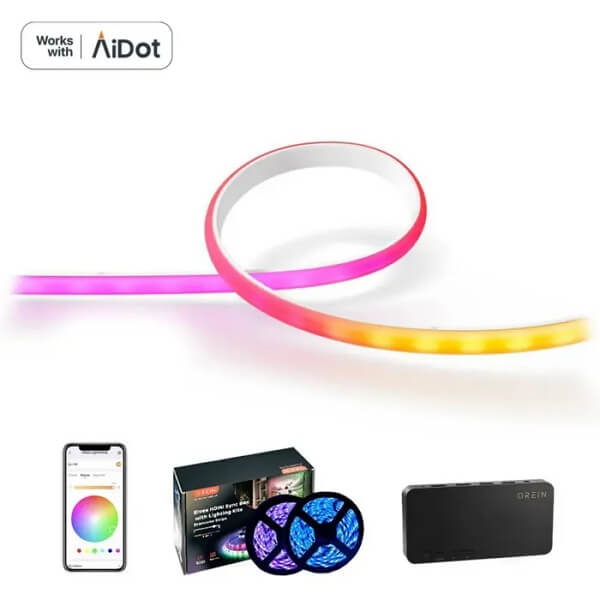 Real Screen Sync & Music Sync

3 Screen modes, 4 Music modes and 4 Scene modes

Smart Voice Control & App Control

High Accuracy of Color Reproduction

Pair with Any HDMI 2.0 Devices
[Bonus Now]: Here is an exclusive coupon code only found in blog posts. Save it now (AiDotBG01) and get 10% off at AiDot mall!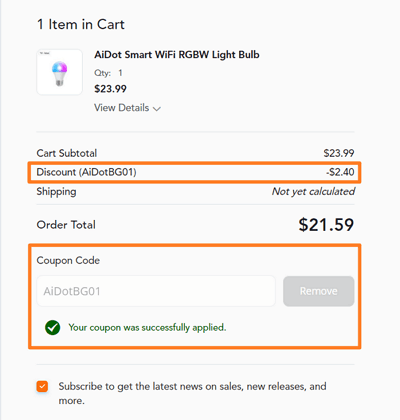 Conclusion: Enjoy The Flexibility of LED Strip Lights!
To recap and answer, can you cut LED lights? Yes, but only those that have that option and feature cutting markings. Moreover, you can both connect several and also reconnect them – so that is incredibly convenient aesthetic-wise!
Wish to elevate the lighting and atmosphere in your home uniquely? Then using LED strip lights can be your ideal solution. Not only are they flexible regarding places to place them, colors, and brightness, but they are also cost-effective too! In addition, you can cut those that feature that possibility and easily adjust them to suit your preferences.
If you are on the hunt for the best ones on your market, we invite you to check out our AiDot Orein WiFi RGBIC LED Strip Lights. Besides serving their typical purpose, they can also complement your screen and music and can be controlled with smart voice and app control! Their flexibility will make sure you enjoy installing them and having them illuminate your home!