V20 18Kpa Cordless Stick Vacuum
Special Price
$119.99
Regular Price
$149.99
-20%
One of the best options for removing stubborn stains, pet odors, and dirt that's been ground into your carpet.
Delivery within 2-7 Days
Payment Security
Free Shipping on All US Orders
60 Days Back Guarantee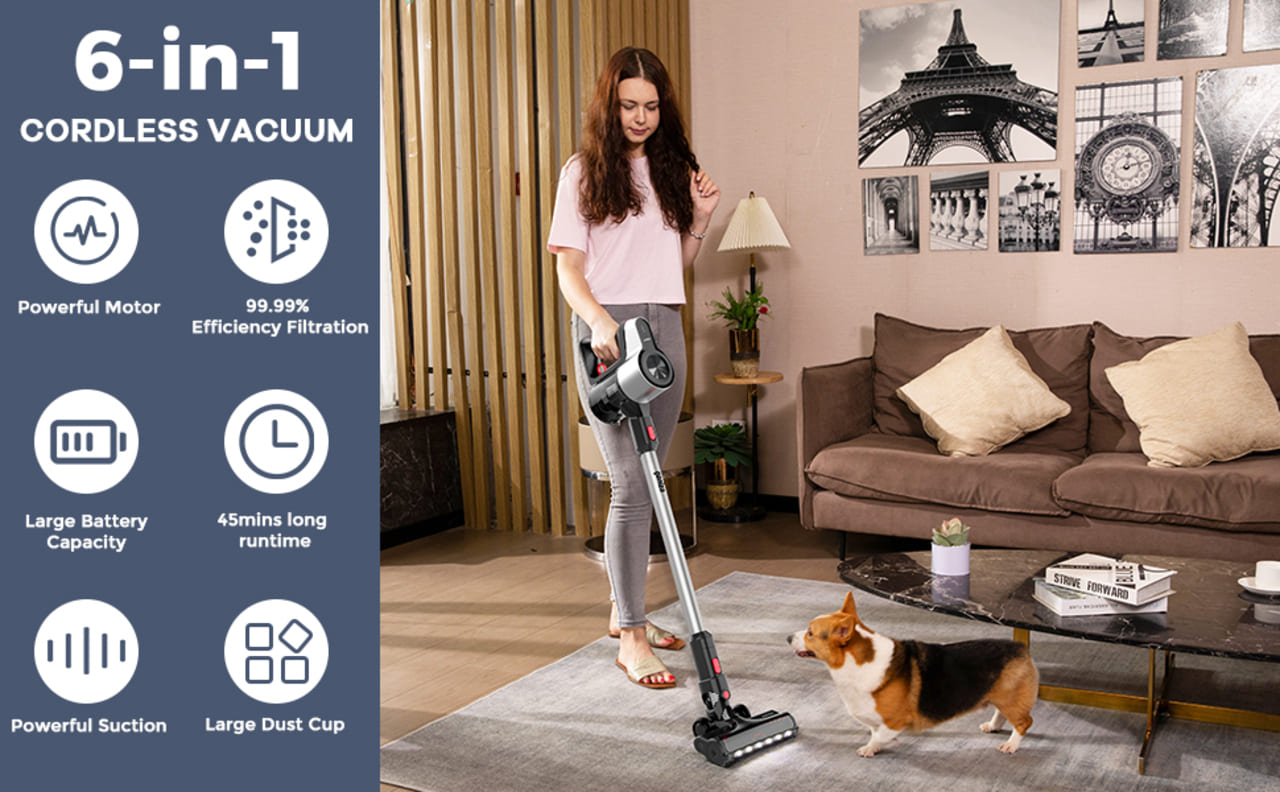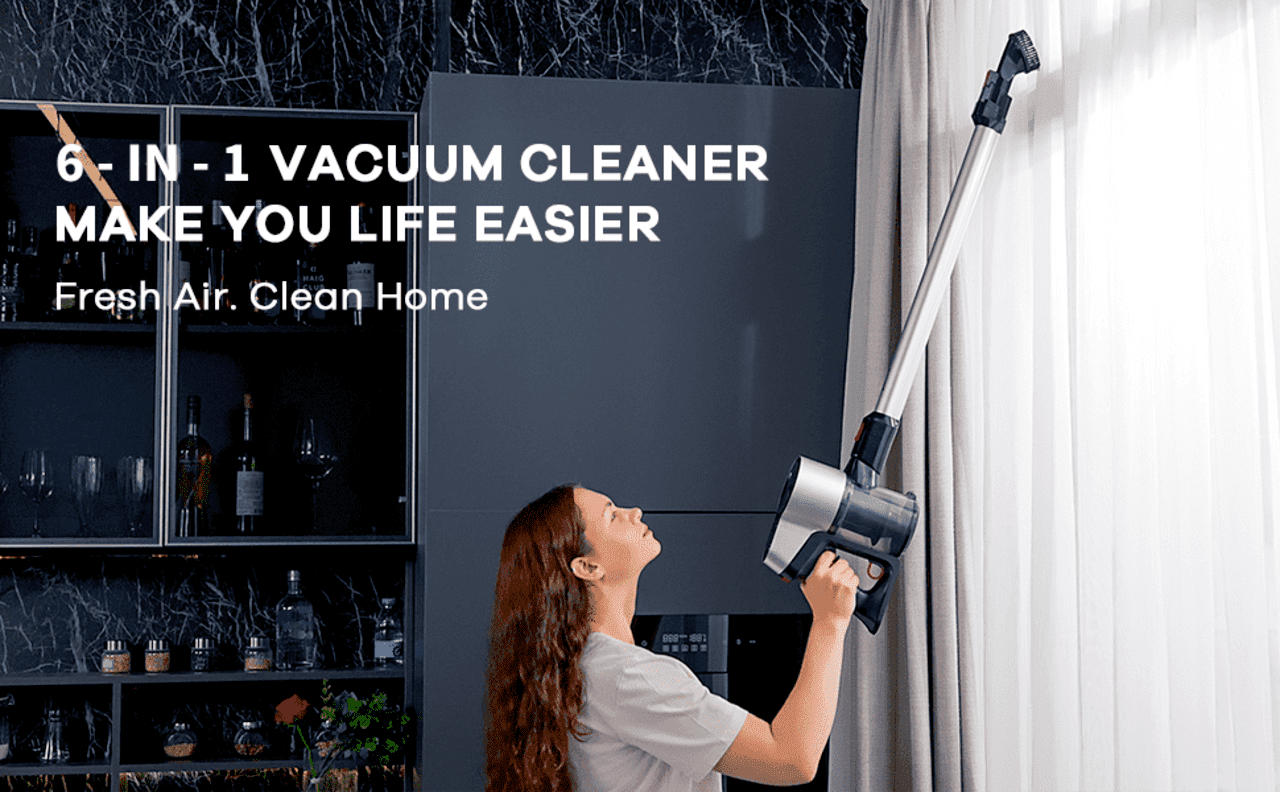 Your House Is a Mess? V20 Comes to the Rescue
This 18Kpa cordless stick vacuum is what you can rely on to clean home in a comfortable way.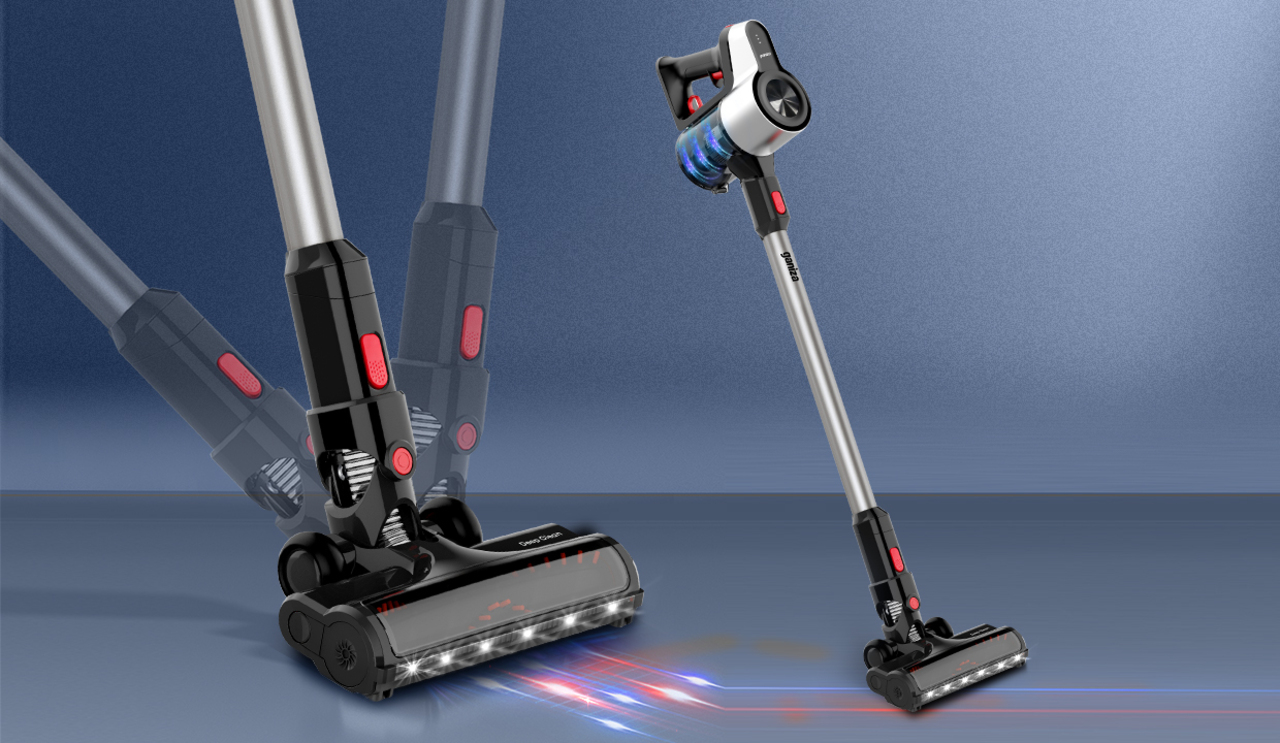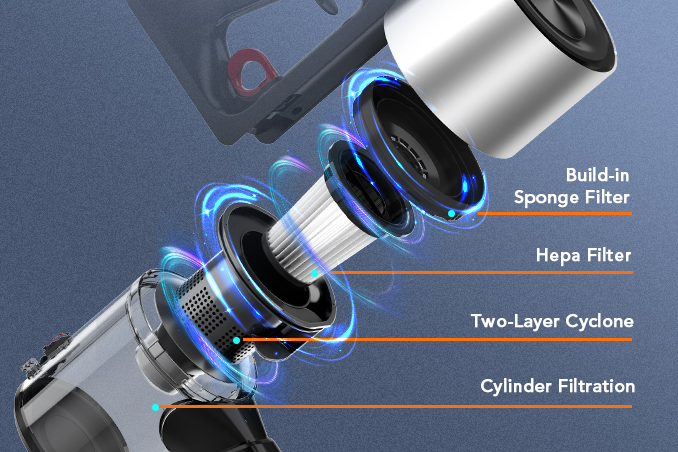 4-Stage HEPA Filtration System
Sponge filter, HEPA filter, two-layer cyclone and cylinder filtration make it possible to efficiently capture 99.99% of the microscopic dust particles as small as 0.1um to avoid secondary pollution. Ultimate purified air is ready for your families.
Super Powerful Suction & Long Runtime
Powerful suction can meet daily cleaning needs (cleaning debris, dust, cat litter and pet hair, etc.) in a breeze. Rechargeable 2200mAh battery empowers it to run up to 45 minutes for your whole family, and there is a battery indicator showing the remaining battery.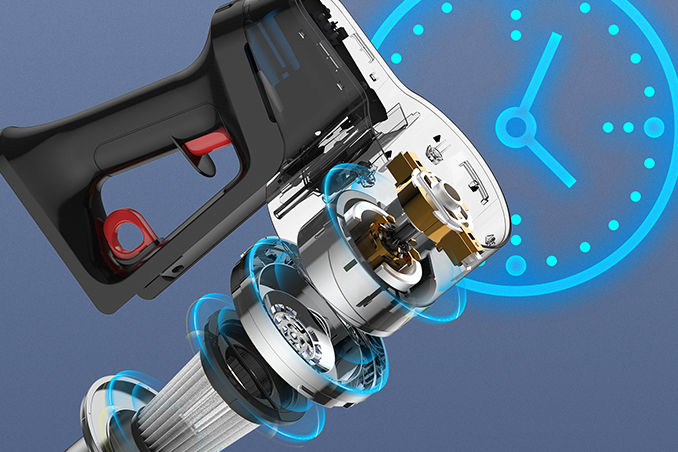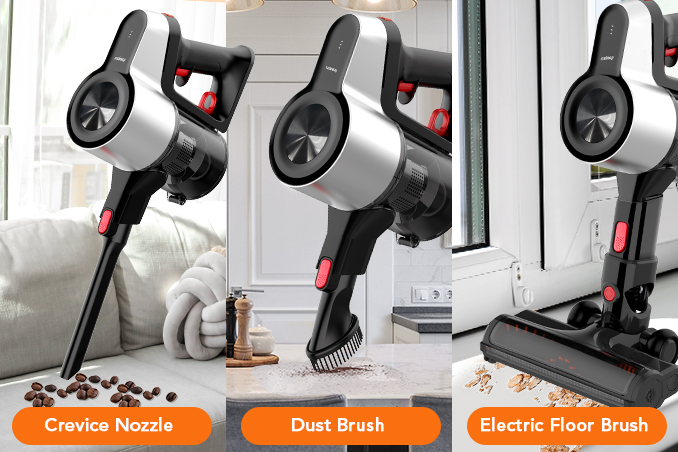 A Versatile Vacuum Designed for All-Round Cleaning
Three different brush heads, i.e. crevice nozzle, dust brush and electric floor brush help the vacuum to reach every corner and clean up trash of any kind.
No Worry about Pet Hair Anymore!
Perfectly cleans pet hair, thus keeping clean and tidy for both your families and pets. The built-in LED headlights illuminate dark areas so you won't miss any pet hair. The noise-reduction technology keep your home quiet and won't frighten your pet.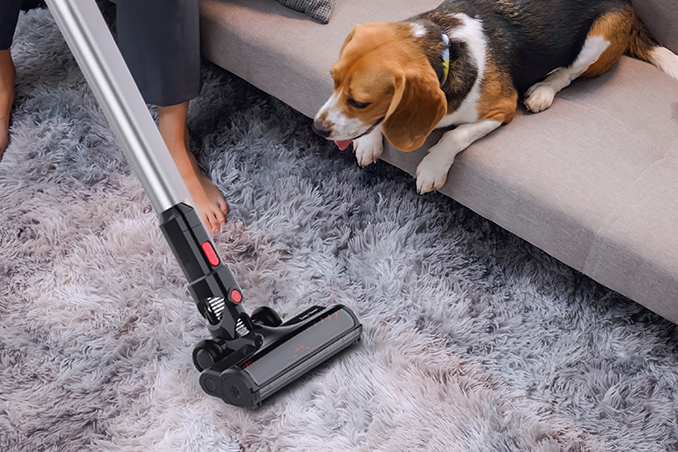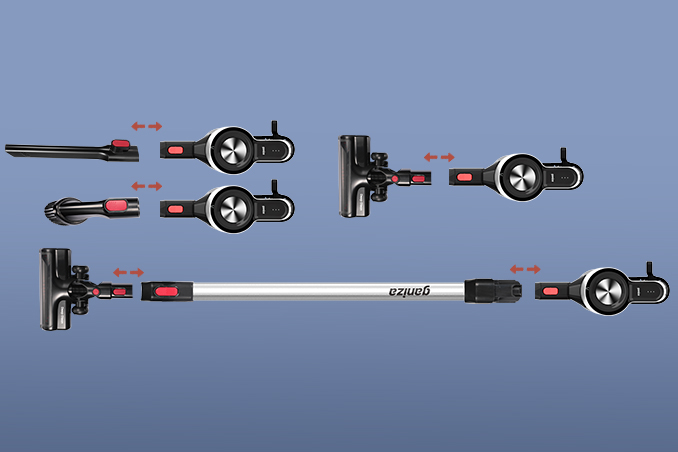 Easy Installation & Removal
Cordless feature, simple design and light weight make both the installation and removal super easy for every user. Cleaning home using a vacuum is no longer a burden!
Only One Click to Operate & Empty Dust
It only takes one click to empty 700ml dust and debris. Likewise, anyone can run or stop the vaccum with just one touch.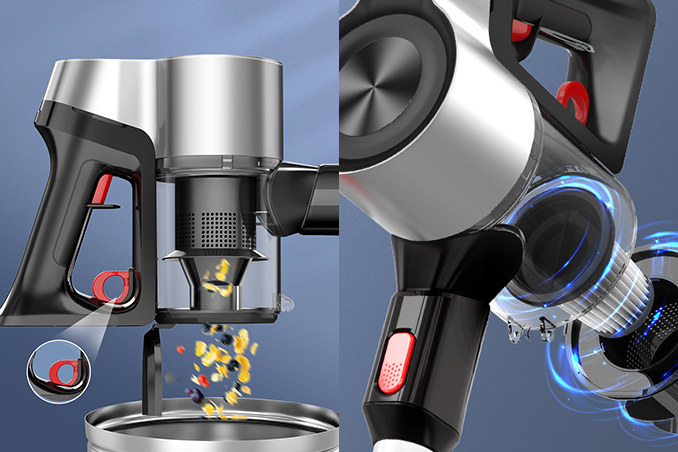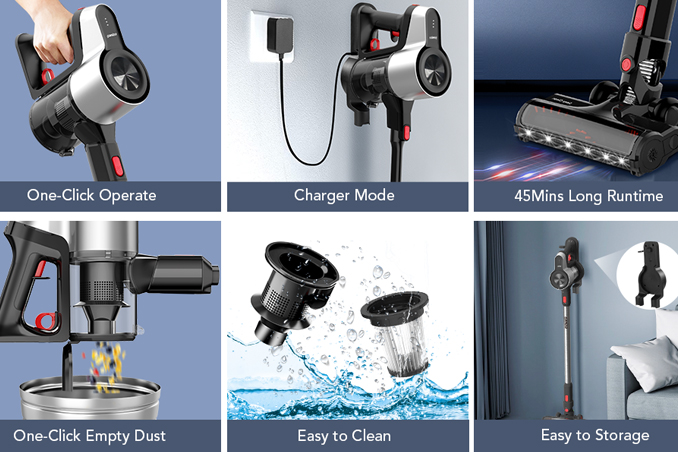 The Best All-In-One Vacuum One Should Never Miss
There are 2 charger modes, i.e. removing the main body to charge, and hanging it on the wall to charge. HEPA is washable and recyclable, which makes it eco-friendly. Besides, with a wall mount, the vacuum can be simply hung on the wall when cleaning is finished.
| | |
| --- | --- |
| Included Components | 4. Power Adapter, 1. GANIZA Cordless Vacuum Cleaner, 2. Long crevice & Brush, 5. Wall mount with screws, 3. User Manual |
| Power Source | Battery Powered |
| Voltage | 120 Volts |
| Item Dimensions LxWxH | 47.6 x 9.72 x 10.31 inches |
| Item Weight | 8 Pounds |
| Capacity | 0.7 Liters |
| Noise Level | 68 dB |
| Batteries | 6 Lithium Ion batteries required. (included) |
| Controller Type | Push Button |

Q1: Do cordless vacuums work on carpet?
A1: Cordless vacuums can still be beneficial for some carpet-cleaning jobs, including quick spruce ups, pet hair, and challenging spots (such as the stairs).

Q2: Should batteries be removed when not in use?
A2: DO preserve battery life by switching off a device and removing the batteries when it's not being used, and is not expected to be used for extended periods of time. DO practice proper battery storage by keeping batteries in a cool, dry place at normal room temperature.
Q3: Can batteries cause a fire?
A3: When used properly, no. But batteries can present a fire risk when over-charged, short-circuited, submerged in water or if they are damaged. It's really important to charge them safely too.
Q4: Can I use home vacuum cleaner for car?
A4: A standard household vacuum cleaner may not have the reach or flexibility you need to get down into narrow crevices of your car's interior.